This past weekend, all the core enthusiasts in Southern California's Japanese car scene gathered once again on the intersection of First Street and Alameda in the Little Tokyo area of Downtown LA for the annual
Nisei Showoff
celebration. The event was super fun as always - when I showed up at the event, it felt like a big block party with several friends all gathered around different cars, admiring the immaculate engine bays, or trying to figure out new wheel sizing and/or suspension setups.
Read more...
---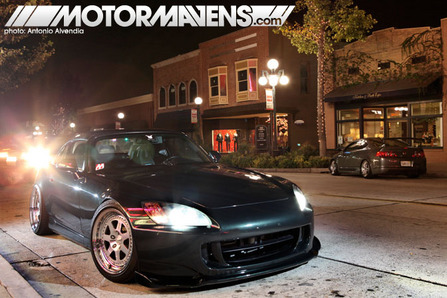 Last night, I was driving around near Pasadena when I noticed a black Honda S2000 with
Mugen M7
wheels. Upon closer inspection, I found out that the car wasn't actually black - it was dark green! Since this obviously isn't an OEM Honda paint color, I knew I had seen this S2000 before! The only guy I know with an S2000 painted this color (Maserati
Verde Good Wood Metallizato
) is
Alex Zhao
from Southern Cali's
AS1
crew. Approaching the car for a closer look, I also noticed that Alex's slammed S2K was proudly rocking a Motor Mavens "M" sticker on his windshield. Awesome.
I didn't recognize the car at first, because the last time I saw it, it was wearing a different set of wheels. Apparently, Alex changes his wheels more often than most people change their oil. He was in the area to meet up with his friend Brian; another Honda guy who had his Acura RSX recently featured in Super Street. Obviously since Alex was already rocking a MotorMavens sticker on his window, he didn't mind repositioning the car really quick so I could snap a few photos. (Luckily, I was coming back from another shoot and had all my gear with me!)
Read more...
---