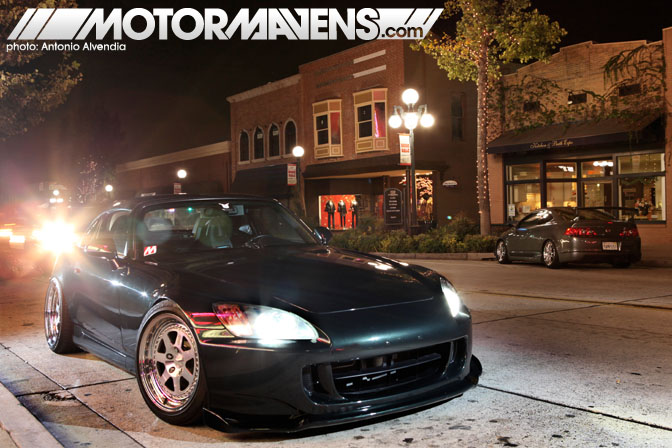 Last night, I was driving around near Pasadena when I noticed a black Honda S2000 with Mugen M7 wheels. Upon closer inspection, I found out that the car wasn't actually black – it was dark green! Since this obviously isn't an OEM Honda paint color, I knew I had seen this S2000 before! The only guy I know with an S2000 painted this color (Maserati Verde Good Wood Metallizato) is Alex Zhao from Southern Cali's AS1 crew. Approaching the car for a closer look, I also noticed that Alex's slammed S2K was proudly rocking a Motor Mavens "M" sticker on his windshield. Awesome.
I didn't recognize the car at first, because the last time I saw it, it was wearing a different set of wheels. Apparently, Alex changes his wheels more often than most people change their oil. He was in the area to meet up with his friend Brian; another Honda guy who had his Acura RSX recently featured in Super Street. Obviously since Alex was already rocking a MotorMavens sticker on his window, he didn't mind repositioning the car really quick so I could snap a few photos. (Luckily, I was coming back from another shoot and had all my gear with me!)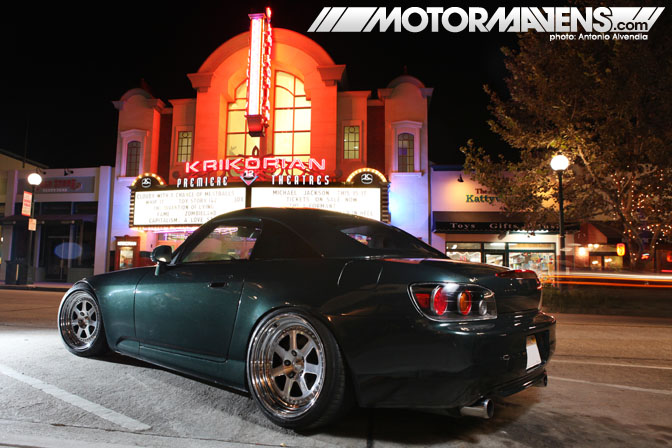 The first feature about this S2K that caught my eye was obviously the wheels! Mugen M7 wheels are highly sought after by Honda owners… so of course these wheels alone would make people turn their heads.
The thing is, I've seen other cars with Mugen M7s at car shows, so normally I wouldn't make a big deal about seeing an S2000 with M7s. It is, however, very rare to meet a set of Mugen wheels with such a fat outer lip! I've never seen such wide M7s in my life! Just look at the view from the rear! The stance on this S2K is damn near perfect. You would be hard pressed to find an S2000 with a more aggressive setup.
Speaking of wheel setups, Alex says that this is his seventeenth wheel setup this year alone! What the hell! That means he changes his wheels about twice a month?! What the hell. Seriously!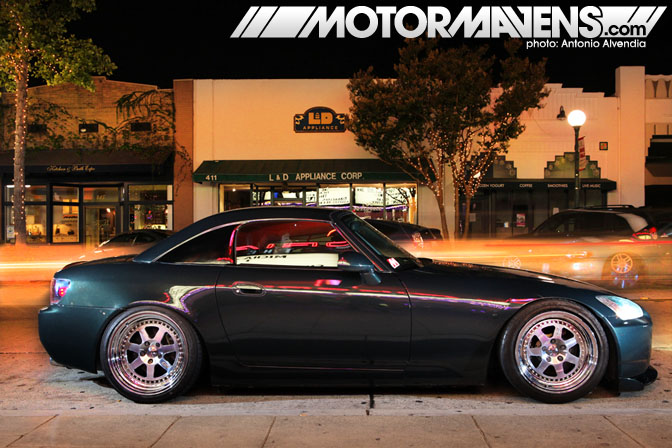 From this photo, wheel afficionados with a trained eye might be able to notice something… it's pretty subtle though. See the rear wheels? Those are actually eighteens!!! See the hint from the tire sidewall? The front wheels are 17x8J Mugen M7s with a +28 offset for an Acura NSX, with 215/45/R17 Bridgestone RE050s. Alex added a 25mm spacer to the front, so that means the effectve offset on the front should be +3. That's insane, right?! Most wheel catalogs recommend S2000 owners to purchase an embarrassing +50 or some sort of ridiculous high number offset. Don't listen to the wheel manufacturer's recommendations! They don't know S#!t!!!
Okay, let's get to business. Most of the people who read the title of this post must be thinking… EIGHTEEN inch Mugen M7 wheels… WTF? Mugen only made seventeens as the largest production size for M7s, so what gives? Apparently, these wheels have been rebarreled from 17 inch to 18 inch!!! Crazy, right! The rear math is 18×10 +28 with 265/35/18 RE050 tires. (265… doesn't that sound super fat to you? I asked Alex about that, and he said he didn't want to run super thin stretched tires on his S2K, because he still wanted to retain the grip and functionality of the fat tires in the back.)
Another thing I noticed about this S2000 – I really liked the contrasting paint job on the hardtop. Many S2K owners that I see with hardtops usually leave their tops with the standard carbon fiber finish, or they paint the entire top body color. Alex's hardtop was painted body color, but it has a gloss black panel in the rear, to match the window line. I think this is a really sensible and stylish touch to the car. I like a little contrast on a vehicle.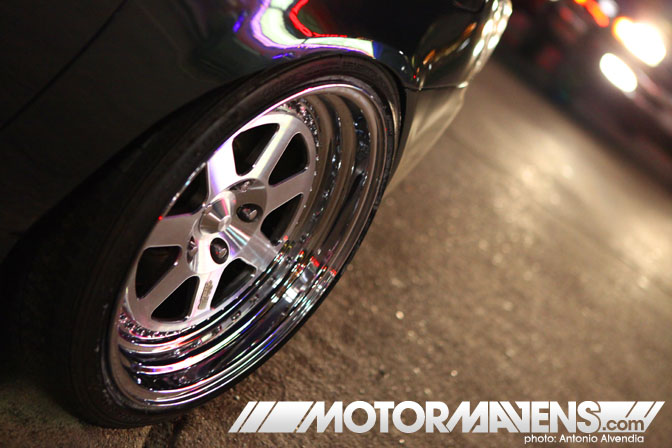 Here's a close-up on those 18-inch M7s. They look gorgeous. Too bad Mugen didn't make them in this size; I think they look awesome, especially with that stepped lip. Come on! In order to make it fit, the rear wheels of this S2000 are actually set to negative 6 camber! (Actually, Alex just texted me a correction to what I wrote; the car is running -4.5 degrees of camber, not -6.) This car had a VIP style camber set up… pretty nuts. Alex said he got flamed on the S2000 forums for trying 19 inch wheels out and posting pics of his car. That's too bad… in my opinion, car modifications on street cars are just an extension of one's personality and style. I used to be one of those people who would get sooooo mad when I'd see cars with "blasphemous" engine swaps and such… however, these days I've become much more open minded, especially when people are trying to be innovative with their wheel game.
I wonder what our readers think… just how big is too big for an S2000? Me personally, I like the way this S2000 looks with the 17/18 inch stagger… and when I saw photos of Alex's car with the 19s, I honestly thought they looked pretty big, but I still liked the way the car looked.
Any thoughts and/or input on this? 18s on an S2K? 19s anyone?
:: Antonio Alvendia
---