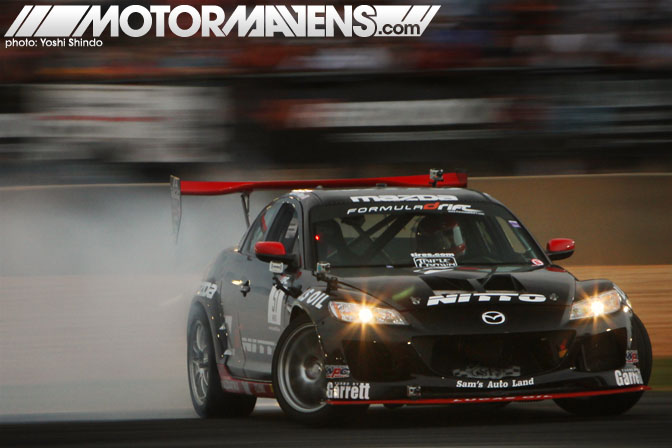 The second round of the 2012
Formula Drift Championship
took place at
Road Atlanta
, and it couldn't have been more exciting! A brand new layout, controversial calls, quick-fixes, and outstanding battles are just a taste of the twists and turns that came about the weekend.
Read more...
---
---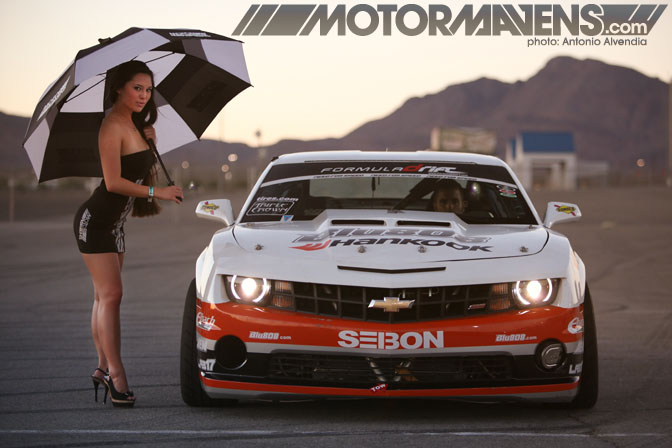 When it comes to Formula D Las Vegas, what can I say that hasn't been already mentioned? It was hot. Damn hot. Too hot to be outside without air conditioning. I don't understand how Las Vegas locals can handle the incredible heat over there, but they say they're just used to it now. Getting used to it is one thing... but I wonder if they
like it
though?
Just like the gypsy camps in the days of old, this year's Las Vegas round of Formula Drift brought thieves out of the woodwork. I was really surprised to find out that former Formula D judge (and current Tanaka Racing Corvette driver)
Alex Pfeiffer
's helmet was stolen. I suppose someone was a fan of Alex's Hawaiian print helmet, which had the traditional Hawaiian plumeria flowers painted on one side. The only question I have about that is...
Okay, thieves. Now that you have Alex's helmet, what the hell are you going to do with it?
Read more...
---
Wow. Formula Drift at Las Vegas Motor Speedway was sooooo HOT. Ridiculously hot. Intensely hot. We just got back to Los Angeles, after an eight hour excursion, creeping at around 10mph  in traffic-swamped freeway lanes all the way back to Southern California. This being said, we aren't posting up our event story just yet… everyone in our group is about to pass out from the heat and exhaustion.
However, we just wanted to take a minute to congratulate Tyler McQuarrie on his First Place victory in Las Vegas! In case you weren't following the Formula D Driftstream, Team Falken emerged victorious, with an all-Falken podium sweep once again, with Tyler McQuarrie bringing home First Place, Daijiro Yoshihara winning Second Place, and Vaughn Gittin Jr taking home Third Place.
We'd also like to welcome Las Vegas-based photographer Farrel Dee to the Motor Mavens Crew! We'll let him write up a proper introduction later, but for now, we'd like to invite YOU to upload your Formula D Las Vegas and Vegas Pro Am photos to the MotorMavens Forums! We saw a lot of people shooting photos this weekend, and we'd love to see your photos with links to your website and/or Flickr pages! Post them up so everyone can see!
That's it for now… sleep calls! However, don't worry… we'll be back very soon with our photos and observations from Formula D Las Vegas!
:: Antonio Alvendia
Upload your FD Las Vegas and Vegas Pro Am photos to the MotorMavens Forums by clicking here!
---