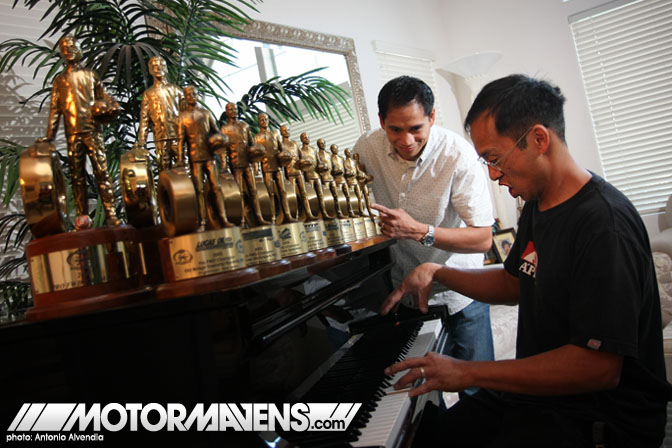 After years of endless innovation and dedication to Sport Compact Drag Racing, today at 3:00pm, Bergenholtz Racing will be inducted into the NHRA Museum in Pomona CA. Actually, wait… that's right NOW!
Their very first flagship vehicle, the Bergenholtz Racing CRX, will be inducted into the museum for its accomplishments in drag racing. Their CRX is most noted for being the first fwd drag car to implement wheelie bars (even though a lot of people used to talk sh!t about the car and its wheelie bars, until they found out that the bars actually worked), which would forever revolutionize FWD drag racing.
"It is a great honor for the NHRA to recognize Bergenholtz Racing and its accomplishments in Sport Compact Drag Racing. I thought capturing the back-to-back NHRA Championships was at the top of the list, but being inducted into the museum is legendary. I know my grandchildren and my great grandchildren can go to NHRA museum and look at the amazing things their grandfathers did in drag racing," said Ron Bergenholtz, Team Manager of Bergenholtz Racing.
At Motor Mavens, we know what it's like to fight an uphill battle; being resourceful, street smart, and leveraging personal relationships to produce results even without a big corporate budget or any outside financial resources.
Bergenholtz Racing did this for years as they competed in NHRA Sport Compact Drag Racing. They proved that the underdog CAN be successful… and sometimes it just takes enough will, enough motivation, enough discipline, enough perseverence and enough heart to emerge as the winner.
Some drag racers dedicate their whole lives just to win a single Wally – after all, it is the most coveted trophy in NHRA drag racing. However, as you can see from the piano at Ron Bergenholtz's Southern California home, these two Filipino brothers with non-Filipino last names have amassed quite a lot of Wallies… and now, the NHRA Museum is honoring them for their hard work and dedication. Awesome.
As two underdogs living a real-life success story, Ron and Ed Bergenholtz first made a name for themselves by racing (illegally of course!) on LA streets, and then graduated to compete professionally (and win!) in NHRA Sport Compact drag racing, beating out other competitors with much larger budgets and big corporate funding. These guys are drag racing heroes and their story inspires us… but more importantly, they're our boys and we're PROUD of them. With or without a championship ring or a display case full of trophies.
Ron and Ed Bergenholtz are good FRIENDS to the Motor Mavens crew, and that's why we're so proud of their accomplishments. CONGRATULATIONS guys!
If other automotive websites had any inkling of sense, they would pick these guys up immediately and pay them to write blogs or sponsor their cars or something. These guys are the sh!t, come on.
:: Antonio Alvendia
---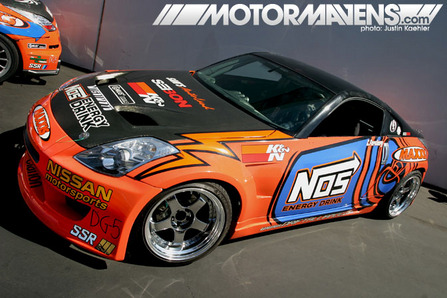 Living close to the beach, as I'm sure you are aware, certainly has its fair share of advantages, most of which I've grown numb to. Sure, I can enjoy a nice dip in the ocean every now and then, but dealing with the crowds and limited parking associated with a day at the beach does start to annoy after awhile. So much so that, despite living mere minutes from the ocean, I prefer to spend my free time sitting in the comfort of my home watching reruns of
Dr. Who
.
One of the many benefits of beach living I now take for granted is the constant cooling effect of the ocean breeze. The weather in my 'hood is always mild and pleasant, and if I ever see the thermometer crack 80, I panic and feel that my life, if not the world, will immediately come to a global warming-induced end. Moderate weather is good weather, and it is for that reason I humbly suggest that carbon fiber goods manufacturer Seibon ditch its grounds in Walnut, CA and move west towards the ocean.
Seibon just so happened to hold its Customer Appreciation Day smack dab in the middle of a heat wave. As the hills across California burned to the ground, the ground at Seibon was cooking me alive with an ambient air temperature of 108 degrees. The acres of asphalt surrounding Seibon's warehouse trapped this heat, melting my shoes and roasting my feet in the process. The sky-high temperatures made me want to cry like a little girl and run home, but as I made the hour-long trek from the beach to the 626, I did my best to man up and tough it out.
Read more...
---