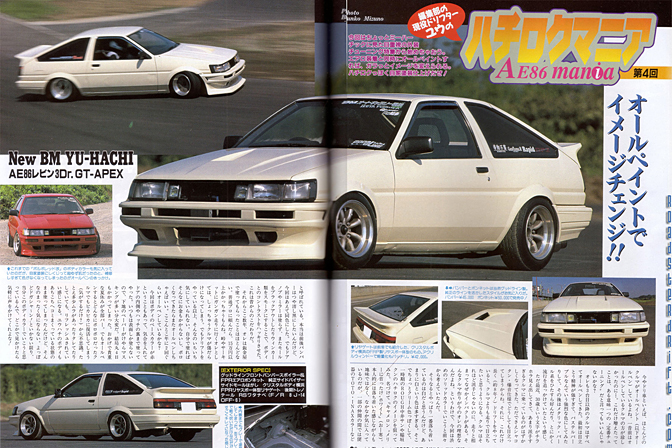 While some of the other members of the Motor Mavens Crew are busy putting together their photos from this weekend's Formula D Pro Am event, I thought I'd show post this scan of a car I've been admiring.
There are some blogs that I check out frequently, and I came across this scan from a 1999 Battle Magazine that Rob from Roadster:DRIFT posted up. The AE86 Levin has always been one of my favourite cars, so when I saw this, my jaw dropped. To some this might just be another Levin, but for me looks wise this is the PERFECT Levin! Just clean and simple with a Goodline front bumper and bonnet, TRD rear wing, and a few nice subtle touches like the kouki spec rear bumper, foglights minus the grill, and what looks like stock arches rolled and flared. It's also sitting on a set of gorgeous RS Watanabe Type R wheels in 14x8J -6.
Like I said before, for me personally, this is the perfect Levin. But AE86s are cars that can have so many different styles applied to them and I'm sure any fan of the AE86 has their favourite. We'd love to hear from our readers what your favourite style is or even a particular car e.g., Katsuhiro Ueo's famous D1GP Trueno.
Let us know!
:: Daniel Bridle
---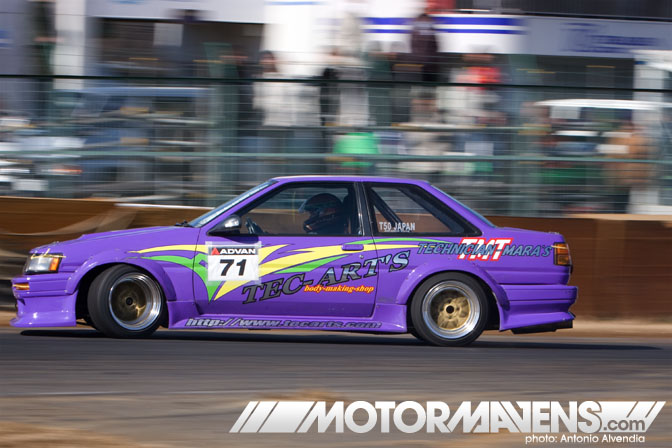 Today, I was looking through one of my old USB hard drives that contained some images from one of my Japan trips in like… 2004 I think? Or maybe 2005. Anyway, I stumbled upon this photo I shot with my old Canon 20D camera.
Even though Canon's current product offering makes me think the 20D is a POS now, I gotta give it props because that's the camera I had with me the longest… I shot with that thing for like FOUR years. That includes constant travel with at least one event per weekend, meaning I would shoot a minimum of 1000 images per weekend, using a "non-pro" bodied camera with a less durable shutter. In fact, my shutter did eventually fail on me at Road Atlanta last year. Thank God for good homies like Cody Wellons from S3 Magazine and John Choi from Falken, who let me borrow their DSLRs so I could finish shooting the event. Even though I was pissed about the broken camera, some of my other photographer friends thought it was cool – they said, "man, your camera broke because you took too many photos with it? That's dope as hell… and your 20D has been all over the world with you!" True, I didn't think about it that way!
So back to the subject matter, check out this purple Tecart's AE86 Levin 2-door drifting at Japan's famous Tsukuba Circuit. In the photo, the car is in a mid-drift transition and is about to be flicked to the left to continue through the D1 course… however, this photo was NOT taken at a D1 event!
This photo was actually taken at one of the legendary Battle Magazine "Battle of Drift" Competition events, which Japanese people nicknamed as "BM Cup" or "BM Hi." For those who aren't familiar with "BM," Battle Magazine (now defunct) was very well loved by many Japanese drifting enthusiasts because it was the only magazine out there that really featured the cool grassroots drifting movement as it was happening in Japan.
I think most American and European drift fans nowadays only know about drifting from what they see in a "professional series" like Formula D and D1 Grand Prix. However, for guys like me, who have been following Japanese drifting since the 1990s, it's all about the privateer efforts… back then, it was all about the super dope Japanese grassroots drivers who drift with their everyday street cars, battling different drift teams from different regions of Japan, etc. That's what it's all about.
By the way, did anyone notice the Japanese "team sticker" on the rear quarter window? It comes from one of my favorite AE86 teams… "Go Maru Japan." More on this subject later – you better stay tuned to Motor Mavens!!!
:: Antonio Alvendia
---