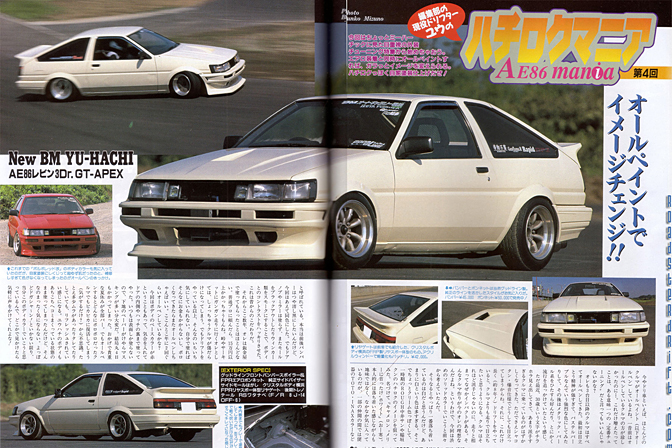 While some of the other members of the Motor Mavens Crew are busy putting together their photos from this weekend's Formula D Pro Am event, I thought I'd show post this scan of a car I've been admiring.
There are some blogs that I check out frequently, and I came across this scan from a 1999 Battle Magazine that Rob from Roadster:DRIFT posted up. The AE86 Levin has always been one of my favourite cars, so when I saw this, my jaw dropped. To some this might just be another Levin, but for me looks wise this is the PERFECT Levin! Just clean and simple with a Goodline front bumper and bonnet, TRD rear wing, and a few nice subtle touches like the kouki spec rear bumper, foglights minus the grill, and what looks like stock arches rolled and flared. It's also sitting on a set of gorgeous RS Watanabe Type R wheels in 14x8J -6.
Like I said before, for me personally, this is the perfect Levin. But AE86s are cars that can have so many different styles applied to them and I'm sure any fan of the AE86 has their favourite. We'd love to hear from our readers what your favourite style is or even a particular car e.g., Katsuhiro Ueo's famous D1GP Trueno.
Let us know!
:: Daniel Bridle
---