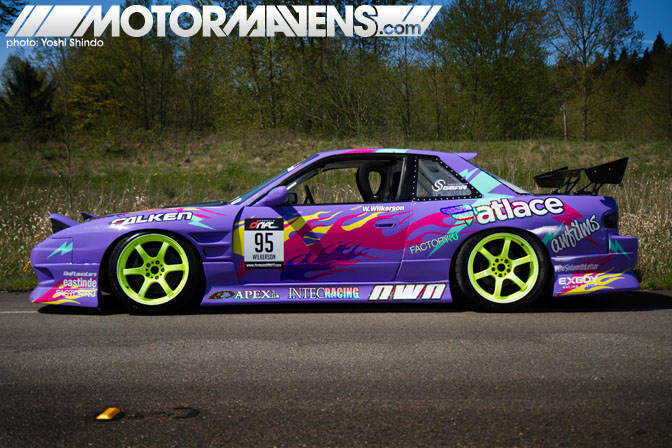 If you dont know who
Walker Wilkerson
is by now - you will soon enough. From seemingly out of nowhere, he showed up to the first event of the 2011 Formula Drift season and had an incredibly strong showing. Walker outscored many Formula D veterans in qualifying, moving forward to wow the crowd with exciting tandem performances, much like fan favorite
Fredric Aasbo
did with his JZA80 Supra last year.
With limited seat time he wowed the judges in his purple widebody
Nissan S13 240SX coupe
, equipped with a
stroked
480hp monster
SR20DET
, during qualifying. Eventually landing high at 7th place, deep within veteran territory. And with that explosive entrance in the pro arena - he secured his spot in the big show on Saturday in the Top 32. Not bad for a first timer in, well, pretty much everything for the day.
Read more...
---
Wow. Formula Drift at Las Vegas Motor Speedway was sooooo HOT. Ridiculously hot. Intensely hot. We just got back to Los Angeles, after an eight hour excursion, creeping at around 10mph  in traffic-swamped freeway lanes all the way back to Southern California. This being said, we aren't posting up our event story just yet… everyone in our group is about to pass out from the heat and exhaustion.
However, we just wanted to take a minute to congratulate Tyler McQuarrie on his First Place victory in Las Vegas! In case you weren't following the Formula D Driftstream, Team Falken emerged victorious, with an all-Falken podium sweep once again, with Tyler McQuarrie bringing home First Place, Daijiro Yoshihara winning Second Place, and Vaughn Gittin Jr taking home Third Place.
We'd also like to welcome Las Vegas-based photographer Farrel Dee to the Motor Mavens Crew! We'll let him write up a proper introduction later, but for now, we'd like to invite YOU to upload your Formula D Las Vegas and Vegas Pro Am photos to the MotorMavens Forums! We saw a lot of people shooting photos this weekend, and we'd love to see your photos with links to your website and/or Flickr pages! Post them up so everyone can see!
That's it for now… sleep calls! However, don't worry… we'll be back very soon with our photos and observations from Formula D Las Vegas!
:: Antonio Alvendia
Upload your FD Las Vegas and Vegas Pro Am photos to the MotorMavens Forums by clicking here!
---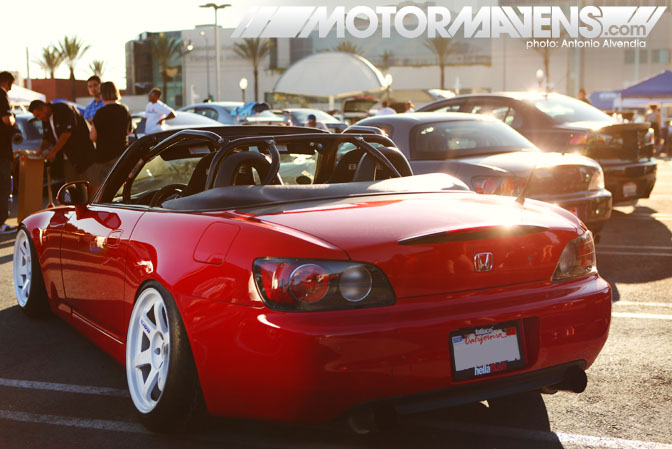 Ever since I posted up the link to our forums,
inviting people to post up their photos from
Nisei Showoff
, our readers have been posting up tons and tons of photos that they took at this past weekend's show in Little Tokyo. The response has been AWESOME. Although I wish more people would actually take the time to write captions to the photos and whatnot, even just seeing the show through their eyes is really cool, and I appreciate everyone who posted up their pics!
Now it's time for me to get back in the swing of things, and publish more of my own photos from Nisei. Since I was pretty busy helping some of our new crew members get started in doing event coverage at Nisei, I didn't actually start walking around to take photos until later in the afternoon.
At the end of Nisei Showoff, Ken Miyoshi always asks me to emcee the awards ceremony. It's always a good time giving out the trophies to the car owners, but sometimes I'm not sure which cars I'm giving awards to, because it's not like people drive their cars up to get their trophies or anything. Either way, the big trophies go to the cars that the Showoff judges deem to be the best, but to be honest, I have a different scale of measuring how dope a car is. That being said, I suppose getting a photo-feature on MotorMavens is my way of pointing out my favorite cars at the show. Drumroll please... Let's begin.
Read more...
---