BIGFOOT BASH FINAL VERSION from Ryan Davis on Vimeo.
The very first Bigfoot Bash was held over this past weekend. A two day event that started with action at the Evergreen Speedway for the first day, followed by an overnight camp at Pacific Grand Prix to wake up for more drifting action the next day! Rob Primozich is the guy to thank for this awesome weekend. Because of him, everyone who attended had a great time! The drivers had tons of runs and Ray Stonehocker even brought out his tire machine to change tires. Ryan Davis made the drive from Oregon to attend this event, as well as our boys Justin Shreeve and Joe Ayala.
Ryan Davis is an up and coming videographer who has been making a big impact on the Northwest scene. After watching this video, I noticed that his style of video is far different from most videos that I see I simply had to ask him "What made you make your video the way you did?" This is what he told me:
I wanted to make this film a representation of the vibe and feel I got from each stage of the event. I have had so much fun at both of these tracks before: Formula D at Evergreen and the crazy tandem events at PGP. I knew that, whatever happened, it was going to interest people, so I edited accordingly. Justin Shreeve was singing the Tom Petty song on the ride back and that fell in so easily with the Evergreen section. The PGP portion was so high-energy and I knew Supernova by Loyale, an up-and-coming artist, was going to not only show the difference in pace, but also stick in peoples' heads leaving them wanting more.
Honestly, I think this video is one of Ryan's best yet! It's great to see different videographic visions of the same event. It's amazing to me how diverse these videographers' artistic perspectives can be. Great job Ryan!
::Yoshi Shindo
---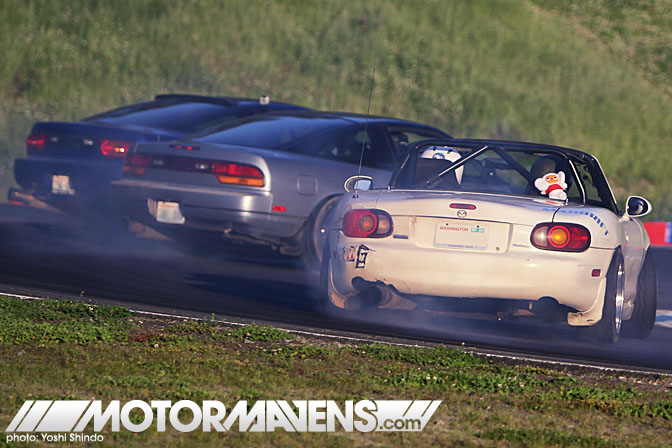 Around this time every year, school is finishing, with the stress from class and tests ready to be let out. For some, it marks a changing point; a time to move on, ready to take on the world... or off to the next phase of school after the summer.
Luckily for us, it was
Rob Primo
's graduation day on Saturday June 12th, because after several years of school, graduating with an MBA from
Western Washington University
, he went out with a bang, holding the second drift event at
Pacific Grand Prix
, inviting about 26 of his drifting friends and even more spectators. I couldn't think of a better way than
drifting
to celebrate and let loose after learning things like how magnets and rainbows work!
Read more...
---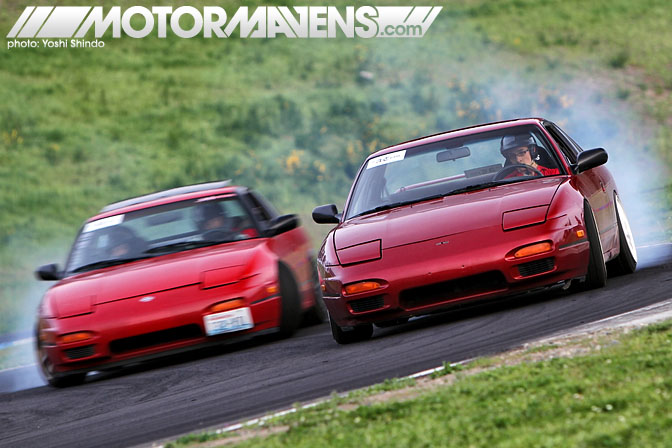 As with most things in life, there are goals that people set for themselves in whatever they do. Some aspire to be the best in their field and pit themselves against others to see where they stand. For others, just being a part of the camaraderie or community is enough. They participate just for the sheer excitement rather than competition. Luckily, in the North West, we have a huge mix of both ranging from the new
Formula Drift Pro
and
Pro-Am
drivers to the guys who keep it strictly fun. Whatever category any of these guys fall under, it's with great pride that I can say
all
of them are grassroots drivers. Which brings me to
Comrades
.
For those that don't know, Comrades started from humble beginnings when four local drift teams decided to unite under one banner years ago. Now that banner has grown to include all NW grassroots drifters from Oregon to Canada.
May 15th set a new benchmark for drifting in the NW when the Comrades were invited to tear up the track at
Pacific Grand Prix
in
Kent, WA
. New Pros and old schoolers came out to drive on this newly created track, owned and operated by
Paul Zalud
, that spans a little less than a mile with a layout "that kinda gives you that
Bihoku
vibe."(Haha, it's a reference to a Japanese race track,
Bihoku Highland
)
The
Mighty MotorMavens Crew
was out in full force as well. Covering the entire event from the driving (by me), video from
Abbit Wilkerson
and
Justin Shreeve
to, of course, photos from
Yoshi Shindo
and new comer
Jeff Santiago
- both armed to the teeth with their new
Canon EOS 7D
cameras.
Read more...
---