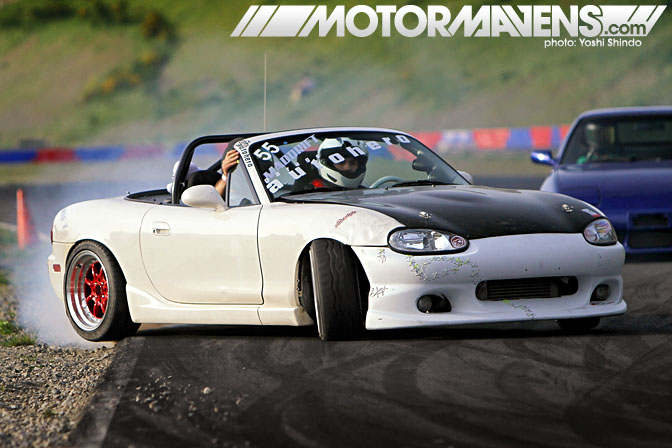 As with most things in life, there are goals that people set for themselves in whatever they do. Some aspire to be the best in their field and pit themselves against others to see where they stand. For others, just being a part of the camaraderie or community is enough. They participate just for the sheer excitement rather than competition. Luckily, in the North West, we have a huge mix of both ranging from the new Formula Drift Pro and Pro-Am drivers to the guys who keep it strictly fun. Whatever category any of these guys fall under, it's with great pride that I can say all of them are grassroots drivers. Which brings me to Comrades.
For those that don't know, Comrades started from humble beginnings when four local drift teams decided to unite under one banner years ago. Now that banner has grown to include all NW grassroots drifters from Oregon to Canada.
May 15th set a new benchmark for drifting in the NW when the Comrades were invited to tear up the track at Pacific Grand Prix in Kent, WA. New Pros and old schoolers came out to drive on this newly created track, owned and operated by Paul Zalud, that spans a little less than a mile with a layout "that kinda gives you that Bihoku vibe."(Haha, it's a reference to a Japanese race track, Bihoku Highland)
The Mighty MotorMavens Crew was out in full force as well. Covering the entire event from the driving (by me), video from Abbit Wilkerson and Justin Shreeve to, of course, photos from Yoshi Shindo and new comer Jeff Santiago – both armed to the teeth with their new Canon EOS 7D cameras.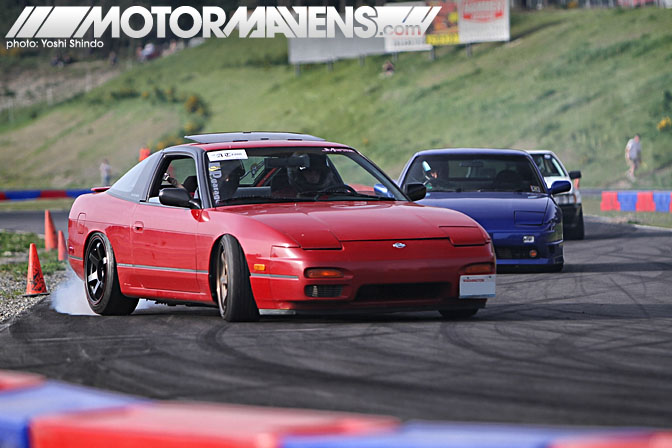 Pacific Grand Prix owner Paul Zalud had heard of drifting through his son Kyle, who has had various drift cars, so he wasn't a stranger to the idea of drifting. Kyle has been friends with the boys from Team Instant Party for a long time now – so, if you follow them, you may have seen pictures or videos from their previous demos at PGP.
This event however was the brain child of Rob "Primo" Primozich. Primo contacted Paul with the hopes that something could be organized to benefit the drivers and the venue while, in turn, putting on a great show for the spectators. After doing a short demo on the track in his 2JZGTE powered Kouki S14 240sx, Primo convinced Paul that there was potential in having drift events there and, even more important, that there were enough advanced-level drifters in the area to put on a good show.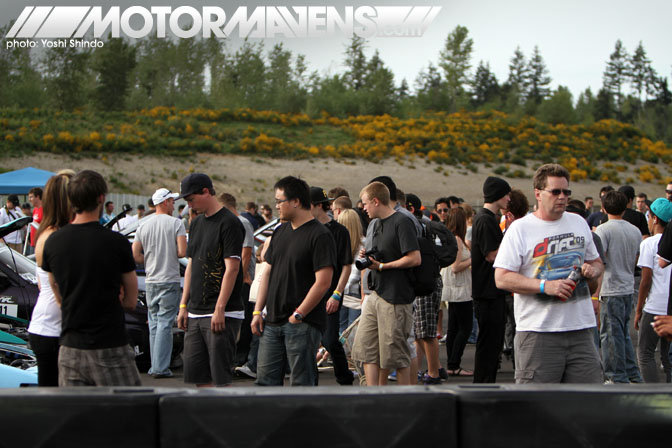 The event was set up as an exhibition with spectators paying a cover and also being able to do ride-alongs if they had the correct band. The pits were closed for most of the day except for a few times throughout the day where spectators were allowed to come in, take photos and converse with the drivers. I don't think they minded much not being allowed in the pits the whole time as there were concessions, DJ dunnDIRTY spinning music all day, and a freaking beer garden! I was hoping the ladies would start a dance party but it never happened!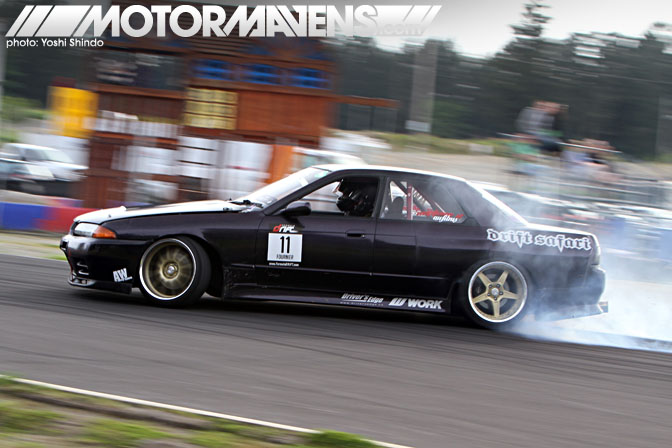 Ian Fournier and fellow Drift Safari teammate Trent Stromkins came down from Canada for the event – they even brought back American CJ Kofoed who goes to school up north. Ian was one of the few drivers in attendance who was able to link the whole course! He is an amazing driver who almost qualified for Formula D Long Beach in April. Look out for Ian at FD Seattle, as well as Trent, who will be competing in the Evergreen Pro-Am that same weekend.
The first part of the day the drivers were told to run a cold lap first then start off drifting two at a time – not because most were new to the track, but because the PGP staff wanted to ensure that there would still be drivers with tires left toward the end of the day. It was a great idea because as the day wore on and the drivers got more comfortable with the track, we were allowed to have as many as 6 to 7 cars on at one time! Non stop drift action 'til the very last minute.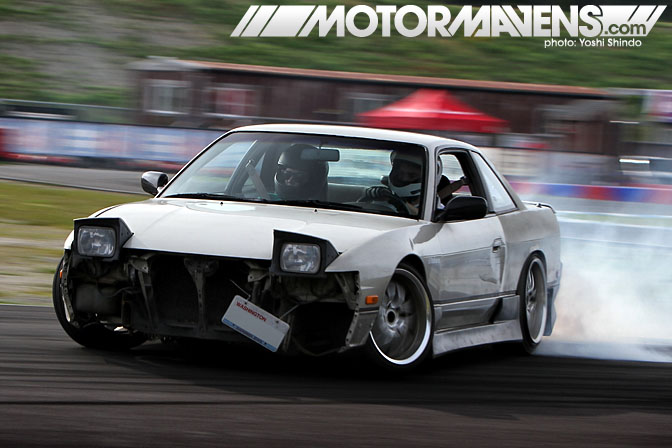 Darren McArdel was throwing his S13 240sx coupe around like he hated it! With only the power and will of a KA24de, the e-brake was his friend at this track (and the same was true for a lot of the cars there). Darren was a familiar face around the Socal drift scene while attending college, but being a Washington native he came back after graduating to continue giving his advice to younger drifters OG style.
This track is the most technical drift track in the NW, complete with long sweepers, tight hairpins and multiple elevation changes. It's definitely not for the beginner. That's why the drivers' list was closed and handpicked by Primo himself. The only real concern the track had was having cars go off the track into the grass. So, to keep everybody in line, the "four wheels" rule was in effect – meaning, if all four wheels went off course, your day was done. It only became an issue once when Gleb Antonov went off course and sat out for a portion of the day. (Of course it would be Gleb.)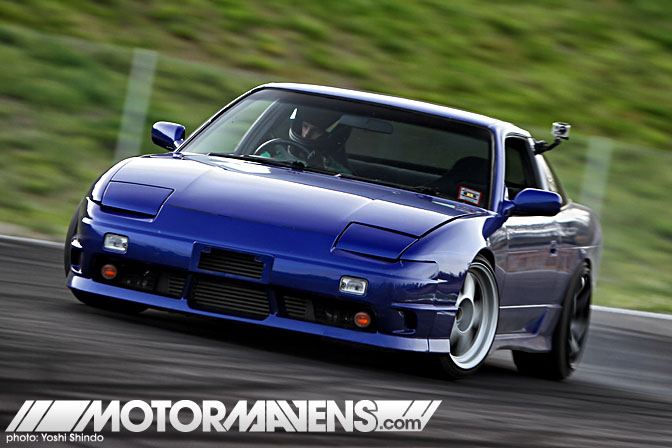 Here is the Master of Ceremonies himself – Rob Primo driving his amazingly sexy 180sx, sitting on giant Spoon wheels… er, I mean Desmond Regamaster Evos (LOL) in elite sizes while off-track and sporting some new Rota Vorks in the rear while on-track. This is actually his daily driver pulling double duty as a drift car. His S14 has been plagued by oil pressure issues from various differing sources but now it should be all sorted out and ready for the next event. If not, there's always this sexy beast.
I have been to a lot of drift events over the years, small ones to huge ones, as a spectator and a driver. Traveling to Canada for the old VDS/Drifters Inc events, where I actually met Primo for the first time, to the Portland Meadows Drift Day and Portland International Raceway events in Portland. My favorite of these days were the Bremerton Motorsports Park events hosted by the autocross club Torque Steerers. I know…drifting with a club named after a FF term? Back then we were those punks doing something others try not to do. I still respect them for letting us infiltrate their club and have some of the OG drift guys set up events under the guise of "Skillz Days". I remember leaving those events completely exhausted from so much drive time, and almost forgetting to eat because of all the excitement. This is exactly the feeling I had during the PGP event. When I went to bed my body was so exhausted I couldn't even sleep well! That's how you know you've had a good time.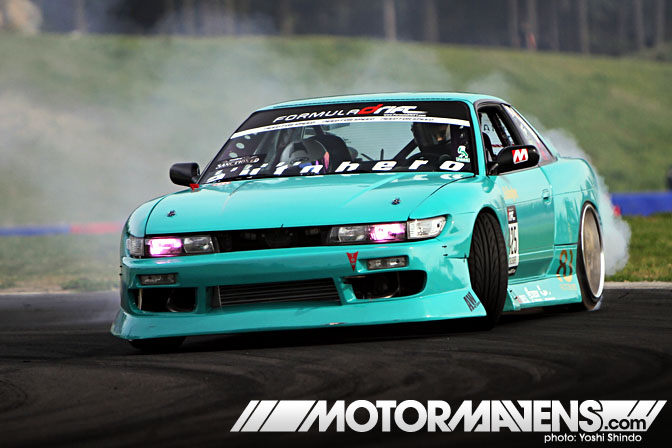 Of course local drift hero Roland Gallagher was on hand after just getting back from Formula D Atlanta where he had a blast driving the Road Atlanta course. He won't be making it to New Jersey next month, but Formula D Seattle is after that, where he'll be no stranger to the track like he was at the previous two FD rounds.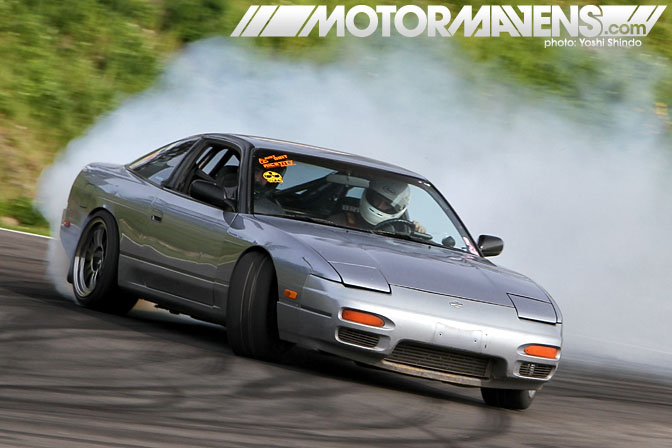 This driver is who I like to call Washington's best kept secret, Nathan Feigion. Nathan lets his driving do all the talking; no huge wheels, gaudy body kit, or distracting stickers. With only his turbo-ed KA at his disposal, he makes drifting look effortless with amazing consistency. His love for driving is bigger than Washington itself – as evidenced by his frequent trips to Thunderhill in northern California. He was chasing and following with the best that day, becoming an obvious force to be reckoned with. Come to think of it, I don't think I have ever seen him at a competition event at all!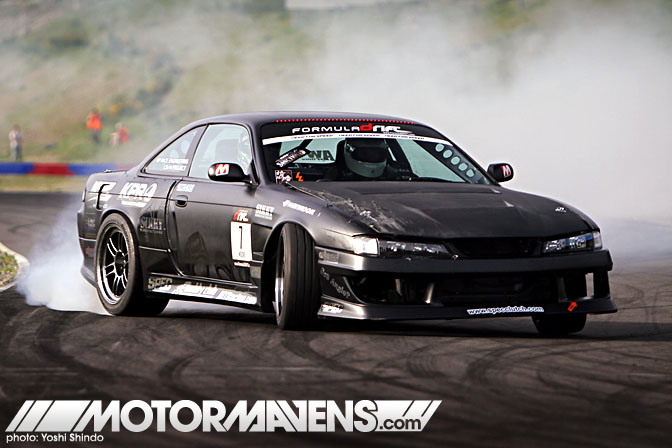 With more power than you would ever need on a track this small, Victor Moore put on a smoke show – any driver chasing him could attest to that. This kouki S14 is powered by a monster sounding LS engine built by KPR Engineering. It's not the first of its kind, but it sure is amazing to watch.
Victor made it out to Formula D Long Beach but had some unfortunate issues with the starter during qualifying which ended his weekend early. Next up for him, like the other locally licensed drivers, is FD Seattle, where Victor seems most comfortable.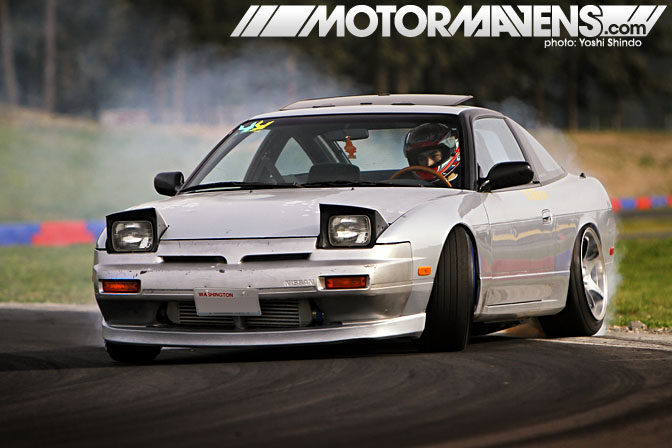 Walker Wilkerson was out in his newly thrown together S13. He worked on it right up until the event, not wanting to miss out on any of the action. Walker is, of course, part of Team Instant Party but you may not have recognized him because he's not driving his pastel colored drift car. He is currently getting that car up to spec in an attempt to run the local Pro-Am series. Walker is an up and comer with a clean and aggressive style.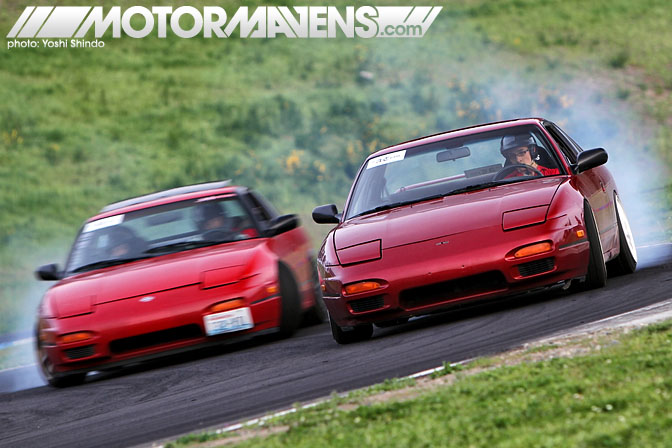 My personal highlight was watching two of my good friends, Nikolay Konstantinov and Chris Crisostomo, tandem all day. Nikolay and Chris have been driving together for as long as I've been into drifting and have known each other even longer than that. They are both a part of the old A-Team drift team – one of the teams that started the Comrades banner.
Because goals and priorities change for each person, Nikolay became a local name with his Bamboo S13, which is now featured in this month's Super Street while Chris crept back from the spotlight – only mentioned when someone would reminisce or say, "you know who I just saw the other day?" Busy with getting married and being a grown up, Chris was able to find some time to slide. He made it look as easy as riding a bike.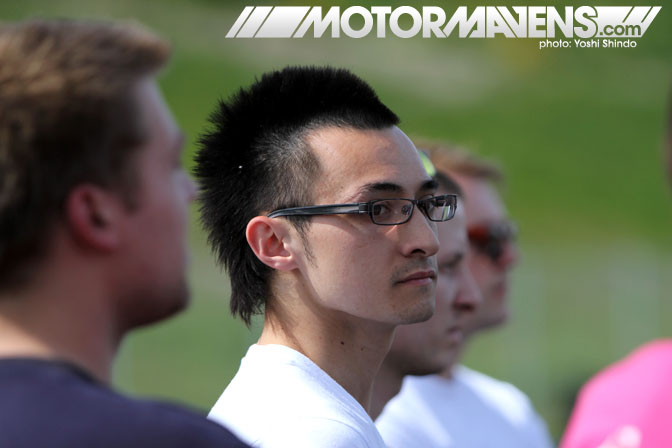 Here is a shot of Chris and his crazy hair, which fits his quirky personality to a tee. Nikolay's competition car wasn't ready for the event because it's at U.P. Garage getting up to spec for Formula D. That didn't stop him from taking out his daily driver and drifting with Chris all day. It was really a great sight to see – two maroon S13s (one coupe, one hatch), both with stock KAs right on each others' bumpers. It was as if they never stopped or even took a break. They just picked up right where they left off. We will be seeing Nikolay drive in FD Seattle, of course, but I'm looking forward to seeing if Chris will make it back out for some more events – especially at PGP.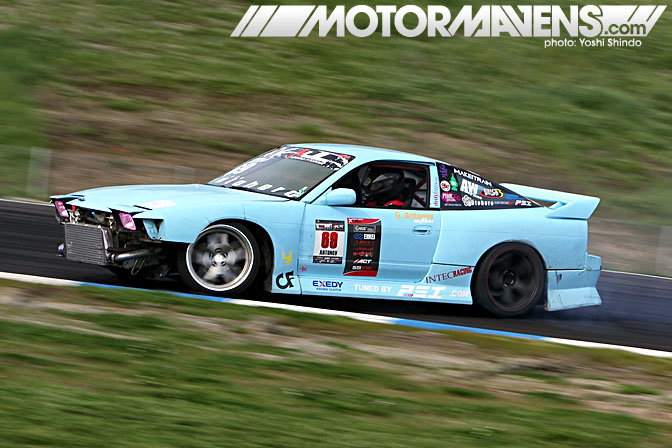 This is the unmistakable car of one Gleb Antonov. He is no stranger to this course, since he was allowed to drift it for demos and fun with his teammates before anyone else. Despite his experience with the track, he went off a couple of times and was sidelined for most of the day – until the grand finale when all available cars were let on track. Gleb is currently on his way to Las Vegas to compete in the Xtreme Drift Circuit. If you are going to the XDC event, introduce yourself and show him your support!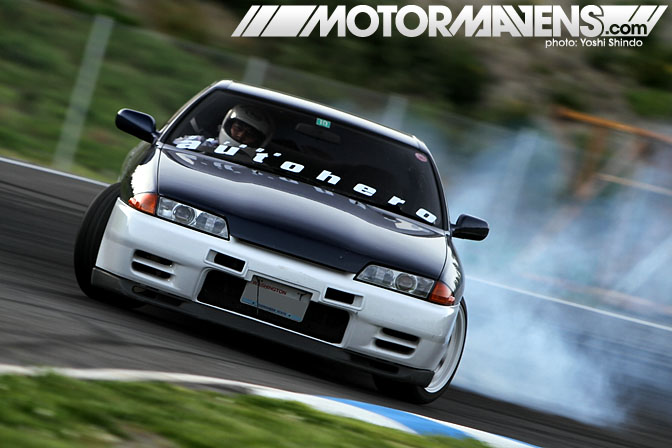 Here I am in the midst of giving my car a makeover. This is my personally owned R32 Skyline. Yeah, yeah, I know… I'm getting the bumper painted soon! This was a real treat for me – to be driving amongst all my friends – all of whom I look up to as drivers. In fact, I learned a lot from this event. It almost had me second guessing drifting my AE86 when it was done! Almost… but this track was made for a Corolla!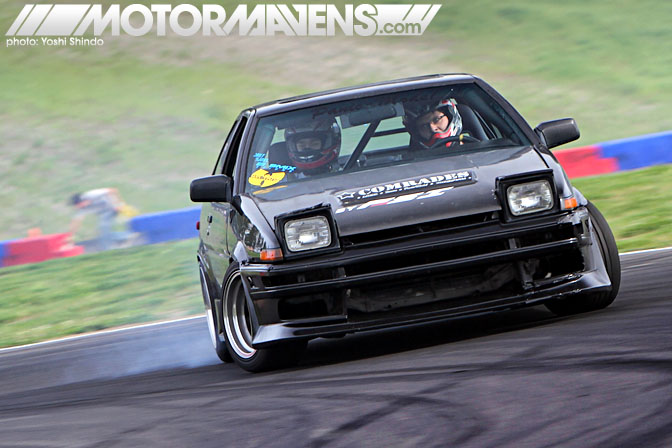 Speaking of corollas, Matt "Matt-Panic!" Gehr had one of two corollas out on the track that day. His 20v Blacktop 4AG powered corolla was a perfect match for this tight course where full throttle was the only way to go. Matt started drifting his KA powered S13 coupe like a corolla years ago – becoming an unsung hero around the NW. After proving himself with NA power for so many years, Matt was invited by Drift Office to campaign their AE86 shop car. But, deciding to move away to Oregon, he gave up the gig only to move back recently and pick up this black coupe from an old Panic-Mode! teammate. Now he's back and better than ever – sporting those WA-Tang and Comrades stickers. Oh, his daily is also a silver JZ powered MX83 with Serial Nine aero – one of my personal favorites.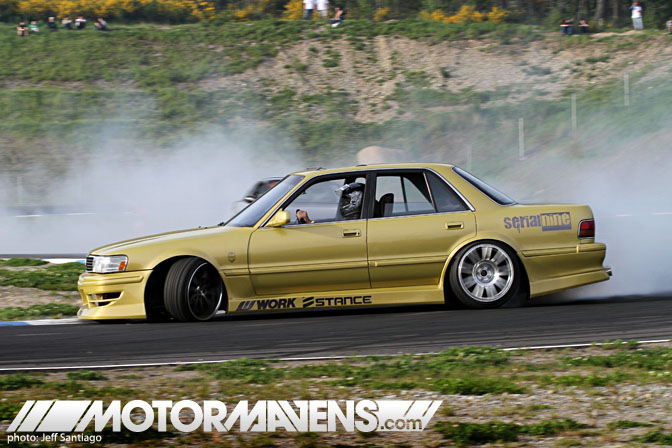 The Serial Nine crew made it down to the track from Canada, but it was unfortunately a short lived experience for them. Gerard de Peralta and Kevin Petersen showed up to the event very late, but still managed to get in a few runs. That is, until mechanical failure struck both cars. Most spectacularly, Gerard's MX83 blew an oil line on the turbo and caught fire briefly. The line that he needed was a -12 AN line, not something that would be commonly found or available on short notice. They both seemed to have a great time though – for as much of a hassle the whole excursion seemed to be.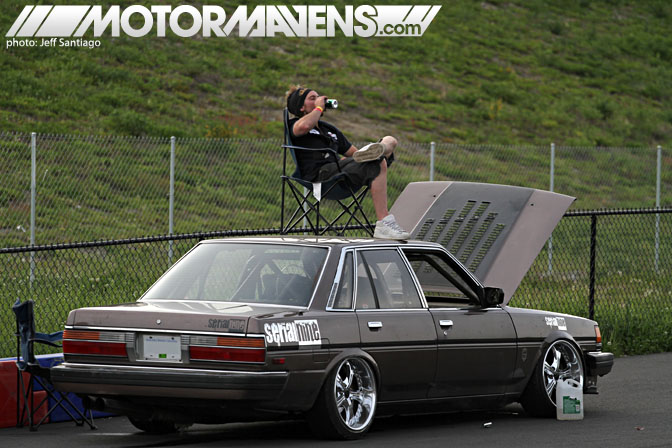 For as long as I've known Kevin, he has always had that cant be bothered attitude – and not being able to drive didn't stop him from having a good time. Sitting on his MX73 was easily the best view in the pits!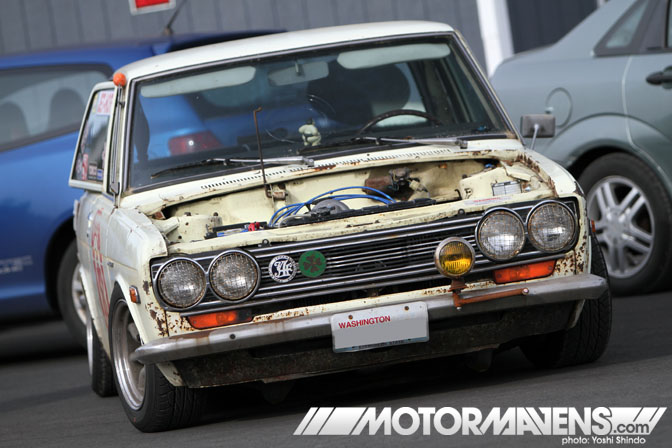 Here we have owner and proprietor of Garage Autohero Ray Stonehocker's Datsun 510 – and if you are not a stranger to MotorMavens then you most certainly have read about it on its previous feature on the site.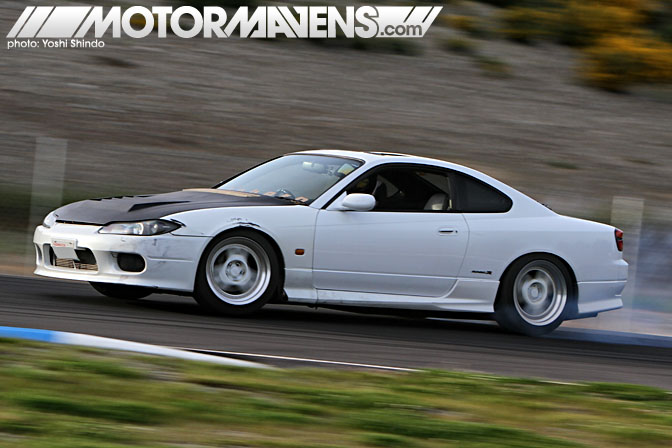 Another driver to make an appearance after time away was Tristan Gay. Tristan bought his S15 Nissan Silvia as less than a rolling chassis but put it together himself in only a short period of time. This last summer his SR20DET blew up and he has been busy getting everything back up since. Even right before the event, he was trying to install a NISMO rear end on the car but he was unable to procure the correct axles. Despite the lack of a new rear end, he took it to the track and made do with the stock helical differential. The only issue he had for the day was when his throttle cable came undone and he was pushed off the track. I have always loved the shape and style of S15s and I'm looking forward to seeing what Tristan has planned for it.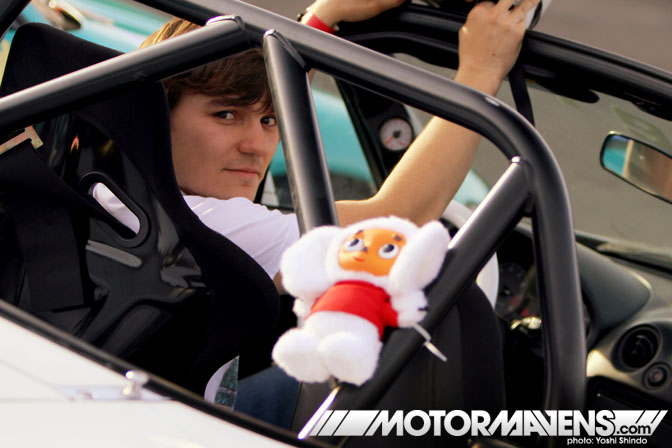 If this track was made for a Corolla, then a turbo Miata steals it. Mike Lukomskiy piloted his Miata flawlessly. After a season of being away from drifting, Mike has returned in 2010 with a vengeance. I'm not sure what his end goal is for this sport, but I'm sure he will be successful wherever he applies himself.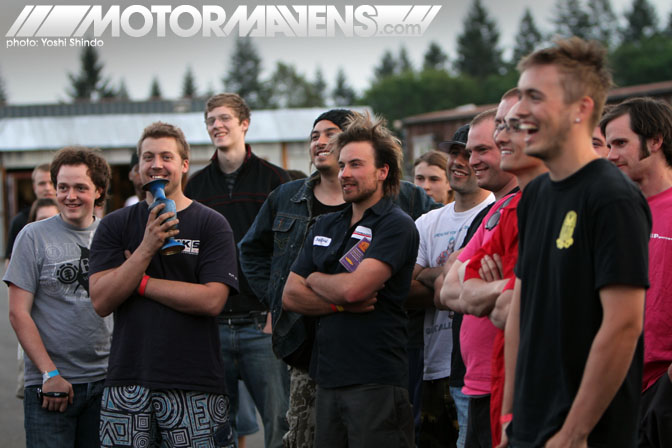 At the end of the day, we all gathered around the DJ booth where Rob wrapped up the day's festivities with all the drivers, media, workers, and spectators who were hardcore enough to stay 'til the very last drop.
Rob came up with a few unique and hilarious awards. First was the award for the farthest traveled – and, of course, it went to a Canadian – Kevin Petersen. Kevin lives in Richmond, B.C. I don't know where that is because I've never bothered to look at a Canadian map – but… I guess its far. The prize was a Whoomp there it is CD. When the CD was revealed, all my Junior high memories (and horrors) came screaming back to the surface… I actually liked that song! Still do…
The next award was for the most destroyed car at the end of the day. There was a lot of competition for this particular award but it was ultimately handed to Ian Fournier. His bumper came off and was ripped to shreds. The actual prize given was a small trophy that was painted black and blue. Ian was given free reign to decorate it however he felt (although he was required to bring it back to the next PGP event) – turns out it's supposed to be a revolving award. Not sure I would want to win this one so much. I like to keep my cars looking clean – at least I try to.
The last, and most coveted, award was pretty much a best in show type award given to Mike Lukomskiy. Mike made an impression on everybody out there –  spectators and drivers alike. It's always super fun to watch him drive, and I'm glad I'm not the only one to notice. The prize for this award was no ordinary prize. It was discovered by Primo himself… actually,  so was everything else, but that's beside the point. The America Knife was bestowed upon Mike – a pocket knife with an Eagle and an American flag wrapped around it… Made in China. We'll pause here for the irony to overwhelm you… It cost Primo a whopping $4.98, but it's not the money that matters, it's the heart. Mike doesn't have to give this one back even though its value is immeasurable.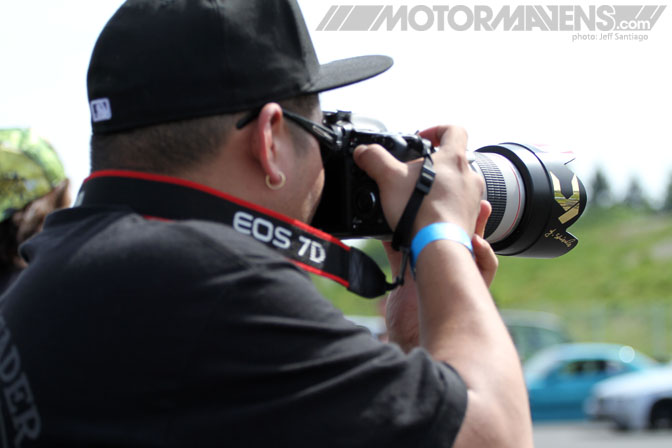 This is a Jeff Santiago photo of the legend himself, Yoshi Shindo – probably taking pictures of someone's girlfriend. Watch your back Yoshi! Someone is watching you now! Haha! Welcome aboard Jeff. We need another person to help keep Yoshi in line!
The PGP track has only been around for less than a year, but it has already made a name for itself as the new place to go for non-traditional motor-sports. It's fairly small and compact compared to the bigger track, Pacific Raceways (next to it), but the action packed course more than makes up for it in sheer adrenaline.
Paul Zalud had been a race promoter for nearly 20 years, traveling all over the county, when he saw the need for a track like this in the Northwest. In 1997, he finally started getting the ball rolling to open PGP. Talk about a lot of time, effort and commitment to see your dream come true!
The main focus of the PGP track is kart racing, leisure and competition – but now other disciplines have found a home here. PGP is host to lots of other motorsports like super moto, rally cross, auto cross, scooter racing, pocket bike racing, and much more. "We are willing to take what everyone else has a tendency to treat like scraps. All those scraps add up and frankly I think are much more entertaining to watch", says Paul.
We definitely appreciate being allowed to drive on your track Paul. I hope we are able to have more events there and have this grow into the place to let it all hang out without any worry of being judged or losing. If ever you had a fear that drifting was becoming un-fun; dont worry. The North West will always be here for you.
::Lucas Perez
Photos by:
Yoshi Shindo
Jeff Santiago
240SX
,
Abbitt Wilkerson
,
AE86
,
America Knife
,
Avon Bellamy
,
Chris Crisostomo
,
CJ Kofoed
,
Comrades
,
Darren McArdel
,
DJ dunnDIRTY
,
Drift Office
,
Formula D
,
Garage Autohero
,
Gerard de Peralta
,
Gleb Antonov
,
Ian Fournier
,
Jeff Santiago
,
Justin Shreeve
,
Kevin Petersen
,
KPR Engineering
,
Kyle Zalud
,
Lucas Perez
,
Mike Lukomskiy
,
MX73
,
MX83
,
Nathan Feigion
,
Nikolay Konstantinov
,
Pacific Grand Prix
,
R32
,
Ray Stonehocker
,
Rob Primo
,
S14
,
S15
,
S31
,
Seattle
,
Serial Nine
,
Skyline
,
Team Instant Party
,
Trent Strmokins
,
Tristan Gay
,
U.P. Garage
,
Victor Moore
,
Wa-tang
,
Walker Wilkerson
,
Washington
,
Xtreme Drift Circuit
,
Yoshi Shindo
---