Antonio has just gotten back from Seattle Formula D, and I'm sure many of you are waiting to see the photos from the event. He is currently preparing photos and stories to post up, but while he's doing that, we thought we would change the pace just a little bit.
Many of you I'm sure have seen some of Antonio's stories and photos from the 2009 Ink and Iron festival. (There are A LOT more photos by the way… we just thought we'd spread out the postings in case not everyone was feeling the style.) While we were at the show, we decided to get some video footage of the event. This time we only used Antonio's Canon 5D Mark II digital SLR camera in video mode. He's just starting out with trying his hand at shooting video… it's a really different skill than shooting still photos, as there are different techniques that make both disciplines challenging.
Many of you may not be aware of this, but the 5D Mark II is becoming a huge favorite of the independent filmmaker. The 5D's insane depth of field, color quality and low light capabilies make it ideal. There's no high speed or time lapse capability, it simply has amazing picture quality.
Along with video footage we got from the 5D Mark II, we integrated some of Antonio's still shots. See if you can tell which shots are stills. Enjoy the new video and let us know what you think.
:: Travis Hodges
---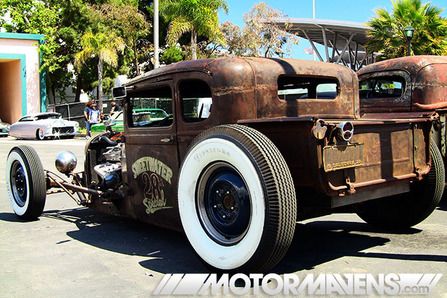 Ink and Iron brought out some amazing hot rod crews and tattoo artists. One of the first traditional hot rods that got our attention was this
Ford
pictured above. The huge rear white walls, and the low and wide stance really set this Ford apart from the other cars. Not to mention that old school lock hanging on the trunk.
Read more...
---