---
As many of you know, those of us in the Los Angeles area had a Christmas get together this past Saturday night at
The Corner Bar in Burbank CA
. On behalf of our entire group of friends who threw the party (
Schikane Clothing, Driftwell Footwork Essentials, Tokyo Drive Productions
and
The Motor Mavens Crew
), we'd like to express our deepest thanks to all of those who came out to chill with us, and those who couldn't make it, but were there with us in spirit.
Big thanks also to those who showed support of the party by donating gifts for the raffle (in no particular order) - Mishimoto, Eneos Oil, DSPORT Magazine, Buddy Club USA, HKS, Hankook Tires, Jack Daniels, and Jagermeister.
I'm just going to post some of the pics from our party on the site. To view more photos,
Add the Motor Mavens Crew
as a friend on Facebook
, and you can see more photos and view the tags and whatnot in case you want to be a stalker and randomly add girls that you don't know. (Go for it, haha)
Read more...
---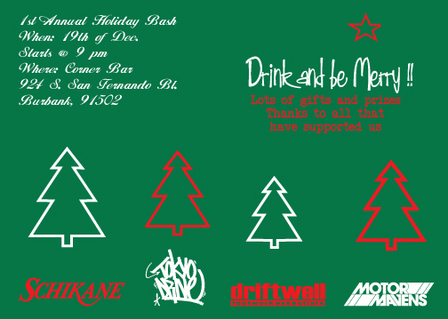 ***** THIS JUST IN!!!
Apparently, some aftermarket car parts companies have decided to participate in the Schikane Clothing x Tokyo Drive Productions x Driftwell x Motor Mavens Christmas Party tonight! COME TO THE PARTY and win a radiator from Mishimoto, some goods from Buddy Club USA, and a bunch of oil from Eneos!
—–>Our friends at JACK DANIELS and JAGERMEISTER have just confirmed that they will come out to the party and give away a bunch of gifts too! Hell yeahhhhh! I want a bottle of Gentleman Jack and a Jagermeister Porsche! =)
To all friends and family of Motor Mavens in the Los Angeles area! We're having a party tonight, and we'd like you to come! This was originally planned as a small, close knit Christmas party between my personal close friends (it's an annual thing)… but earlier today, we talked about it, and said hell… we consider anyone and everyone who has supported us this year as our friends… so let's just invite everyone!
If you're local to Southern Cali, come down to the Schikane Clothing x Tokyo Drive Productions x Driftwell x Motor Mavens Christmas Party tonight!
This is not going to be one of those pretentious "dress shoes and VIP wristband required" events. Everyone is invited! Act like Nirvana, and come as you are… this will be a cool opportunity to "meet and greet" many of our industry friends and many of the people behind this blog!
Here's the info!
CORNER BAR
924 S. San Fernando Rd
Burbank CA 91502
TIME: From 9pm until the bar closes!

Dress code strictly enforced. No dress shoes allowed. Hats, sneakers and other fashionable attire are encouraged. (A message to the Ladies only: No shirt, No shoes, No problem!)
Comment this post to let us know if you're coming!
:: Motor Mavens
---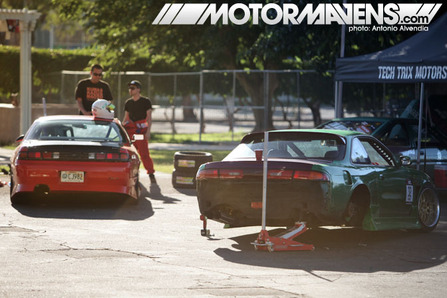 Continuing our photographic coverage of the Megan Racing Drift Competition in San Bernardino on 4th of July weekend...
Read more...
---