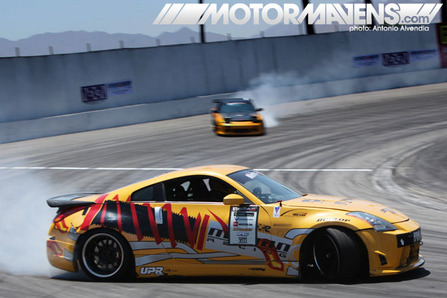 Continuing our coverage of the Megan Racing Drift Competition in San Bernardino on 4th of July weekend… here's a snap of Bryan Rogers (in the Megan 350Z) and Cyrus Martinez (Megan S13) attacking the bank in their matching yellow cars. We hear that these cars will be completely redone in the near future – hopefully with newly designed graphics/liveries too?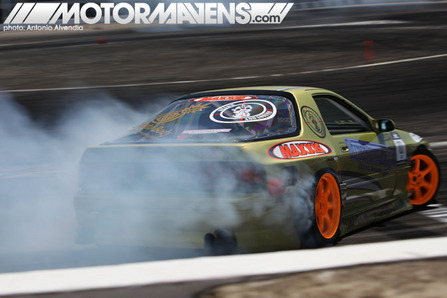 Mike Essa was killing it all day, with more than enough torque to create big smoke with his Maxxis Tire sponsored FC3S RX7, which has an LS1 powerplant. With its gold paint and bright orange Rays wheels making it stand apart from the crowd, Mike's FC is really easy to take photos of. It's great to see the Pro Am guys come up in the ranks for the Formula Drift series! Keep your eye on this car in Las Vegas!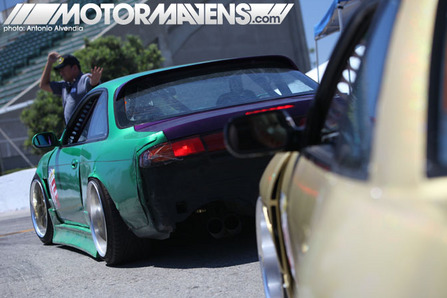 Tommy Roberts pulls up to the starting line right behind fellow San Diego drifter Matt Powers' green S14. Tommy and Matt definitely have captured the attention of grassroots drifting fans and media outlets alike, because their cars look so damn cool and hardcore. I wish all grassroots drifters made their cars sit that low, with wheels poked out past the fender. Bumpers or no bumpers, these cars look nothing short of awesome.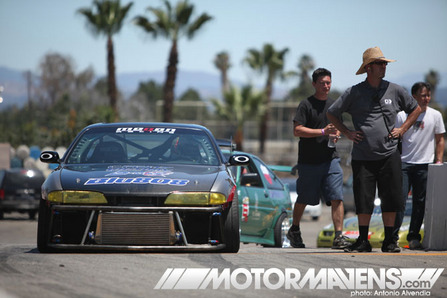 This zenki S14 looked pretty crazy, sitting super low with those football helmet-styled bumper beams up front. If I remember correctly, this thing sounded really powerful, like it had a V8 in it. Forced induction LS engine maybe? Can anyone provide more details about the car and driver?
Even though we normally associate the name Andy Hateley with the fully caged Laguna Seca blue Z33 350Z he's normally driving, our boy showed up to the event in this white E30 BMW. Andy says that he's building a 4-door 3-series BMW right now, and this white E30 is only a temporary car for him. Either way, we thought it was funny that Andy was the only driver to show up to the track complete with his own umbrella girl!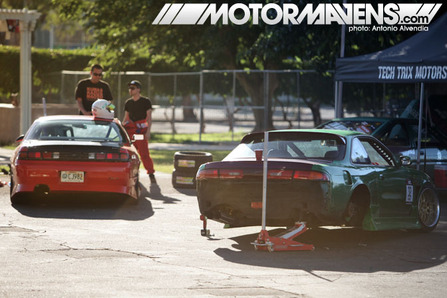 In the pit area, we were chillin with Tree Feierday and Lance Feliciano, who was having engine problems that prevented him from getting much track time in his red S14 that day. On the other hand, the green S14 owned by Matt Powers was seen running close tandem with Tommy Roberts all day, as these guys get their game faces on for the Formula D event this week in Las Vegas.
Lance's hood was off for most of the event, to give his crew access to wrench in his engine bay. Luckily, they were able to get it going by changing the alternator, and Lance was able to run qualifying without any practice.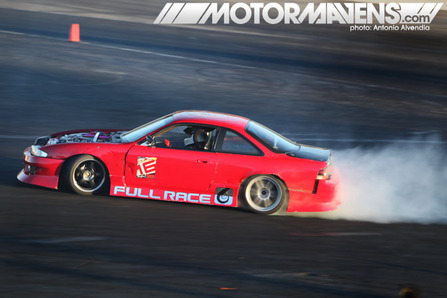 Even without much seat time with his new car and virtually zero practice on the course of NOS Center, Lance was driving like his old self again, running a very close tandem match with Jeff, the driver of the sparkly green Miata.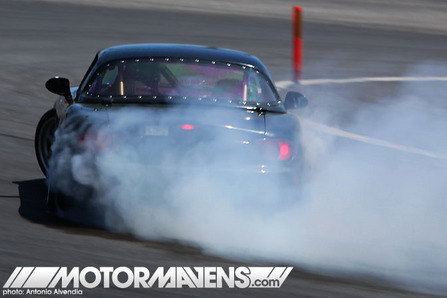 Both Jeff and Lance did an awesome job of closing the gap and following each other, causing the judges to call for a one more time run. Lance and Jeff both fought hard, but at the end of the match, Jeff and his Miata were awarded the win. Just look at the smoke curling over the fender of the Miata!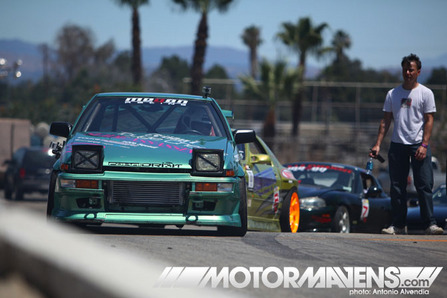 Earlier in the day, I spotted this green AE86 on the track, which caught my eye with its huge front mount intercooler and 15×9 Work Equip 01 wheels.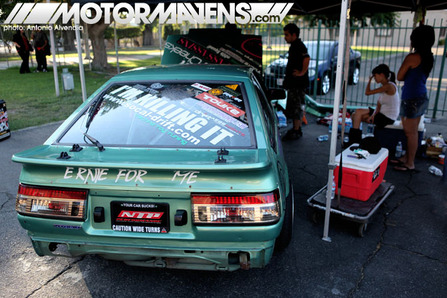 I saw the green full-aero hachiroku again when we were walking the pit area behind the NOS grandstands, so I walked over to check it out in person. I talked to the owner of the car, who was a pretty cool guy from Fullerton CA.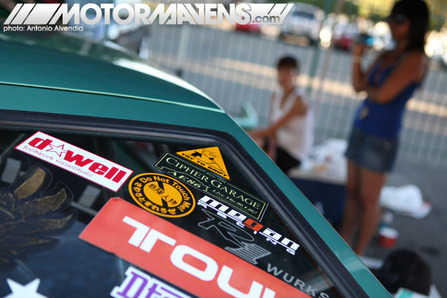 When I got closer, I noticed that he had a Driftwell sticker and an old school Cipher Garage sticker on his car! Cool! The gold vinyl on the Cipher Garage sticker was so old and faded, it looked like it was on the car for years! It was awesome to see one of our old stickers on the car of someone I had just met… maybe he got the sticker from Herb? In case you didn't know, HerbrockOne from Cipher Garage is also the creator/founder of Driftwell. And he is also one of our best hookups for Toyota parts! If you need anything, call him up at Cabe Toyota Parts. 562-595-7411.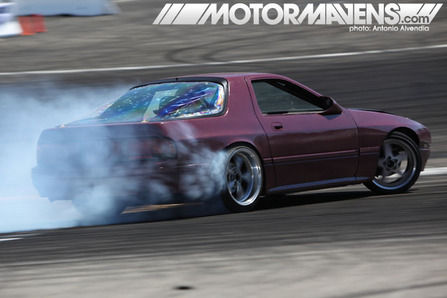 Kelvin Arreola was building pretty good smoke out of his stock engined FC3S as he was accelerating out of the banking. Whoever bent that rear Lexan window did a pretty good job. I wonder if the weight savings of a rear Lexan window like that really makes a noticeable difference on an FC? Mike Essa's FC had a rear Lexan window as well.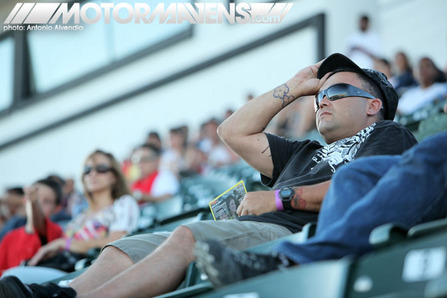 Here's another OG AE86er and old school drifter, Booney Renfield from Team Hinga in San Diego. Booney fell in love with drifting and AE86s when he was stationed at a Marine base in Okinawa Japan with Ernie Fixmer, who is now a Formula D judge! Booney is so hardcore, he even has 'AE86' tattooed on his arm!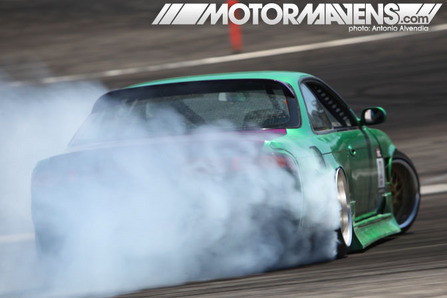 Matt Powers FTW! We'll finish up the photo coverage with a photo of Matt's green S14, looking mean as hell with the super low aero (well, what's left of it) and super aggressive wheels, becoming one with his fender as smoke rolls off his tires. I was told that Matt took top honors at the event – congratulations!!!
See you guys in Vegas! It's gonna be HOT… (Sigh)
:: Antonio Alvendia
---