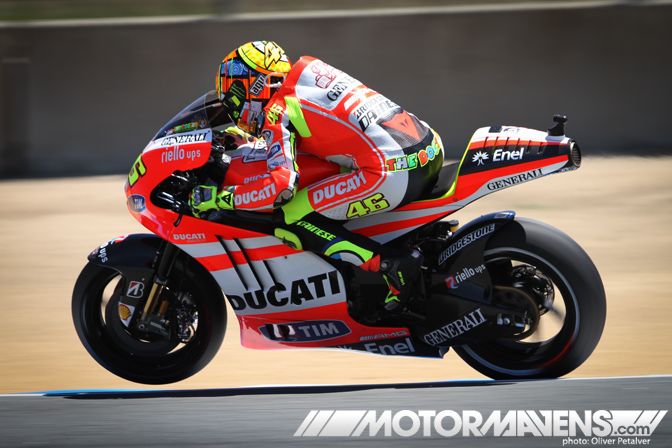 While my colleagues were in the
Pacific Northwest
shooting
Formula D
, I decided to take a road trip to
Monterey, CA
to shoot the world famous
MotoGP
.
For those unfamiliar with MotoGP, it is the two-wheel equivalent of
Formula One
. It is an 18-race series visiting 14 countries (with only two stops in the U.S.). Now in its 63
rd
year, it is the oldest motorsports championship in the world. The world's best riders pilot machinery that have been crafted with the keenest of cutting-edge technology - technology which has largely benefited from the R&D budgets of four manufacturers:
Yamaha, Ducati, Honda,
&
Suzuki
.
For the purposes of competing in MotoGP's premier class, the manufacturers are held within these general parameters: the engines must be 800 cc, four-stroke engines and the motorcycles competing must be prototypes. As you might imagine, first-rate drivers plus high-end, super machines equate to one HELL of a ride!
Read more...
---
Many of you know about Apple's new iPhone 4. What you may not know is that it now shoots 720HD video! That, my friends, is epic to say the least. While doing some research on one of my favorite directors of photography (Vincent Laforet), I came across this amazing video shot entirely on a iPhone 4, with no color correction from Hoptocopter Films on YouTube. Titled "156 turns," it features Team Ducati Spider Grip's Greg Tracy on a stock Ducati Multistrada during the Pike's Peak International Hill Climb.
I know we normally don't follow much motorcycle racing, but this video is definitely worth watching. 156 Turns captures the power, passion and precision involved in this race.  Rhys Millen even makes a powerful statement in the video, "Somebody once asked me if I ever caught air up here….I said, 'no, but if I ever did, I don't think I'd ever come down…'"
All I can say is, great racing, great film making, and DAMN, I want an iPhone 4!
Enjoy!
:: Travis Hodges
---