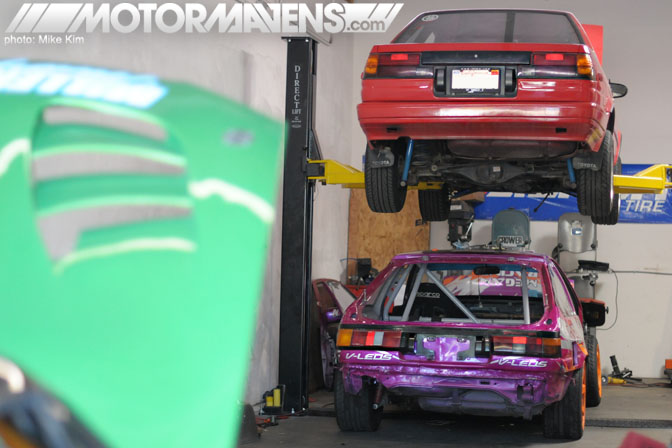 When it comes to drifting, whether it's professional, grassroots, or even street, the
AE86 Toyota Corolla GT-S
is one of the most iconic cars around. The AE86 '
hachi roku
' and its
4AGE engine
are a staple when it comes to drifting. However some more adventurous and fabrication savvy people have opted to swap in different engines. Not everyone is a fan of cross platform engine swaps, but I think pulling off a swap from a pure engineering standpoint is a feat of its own. One of the most desired AE86 cross platform swaps is the
F20C/F22C
engine from the Honda S2000 as it is one of the most powerful 4 cylinder N/A (normally aspirated) engines available.
About a week ago,
JSP Fab
's
John Russakoff
contacted me about an exclusive update to his
Megan Racing/Nexen Tire
Formula Drift competition car. For those of you who don't know John, he is one of the first in the AE86 community to perform a F20C engine swap into the AE86 Toyota Corolla Chassis -
stateside
at least. He has once again broken the
cross platform swap barrier
by putting a
Honda K-Series
front wheel drive
engine into the AE86 while retaining the RWD platform. Going to be the very first fully completed and
running
K-Series AE86 in the US (and maybe even the world), he definitely had some hurdles to jump over when it came to engineering and fabrication.
Read more...
---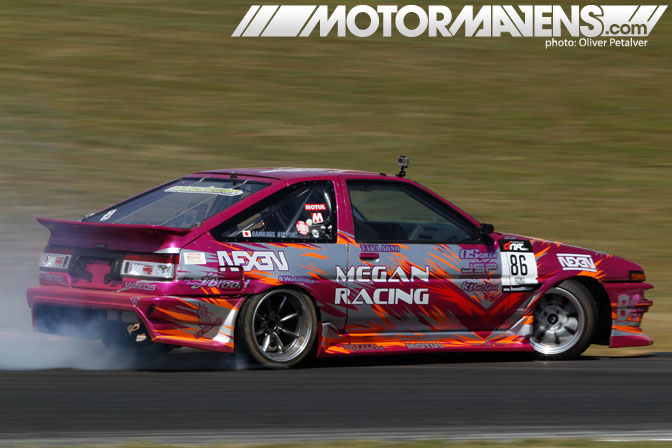 Right now I'm sitting in the media tower at
Road Atlanta
while practice continues just over the hill on the course. That's right, Allen Iverson, we're talkin' about practice! Not the game, but practice. With that being said, even though it
was
practice, the drivers were pushing it to the limit and beyond. Many cars ended up in the kitty litter on the initiation corner and some went into the wall.
Read more...
---
BIGFOOT BASH FINAL VERSION from Ryan Davis on Vimeo.
The very first Bigfoot Bash was held over this past weekend. A two day event that started with action at the Evergreen Speedway for the first day, followed by an overnight camp at Pacific Grand Prix to wake up for more drifting action the next day! Rob Primozich is the guy to thank for this awesome weekend. Because of him, everyone who attended had a great time! The drivers had tons of runs and Ray Stonehocker even brought out his tire machine to change tires. Ryan Davis made the drive from Oregon to attend this event, as well as our boys Justin Shreeve and Joe Ayala.
Ryan Davis is an up and coming videographer who has been making a big impact on the Northwest scene. After watching this video, I noticed that his style of video is far different from most videos that I see I simply had to ask him "What made you make your video the way you did?" This is what he told me:
I wanted to make this film a representation of the vibe and feel I got from each stage of the event. I have had so much fun at both of these tracks before: Formula D at Evergreen and the crazy tandem events at PGP. I knew that, whatever happened, it was going to interest people, so I edited accordingly. Justin Shreeve was singing the Tom Petty song on the ride back and that fell in so easily with the Evergreen section. The PGP portion was so high-energy and I knew Supernova by Loyale, an up-and-coming artist, was going to not only show the difference in pace, but also stick in peoples' heads leaving them wanting more.
Honestly, I think this video is one of Ryan's best yet! It's great to see different videographic visions of the same event. It's amazing to me how diverse these videographers' artistic perspectives can be. Great job Ryan!
::Yoshi Shindo
---