For those of you unaware of the North Carolina/Tennessee hidden treasure called
Deals Gap
(also known as
Tail of the Dragon
), prepare yourself to be hit with some knowledge. Deals Gap has become an international sensation for car and motorcycle enthusiasts. What you
won't
find up there is
anything
. There is literally, and I mean literally,
absolutely nothing
in the surrounding area. That is unless you like camping/hiking/ or antiquing
(where is that roll eyes smiley at? LOL!)
) What you
will
find is miles of curvy mountain roads and plenty of rally rental car roads. Who's feeling me?
That said, the
Tail of the Dragon
is an 11-mile stretch of two lane road in Tennessee and is said to have 318 curves - and one very large cliff face to launch off! The speed limit is 30mph and there are Tennessee Troopers there to graciously remind you. They are quite nice when they hand you a ticket and, after nine tickets (hand delivered) that Saturday, I am very qualified to testify to their manners.
Read more...
---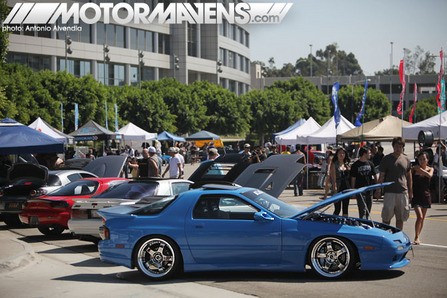 This past Saturday at Mazda Headquarters in Irvine CA, rotary engined fans from all over the nation gathered at the annual Sevenstock Rotary Festival. I saw cars with license plates from a variety of different states there; it was cool to see how hardcore and dedicated many of these rotary owners were! I used to own a white FC3S RX7 (NA) for a little while before I bought my first AE86, and I loved it. I can definitely see where these rotary guys get their enthusiasm from.
In fact, one of the dedicated RX7 owners in attendance was our own
Calvin Wan
, who flew down to LA with his wife just for one day because they scored some super cheap plane tickets to Orange County for only $29 on Southwest! After picking them up at the airport, we went to eat dim sum at Capital Seafood in Irvine before heading to the show. I suppose the entire day had a "rotary theme" because Calvin noticed that even the plates that our dim sum was served in were round and triangular in shape, just like the rotor inside a 13B. Crazy.
Read more...
---