If you like 1JZGTE powered Toyota Soarers, Chasers, Crestas and Mark IIs of the JZZ30, JZX81, JZX90, JZX100, and JZX110 varieties… if you like watching videos of cars from Japanese street drifting teams like Team Julius, Canopus (Hi Tokichan!), then you'll love this video of the ST Garage 1JZ Drift Festival at Fuji Speedway! It even features cameos of some of our 'drifting blogosphere' friends from Japan… Hello Alexi! Congrats on your trophy! (more…)
---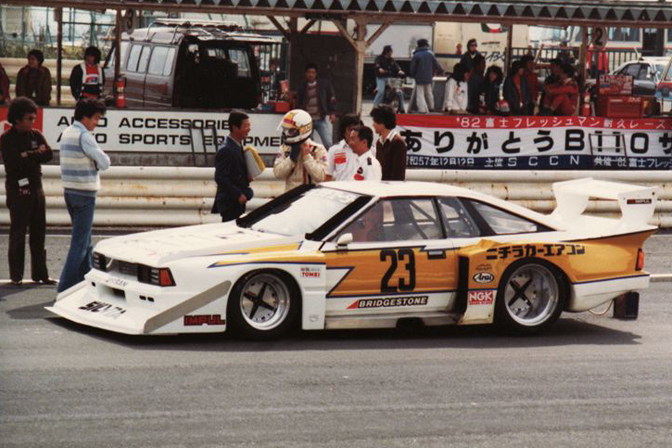 I just love Japanese
Super Silhouette
cars from the late 1970s to the mid 1980s. I actually saw these photos posted sometime last week on the
Team Obscurity website
, but didn't get a chance to post them up until just now. These Super Silhouette cars were said to have influenced the Bosozoku/Yanki style of crazy aero kits, fat lip wheels, and humongous front chin spoilers... obviously!
Just check out this famous S110 Nissan Silvia, which was raced by legendary Japanese racer
Kazuyoshi Hoshino
's team,
Impul
. Hoshino-san has reached God-like status amongst race fans in Japan because of all his HISTORY. He actually raced in two Formula 1 races*; both of them at Japan's legendary
Fuji Speedway
- the old school course, with the famous old (and dangerous) banking, which is now closed and sits on the side of Fuji Speedway as a holy relic of the
Shizuoka prefecture
's glorious racing days of the 1970s and 1980s. In fact, I'm still kicking myself because I had the opportunity to chill out in the Impul/Calsonic Super GT pit area when I attended the
Pokka 1000kms Super GT
race at
Suzuka Circuit
, and Hoshino san was standing right freaking THERE... and I didn't even take a photo with him or ask him to autograph something. What an IDIOT I am. I still regret it.
Read more...
---
Ever wonder how Japanese Bosozoku and Yanki car owners came up with the ideas of how to make their cars look so crazy? Well, according to stories I've been told, a lot of these guys began making their street cars resemble the professional Super Silhouette racing cars, and then making them look a whole lot crazier and a whole lot more gangster basically.
Me personally, I love Super Silhouette cars. I wasn't really aware of these cars in the 80s when they were new, as I was too busy watching cartoons like Robotech (Macross) and playing with Transformers. However, whenever I began going to toy stores that had Japanese car models, I noticed that many Japanese plastic model companies like Fujimi and Tamiya had silhouette racers within their product lines! So awesome. Just another reminder of why I love Japanese car culture so damn much.
So let's watch the video and enjoy the Super Silhouette racers as they run Tsukuba Circuit and my favorite, Fuji Speedway!!!
:: Antonio Alvendia
---