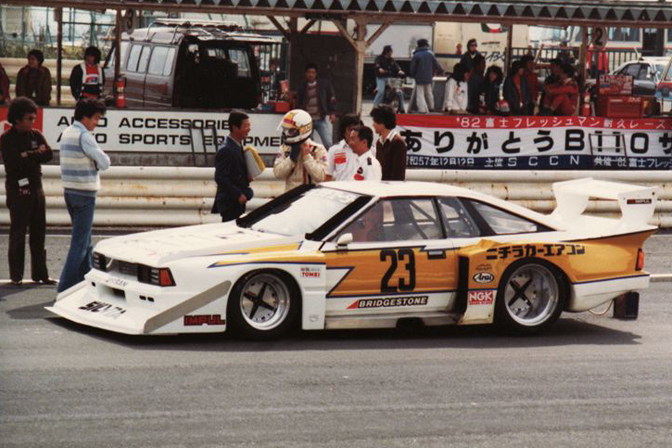 I just love Japanese Super Silhouette cars from the late 1970s to the mid 1980s. I actually saw these photos posted sometime last week on the Team Obscurity website, but didn't get a chance to post them up until just now. These Super Silhouette cars were said to have influenced the Bosozoku/Yanki style of crazy aero kits, fat lip wheels, and humongous front chin spoilers… obviously!
Just check out this famous S110 Nissan Silvia, which was raced by legendary Japanese racer Kazuyoshi Hoshino's team, Impul. Hoshino-san has reached God-like status amongst race fans in Japan because of all his HISTORY. He actually raced in two Formula 1 races*; both of them at Japan's legendary Fuji Speedway – the old school course, with the famous old (and dangerous) banking, which is now closed and sits on the side of Fuji Speedway as a holy relic of the Shizuoka prefecture's glorious racing days of the 1970s and 1980s. In fact, I'm still kicking myself because I had the opportunity to chill out in the Impul/Calsonic Super GT pit area when I attended the Pokka 1000kms Super GT race at Suzuka Circuit, and Hoshino san was standing right freaking THERE… and I didn't even take a photo with him or ask him to autograph something. What an IDIOT I am. I still regret it.
*Even though Hoshino-san and Impul are most famous for racing Nissans, Hoshino actually drove a Tyrell Formula 1 car when he entered F1 in 1976. In case you're unfamiliar with a Tyrell, it basically has FOUR WHEELS up front… it looks pretty crazy. I didn't think much of it at first… that is, until I saw one up close and personal. I had the chance to see the Tyrell when I photographed the British Formula 1 Museum at Donington Park a couple years ago, when I was still under contract with EA Games and building content for their Speedhunters site. That Tyrell looked pretty incredible in person.
Back to the famous Impul S110 Silvia, dig those super fat Impul Hoshino wheels. They look GREAT on Nissans! (Please refrain from putting these wheels on AE86s! It's like putting Mugen wheels on a Mazda!) Also check out the old school Tomei and Bridgestone logos. Pretty damn cool.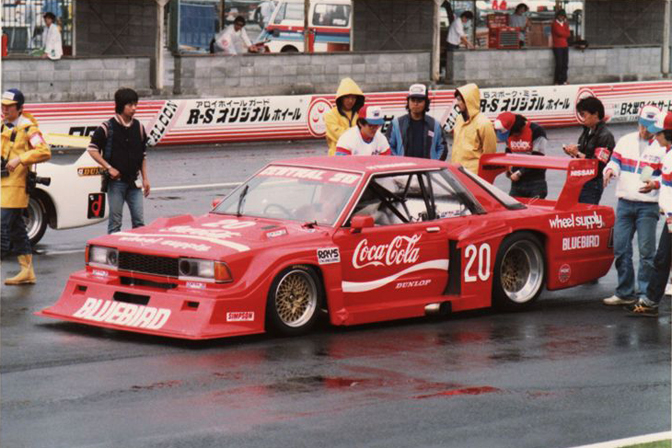 Here's the Coca Cola Datsun 910/Nissan Bluebird. Check out the cool aluminum paneling in the interior, and the rollcage in there! Also dig the vintage RAYS Wheels logo on the overfender, with those old school RAYS/Volk racing mesh wheels! Hella dope. Also notice that the car is rocking Simpson seatbelts… some USDM flavor to go along with Coca Cola from Atlanta.
But YOOOOOO!!! Check out the old school original RS WATANABE banners on the side of the track! If I was around at this race, you KNOW those banners would have been stolen by the end of the day… FOR SURE.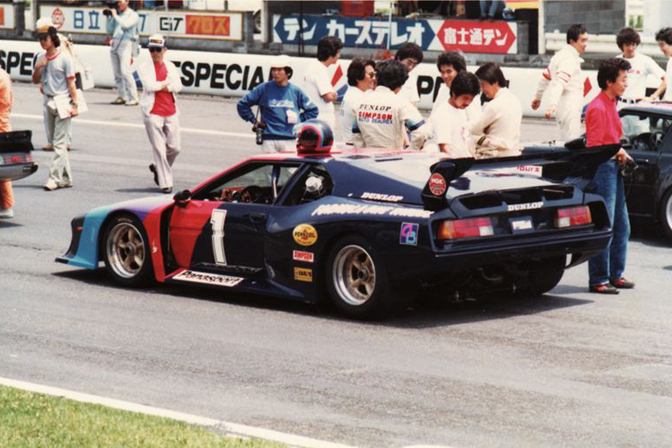 Now HERE is a car you don't see every day. This here is the BMW M1. Super duper ridiculous rare. What I think is cool about this car, is it's rocking some super old school Panasport 3piece racing wheels. I'm not quite sure the name; they look like a the predecessor to the Panasport G7 wheels, but with "banana spokes."
Pretty crazy, this Bimmer reminds me of a Lamborghini or Lotus or something.
Oh yeah… check out the SA22C widebody RX7 taillight… you can just barely see it, but it's the car lined up on the grid in front of the BMW M1.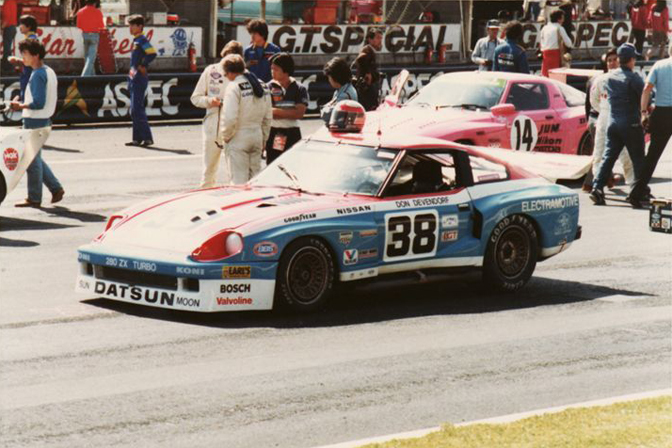 Now here's an interesting car that doesn't necessarily look like the other Super Silhouette cars. This is a Datsun 280ZX turbo, driven by Don Devendorf. Damn!!! I can only imagine what it would be like to attend a race like this… taking in all the sights and sounds of one of the coolest racing series to ever come from Japan… but can you imagine what it might be like to DRIVE in this event as a gaijin?! How the hell would this Don Devendorf guy understand what the track announcers were saying… or the rules at the driver's meeting… man!
Devendorf's 280ZX is filled with USDM sponsor stickers, check it out. It looks to me like it's more of an IMSA GT car than a Super Silhouette car. Oh hey, check that Electramotive sticker on the rear fender. At first, I thought it was the sticker of the tunable ECU (as in Electromotive TEC2, or Electromotive HPV-1.), but then I noticed it's spelled "electra" rather than "electro" so now your guess is as good as mine…?
Anyway, this is just a sampling of the cool archaeological images that have surfaced. Go check out the Team Obscurity website for the rest of the photos!
:: Antonio Alvendia
---