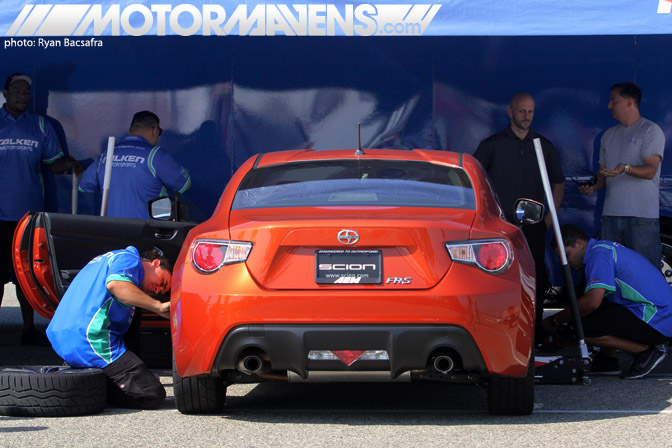 On October 7th,
over 2500
Scion FR-S, Subaru BRZ, and Toyota AE86 enthusiasts from all over the Western United States converged at
Auto Club Speedway
in Fontana CA for the very first
86FEST
, and the energy was just
incredible!
The newly introduced Toyota/Subaru "86" platform (sold as
Scion FR-S
and
Subaru BRZ
in the USA) has received international acclaim as the second coming of the legendary AE86, which has a huge cult following worldwide.
With help from sponsors like
Falken Tire
,
OEM Audio Plus
,
Turn 14 Distribution
,
Whiteline Suspension
,
Motul
,
Spec Clutch
,
Mann Engineering
,
Flossy Shift Knobs
, and
M7 Japan
, it's pretty crazy how quickly our inaugural 86FEST came together! Just a few weeks ago, I was driving at a Volkswagen event at Big Willow, and got to talking with the
Speed Ventures
organizers about how cool it would be if we could get a bunch of FR-S, BRZ, and AE86 owners together at a track day. They both expressed a lot of interest in the idea - especially since we have been thinking about ways to work together for nearly two years!
Read more...
---
The Olympus Rally is a legendary event that people used to hear about in the advertising campaigns of big car manufacturers. In the 1980s, big car companies like Toyota, Nissan, Audi and Lancia had factory backed rally teams racing through the backroads surrounding Seattle Washington. It even used to be a leg of the World Rally Championship! That's right – WRC on US soil!
If you love the glory days of WRC like I do, watch this video, which features cars like the Lancia Delta Integrale, Audi Quattro, Nismo S12 200SX, Toyota Team Europe's MA70 Supra and a privateer AE82 Corolla FX-16 GT-S! There's even a few short clips of Rod Millen driving a Mazda 323 GTX (Mazda Familia) all wheel drive rally car! (more…)
---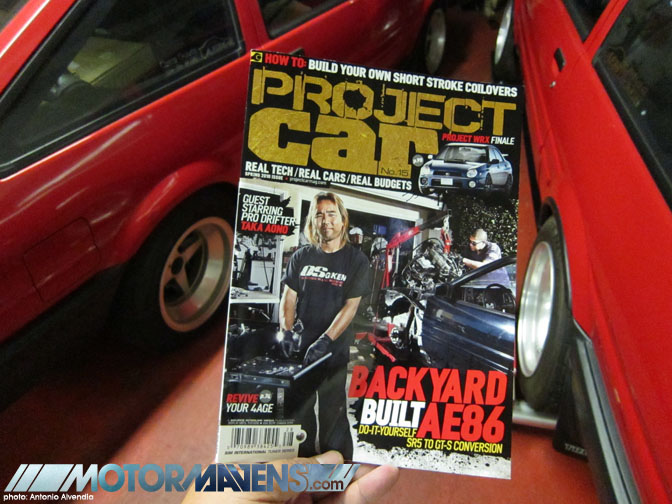 I just realized that I haven't posted up a "Papercuts" story in quite some time. To tell you the truth, it's because I haven't even bought any car magazines in quite some time. There was a time in my life when I would go to bookstores and hang out, just to check out all the car magazines that were out. My friend Kenta and I would meet up at Barnes & Noble or Borders (or better yet, the Kinokuniya Bookstore in Little Tokyo or Torrance) to check out the latest car magazines every single month. I miss going to bookstores just to chill and check out magazines… I'm not sure if I haven't been going because I've just been busy, or if the magazines these days don't intrigue me…
Whatever the case may be, I stumbled upon this copy of Project Car Magazine at the CVS Drugstore in Studio City. This issue caught my eye because I saw my friend Taka Aono on the cover; after all, he is the USA's undisputed top AE86 driver. I thumbed through it really quickly, and decided within 20 seconds, "that's it. I'm actually gonna buy this issue." While my 10+ years of Living the 86 Life have led me to own just about every AE86 book or manual that has ever been produced in Japan, it's honestly pretty rare to see magazines that actually produce good stories about AE86s stateside. I definitely think this magazine was worth the $6 or 7 (ouch!) that I paid at the cash register.
Even though he's probably the one Source Interlink magazine editor I don't really know, I really gotta give props to Project Car editor Gary Narusawa and his crew over there. (more…)
---