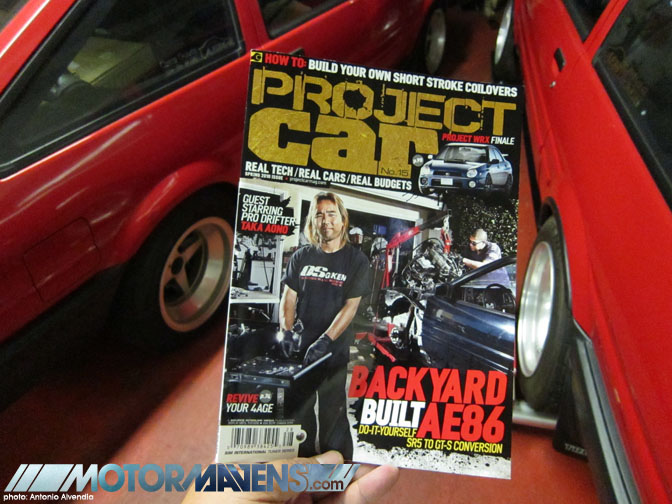 I just realized that I haven't posted up a "Papercuts" story in quite some time. To tell you the truth, it's because I haven't even bought any car magazines in quite some time. There was a time in my life when I would go to bookstores and hang out, just to check out all the car magazines that were out. My friend Kenta and I would meet up at Barnes & Noble or Borders (or better yet, the Kinokuniya Bookstore in Little Tokyo or Torrance) to check out the latest car magazines every single month. I miss going to bookstores just to chill and check out magazines… I'm not sure if I haven't been going because I've just been busy, or if the magazines these days don't intrigue me…
Whatever the case may be, I stumbled upon this copy of Project Car Magazine at the CVS Drugstore in Studio City. This issue caught my eye because I saw my friend Taka Aono on the cover; after all, he is the USA's undisputed top AE86 driver. I thumbed through it really quickly, and decided within 20 seconds, "that's it. I'm actually gonna buy this issue." While my 10+ years of Living the 86 Life have led me to own just about every AE86 book or manual that has ever been produced in Japan, it's honestly pretty rare to see magazines that actually produce good stories about AE86s stateside. I definitely think this magazine was worth the $6 or 7 (ouch!) that I paid at the cash register.
Even though he's probably the one Source Interlink magazine editor I don't really know, I really gotta give props to Project Car editor Gary Narusawa and his crew over there. Working with a limited budget and a skeleton crew, they produced something that they (and we) can all be proud of.  Producing a magazine like Project Car doesn't look like it's all glamourous and glitzy, like some of the other Source titles. Instead of America's Next Top Import Model on the cover, he featured a dirty, grimy, Japanese guy with super bleached hair on the cover, with a car that most other magazines think is "too old" to do stories on.
Major f*cking PROPS on going against the grain, Project Car Magazine… and if you ever need help with illustrating your great tech stories, the entire MotorMavens Crew is down to support you. This issue even got me inspired to get my own AE86s back on the road (and on the track!). I'll be keeping a copy of this issue in my garage with the Cipher Garage twin AE86s for a while!
If you own an AE86 (or if you're thinking of buying an AE86 in the future), GO BUY A COPY OF THIS MAGAZINE!
:: Antonio Alvendia
PS:  It was great too see our own fam, HerbrockOne from Cipher Garage/Cabe Toyota mentioned in the mag! They should have put a photo of Herb up in there – he's an AE86 OG!
---