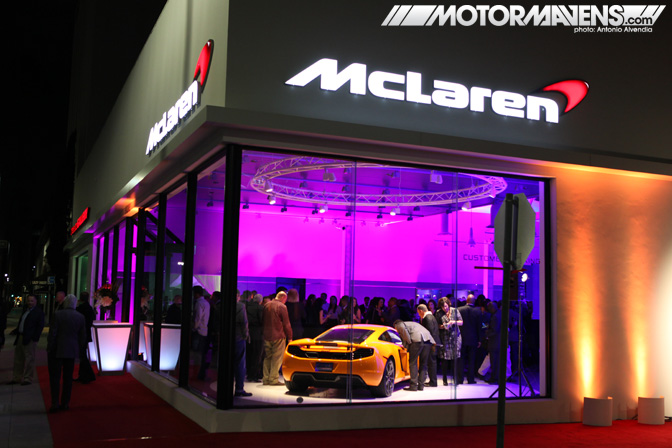 Just a typical weeknight in Los Angeles... I received an invite to a special party that
The McLaren Group
was throwing to celebrate the opening of their newest showroom.
McLaren Beverly Hills
is situated on some prime real estate; it's on Wilshire Blvd next to
The Auto Gallery
, only blocks away from the high end boutique shops on Rodeo Drive.
With red carpets and media walls lining the sidewalk leading up to the building, McLaren's newest supercar was undoubtedly the belle of the ball. Invited guests were given the chance to get up close and personal with the
592 brake horsepower
McLaren MP4-12C
; a car that
just about anyone
can drive home at the bargain price of $229,999.
Read more...
---
Okay, so you've already seen the photos of the red Mercedes SLS AMG that I shot at the LA Auto Show. You've even seen the video of our favorite late night television personality (well, aside from those hot chicks on the TV commercials that are always asking us to call them) Jay Leno comparing the new SLS AMG to his own 1955 Mercedes 300SL Gullwing on an installment of Jay Leno's Garage. Man!
This morning, I actually took the time to browse the internet, and spent some time on another one of my favorite blogs this morning – CrankAndPiston. As I looked through their webpage, I saw this video that our friend Phil McGovern posted up, featuring Jay Leno driving the "Los Angeles City Circuit" with the SLS AMG. What's the Los Angeles City Circuit, you might ask? Well watch this video to see. It features Mr. Leno taking us through one of his favorite routes through the Hollywood and Los Angeles. As soon as I get back home to LA after the holidays, I'll have to try driving this route myself.
Enjoy!
:: Antonio Alvendia
Jay Leno's Garage
More Mercedes SLS AMG stories on MOTORMAVENS
---
I'm not sure if all of our readers watch the new (reformatted/renamed) Jay Leno Show, or Jay Leno's Garage… but personally, I'm a big fan of Jay Leno, but unfortunately I've never had the chance to run into him, even though the studio where they tape his show is less than five minutes away from my office.
Everyone who knows about Jay Leno knows that he is a huge fan of automobiles, and has a humongous car collection; he has so many cars that he even has his own personal hangars at the airport that are solely dedicated to housing his incredible collection of cars. It's like having a bunch of Hot Wheels die cast, only Jay's collection is 1:1 scale, and he can drive every single one of them!
Well, since he is Jay Leno after all, Mercedes gave him a chance to test drive their new SLS AMG Gullwing on the streets, and again since he is Jay Leno, he was able to have a film crew document it. (He didn't need to shoot it guerrilla style by himself with a Canon point&shoot camera, like some other car lovers we know.) He even started out the video with a clip of his own 1955 Mercedes 300SL Gullwing!
That's soooo dope! Once Toyota comes out with the FT86 in the USA, I need to shoot one of those with one of my own AE86s!
::Antonio Alvendia
Jay Leno's Garage
More Mercedes SLS AMG stories on MOTORMAVENS
---