I realize that our readers have been patiently waiting for these new photos from our coverage of the IDRC Finale at California Dragway in Fontana, CA. There were quite a few racers in attendance, and quite a few media outlets out there covering the event, so I'm sure there will be lots of great stories and links out on the internet that include everyone's quarter mile times.
Rather than bringing our readers the same stories as
the other guys
, I thought I would just publish a few more photos of cars that caught my eye. I'll be the first to admit - I don't know a whole lot about drag racing or Hondas, so if I don't go into as much detail as you might expect from one of my stories about drifting or Japanese nostalgic cars, then please bear with me. Actually, I'd love to invite a Honda Maven to share information with us, and even blog on the site! It would be pretty cool, as I know I certainly have a lot to learn when it comes to drag racing and Hondas...
Read more...
---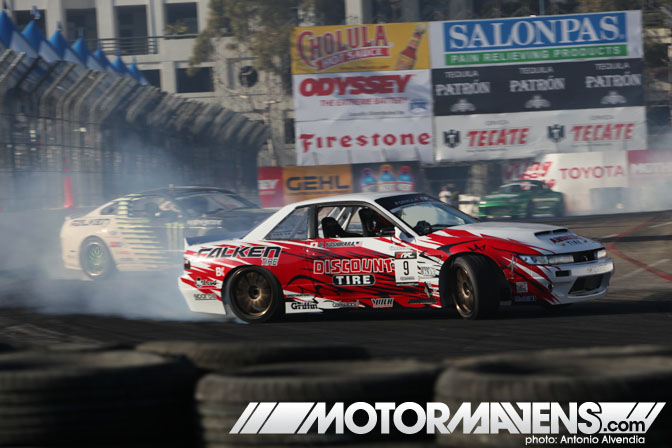 It's hard to believe that it has already been a week since Formula Drift took over the Streets of Long Beach. This weekend, the famous street course is still home to many a race fan. However this time, Long Beach has been taken over with open wheel racing fans that have been going to the Toyota Grand Prix of Long Beach for years and years. Since we don't really cover open wheel racing on Motor Mavens, I thought it would be good to post up some more photos from our experiences at Long Beach last weekend. (I know, some of you are thinking, it's about damn time!)
The first photo in our series is from one of the practice sessions. I think the practice sessions were actually a lot cooler and funner to watch at times than some of the tandem bouts, because it felt like freestyle drifting chaos within the confines of the white cement barriers and tire stacks that lined the streets of the LBC.
Read more...
---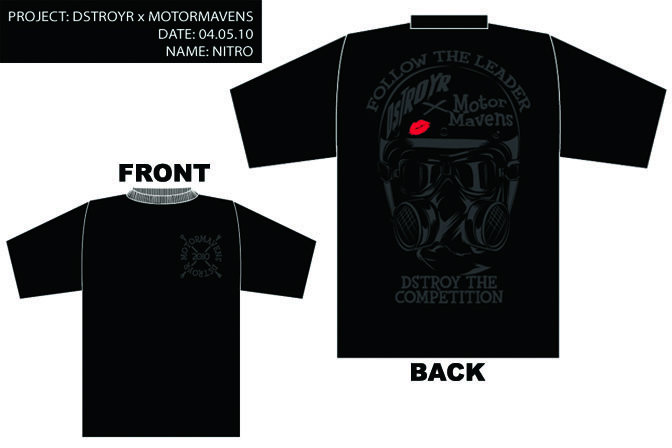 Ever since the Formula D Pro Am at Irwindale several months ago, super designer Jon Chase of DSTROYR fame and I have been talking about doing a project that showcases some of our mutual interests. It's kinda funny… we never realized it before, but we have been slowly realizing that our taste in things and our interests are actually pretty similar. To kick in the door and get things started, we decided to create this collaborative t-shirt – above is the rough concept art for the shirt. We're pretty excited to wear this new shirt ourselves, and trust me… it has been extremely hard for us to keep things under wraps for the past few months!!!
We'll be debuting this new DSTROYR x MotorMavens shirt and having it available for sale at our booth this weekend at Formula D Long Beach. So if you're going to be at Long Beach, make sure to stop by our booth and get one of these shirts before they are sold out! We've been getting a whole bunch of messages from people wanting to buy this shirt already, so please make sure to find the MOTORMAVENSxDSTROYR booth at FD Long Beach and get it while the gettin's good!
:: Antonio Alvendia
BUY IT NOW on the MotorMavens Online Store
---