I know many have been eagerly awaiting our photographic coverage of this year's
Japanese Classic Car Show
in Irvine, CA. I would have wanted to post up our photos immediately on Saturday night or on Sunday, but it has been an extremely hectic weekend full of photo shoots with out of town cars!
There were TONS of people at JCCS this year. I really need to give props to
Koji
and
Terry Yamaguchi
for creating this show and making it better and better and better every single year. Instead of droning on and on about the history of the JCCS show and talking about how many people traveled from all over the USA to bring their cars to this event, let's just dive into the photos of the cars! After all, that's what you came here for!
Read more...
---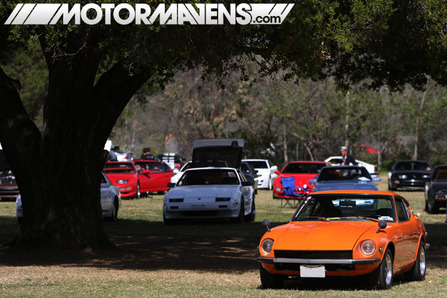 Yesterday, we attended the annual
Motorsport Auto Z-Car Nationals
in Orange County! Admittedly, we were out late with some out-of-town friends on Saturday night, so we got to the show a bit later than expected. On our drive to the show, we saw lots and lots of 240Zs, 280Zs, 300Zs, and a few 350Zs cruising all over Orange County, some heading towards the show, and some apparently heading in the opposite direction. (Maybe they were leaving already, because we were late? Oops!)
We took tons of photos at the event yesterday, so we'll have to spread out the Z photos into more than one posting. We admired
Japanese Classic Car Show
organizer
Koji Yamaguchi
's gorgeous orange 240Z as it basked in the sunlight, with it's straight up Japan-style look, fender mirrors and all.
Click here to check out more of our Z-Car Nationals photos after the jump!
Read more...
---