Dan Hsu
Profile: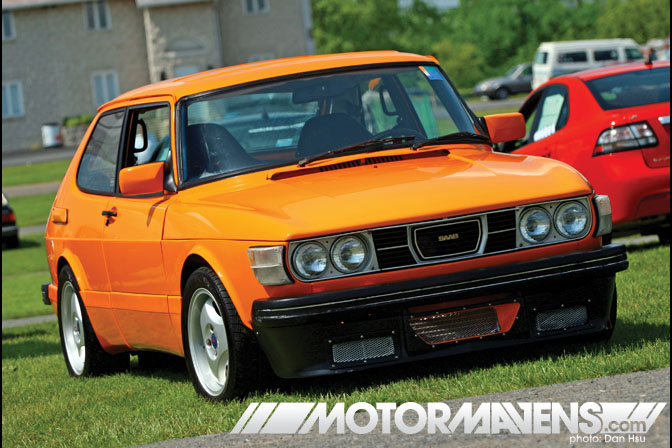 I spotted this 1978 Saab 99 Turbo 16V Aero owned by John Webber at the 2009 Carlisle Import/Kit-Replicar Nationals back in May.  It sits lowered on a set of 16″ Saab 9000 wheels and sports a custom front air dam for a pretty aggressive yet clean look.  The bright orange 99T definitely stood out amongst all the other Saabs in attendance.
I don't think we've ever featured any Saabs on MotorMavens before, but I thought it would be appropriate considering today's news.  Following two decades of mismanaging and after nearly a year of failed attempts to find a buyer for Saab, GM announced earlier that the quirky Scandinavian automaker would begin shutting down operations.
I've never really been that into Saabs but I did appreciate their, for lack of a better term, quirkiness (I tried using a thesaurus but there simply is no better word to describe the brand).
RIP
:: Dan Hsu
---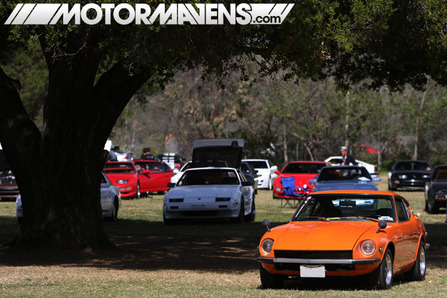 Yesterday, we attended the annual
Motorsport Auto Z-Car Nationals
in Orange County! Admittedly, we were out late with some out-of-town friends on Saturday night, so we got to the show a bit later than expected. On our drive to the show, we saw lots and lots of 240Zs, 280Zs, 300Zs, and a few 350Zs cruising all over Orange County, some heading towards the show, and some apparently heading in the opposite direction. (Maybe they were leaving already, because we were late? Oops!)
We took tons of photos at the event yesterday, so we'll have to spread out the Z photos into more than one posting. We admired
Japanese Classic Car Show
organizer
Koji Yamaguchi
's gorgeous orange 240Z as it basked in the sunlight, with it's straight up Japan-style look, fender mirrors and all.
Click here to check out more of our Z-Car Nationals photos after the jump!
Read more...
---
If you owned the fifth RA20 Toyota Celica in existence, you'd certainly be a proud papa – especially if your car was in the same condition Joji Luz's Number 5 Celica was in! Joji's car is always, always clean. It has been featured in Sport Compact Car Magazine (RIP SCC), and is always on display at the annual Toyotafest put on by TORC, the Toyota Owners and Restorers Club and at the Japanese Classic Car Show.
It seems the Number 5 Celica recently had a baby – and here it is! This is an ABC Hobby RA20/TA22 Toyota Celica body, painted to look just like Joji's Celica. We think it looks great – same color, same wheels and everything! Even the stance of the RC looks cool! Look how far those wheels stick out from the slightly exaggerated fenders!
Time to start painting our nostalgic Japanese car ABC Hobby bodies!
::Dan Hsu
---