This past weekend, all the core enthusiasts in Southern California's Japanese car scene gathered once again on the intersection of First Street and Alameda in the Little Tokyo area of Downtown LA for the annual
Nisei Showoff
celebration. The event was super fun as always - when I showed up at the event, it felt like a big block party with several friends all gathered around different cars, admiring the immaculate engine bays, or trying to figure out new wheel sizing and/or suspension setups.
Read more...
---
Most Motor Mavens readers have been following Antonio's photos and stories from Nisei Showoff, so we've decided to release a video of the event as well! We really wanted to highlight something that impressed us at the show – the fact that so many of these great cars are stepping up their game with aggressive offset and negative camber!
Forget the trophies – for us, the super slammed cars with the best wheels, stance, engine mods and paint jobs were the stars of the show. Nisei Showoff wasn't about the models (although there were a few that showed up, haha); it was about the hottest street cars. Events like this are becoming more and more rare. We feel privileged that we were there to support Ken Miyoshi on his last Nisei Showoff, because of the great feeling that this show produced. Props to Ken and the Mainstream Productions crew for bringing us an awesome day of street cars and good friends in the middle of Little Tokyo.
We hop you enjoy the video, and don't forget to leave comments!
:: Travis Hodges
---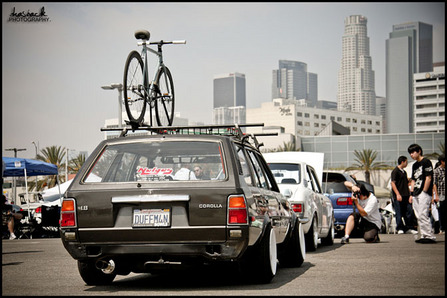 One day this week while I was organizing my photos from this past weekend's Nisei Showoff carshow in Little Tokyo, my homie Matt came over and showed me this link to a forum post that included some photos that car owners took at Nisei. It was funny, because normally when I chill with Matt and his girlfriend Joyce, we only talk about which dope grub spots we should hit up next time we kick it (They love us on Yelp! LOL
Add me if you want
) and going to Japan. The first time I met Matt and Joyce, it was at the
Boiling Crab in SGV
, and then in line for
Kogi
in Little Tokyo for crying out loud! So thanks to the homie Matt, I was able to find these
pretty dope Nisei Showoff photos from
Hasback Photography
.
So as I finish organizing my own photos of the 2009 Nisei Showoff Grand Finale and prepare them for posting (I should have like 3 more posts to make on the last Nisei Showoff), I thought I should shine some light on these photos, which were taken by a non-pro photographer that I don't even know. Good work Hasback! Now on to the pics...
Read more...
---