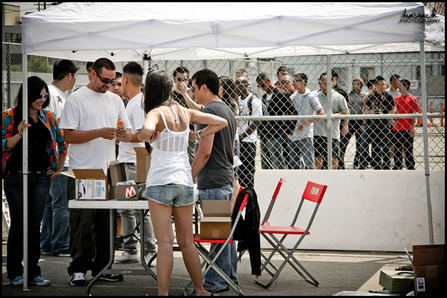 One day this week while I was organizing my photos from this past weekend's Nisei Showoff carshow in Little Tokyo, my homie Matt came over and showed me this link to a forum post that included some photos that car owners took at Nisei. It was funny, because normally when I chill with Matt and his girlfriend Joyce, we only talk about which dope grub spots we should hit up next time we kick it (They love us on Yelp! LOL Add me if you want) and going to Japan. The first time I met Matt and Joyce, it was at the Boiling Crab in SGV, and then in line for Kogi in Little Tokyo for crying out loud! So thanks to the homie Matt, I was able to find these pretty dope Nisei Showoff photos from Hasback Photography.
So as I finish organizing my own photos of the 2009 Nisei Showoff Grand Finale and prepare them for posting (I should have like 3 more posts to make on the last Nisei Showoff), I thought I should shine some light on these photos, which were taken by a non-pro photographer that I don't even know. Good work Hasback! Now on to the pics…
Above, here's a photo of Dan Nguyen, a member of the Mainstream Productions team from Colorado and his future wife working the front entrance to Nisei. The line wasn't even that long yet when this photo was taken… but I dig the MotorMavens sticker on the cashbox! Yesss!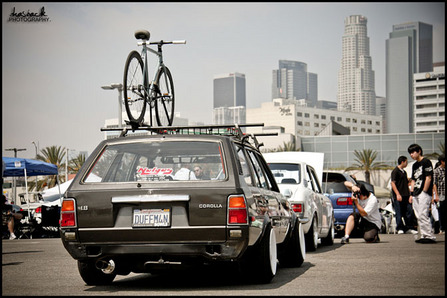 Let's start this party off with another photo of Duffman's Corolla wagon, slammed on some Diamond Racing wheels. Even though it's the wide wheels and stretched tires and front camber that make this car look fresh, I bet the fixie on the top of the car for sure costs way more than the wheels did… and might have even costed more than the initial purchase price of the car itself, depending on who the car was purchased from! To find a deal on one of these old school Corollas, don't check internet forums. Check Craigslist and inner city neighborhoods, and chances are, you'll score a pretty good deal if you don't mind cleaning the car up.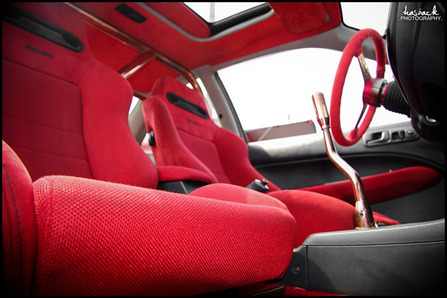 Here's a pretty dope photo of a Recaro red interior with matching red headliner and steering wheel… this is a fresh perspective and a dope interior that I didn't even notice as I was walking through the show. Proper!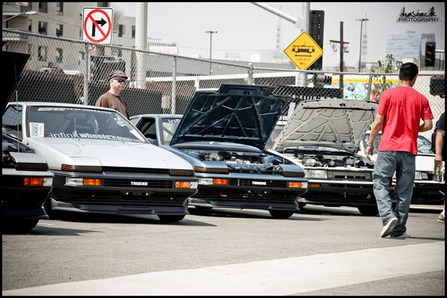 No tricks in 86, it's time to build… I love this row of AE86s, all super clean with good offset wheels, parked out at the show. I need to get my own AE86 back on the road, dammit. Less photo shoots and blogging, more wrenching on my car so I can get my stupid state ref ticket handled.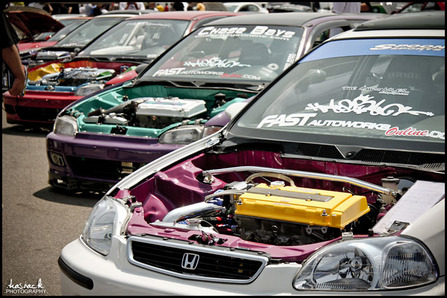 Pick your poison… EG or EK?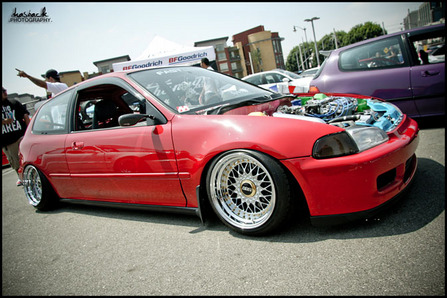 Arnell's EG Civic wins the "Best Offset and Stance on a Civic" award in my book. Other cars better step their game up. Nice MotorMavens sticker on the window too! Hellyea!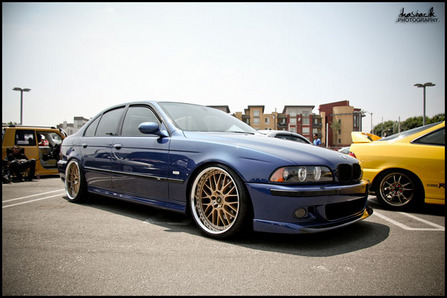 I didn't even notice this 5-series BMW at the show, rocking some JDM Vs!!! Sick car, and great offset in the back!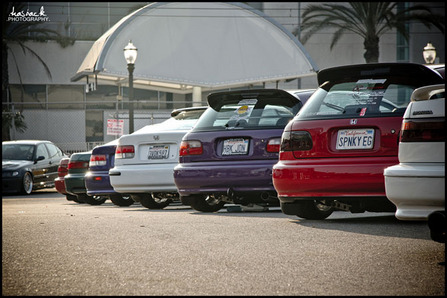 I have to admit… normally, I'm not a huge fan of front wheel drive cars, but these cars are pretty damn fresh and have made me a believer… RESPECT!
Check out this link to Hasback's Photography of the show for more images!
:: Antonio Alvendia
More 2009 Nisei Showoff on MOTORMAVENS.com!
Hasback Photography
2009 Nisei Showoff
,
AE86
,
BMW
,
Civic
,
Corolla
,
Duffman
,
EG6
,
EK9
,
Hasback
,
Honda
,
Import Showoff
,
Integra
,
M5
,
Mainstream Productions
,
Nisei Showoff
,
Phaze2
,
Recaro
,
TE71
,
TE72
---