Sittin' Sideways | Evergreen Invitational | TIP from Justin Shreeve Films on Vimeo.
In the last year or so, our friends from Team Instant Party up in Seattle, WA have been doing a great part in putting the Pacific Northwest's drifting scene on the map. Their crazy style, matched with great driving skills grab the attention of anyone who lays eyes on their easter-egg-colored cars. Needless to say, after the Evergreen Drift Invitational on March 14th, I had plenty of footage of them; too much for just one video. Here are most of the leftover clips of TIP, mixed in with a couple of previously used shots, roughly cut with a bit of color grading.
:: Justin Shreeve
---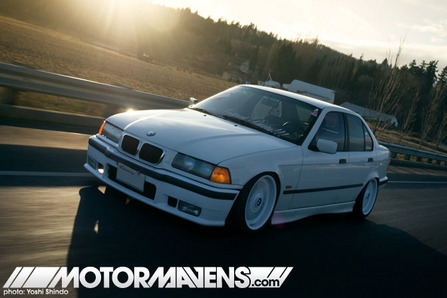 Washington mornings are crisp in the fall. Past the hustle and bustle of Seattle's technology saturated east side lie country roads that meander through the landscape. The dew turns to light frost and everything seems to quiet down. So when
Mark Couts
and his
1997 BMW E36 328i
hit the street, you hear it long before you see it.
Mark is as tall (6'7") as the reputation that
Team Instant Party
has in the Northwest, and despite being a relatively new crew, most have been around for a long while. He's had different drift cars in the past, and they have come and gone for one reason or another. Having drifting as a hobby isn't easy for a poor college student trying to make ends meet, as I'm sure a lot of you can relate. While making the best of it, Mark has built an amazing looking E36. Clean and mean.
Read more...
---