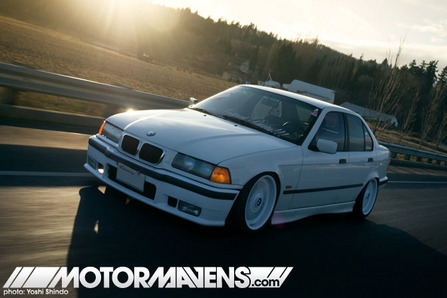 Washington mornings are crisp in the fall. Past the hustle and bustle of Seattle's technology saturated east side lie country roads that meander through the landscape. The dew turns to light frost and everything seems to quiet down. So when Mark Couts and his 1997 BMW E36 328i hit the street, you hear it long before you see it.
Mark is as tall (6'7″) as the reputation that Team Instant Party has in the Northwest, and despite being a relatively new crew, most have been around for a long while. He's had different drift cars in the past, and they have come and gone for one reason or another. Having drifting as a hobby isn't easy for a poor college student trying to make ends meet, as I'm sure a lot of you can relate. While making the best of it, Mark has built an amazing looking E36. Clean and mean.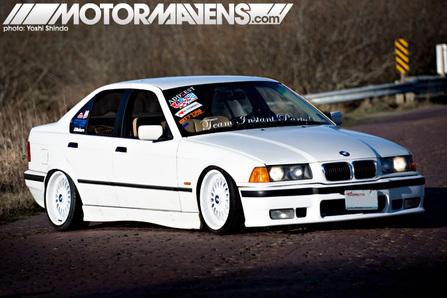 The first week he had the car, it immediately went under the knife. All the requisite drifter tools were on the list. The diff was welded in true Top Ramen for dinner style; stiff KW coilovers ensure any grandma would decline a ride, and of course, Mark mounted up some new wheels because in grassroots drifting, function follows form.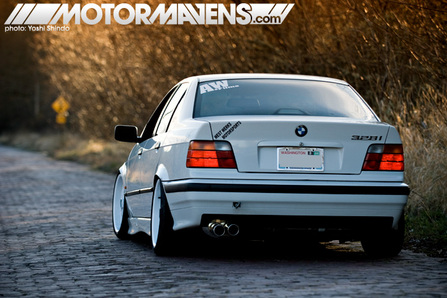 The car sits on BBS Style 5 wheels, sized in 17×8 (+10 front, +20 rear), wrapped in 205/40/17 Dunlop Direzzas all around. BBS wheels, are of course, at home on a Euro car and the white on white makes this car hard to miss in the dreary traffic gorged roads of the Seattle area. Camshafts, sway bars, and the front bumper were stolen (not literally) from an M3. It also has AKG bushings, a Super Sprint exhaust and an AC Schnitzer intake.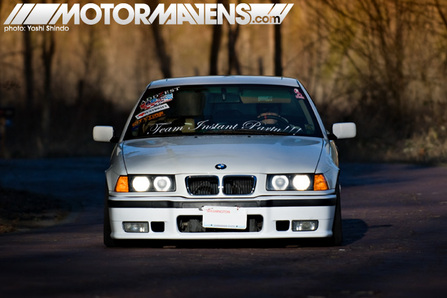 Kid's got heart. There are trailer queens and there are drivers. This car is a driver. As some of you may know, the Ziptied All Star Bash events have become every drifter's Woodstock, and for the last few events, the Northwest has made a strong appearance. A caravan of Washington states peeps drive down to party and drift every time. Mark has been a part of those treks… previously in an S14, and just this last year in the E36. Throwing caution and sensibility aside, he drove his chariot 1000 miles from Seattle to Socal to participate.
Unfortunately while flogging the Bimmer on Horse Thief Mile (his favorite course at Willow Springs), the engine couldn't handle the amount of awesome being passed through it, and Mark blew the head gasket. Thankfully this happened towards the end of the event, so he was still able to clock valuable seat time at Horse Thief – enough to make the trip worth it at least. Leaving the car in California, Mark flew back home after the event. Being a full time student, financial resources were scarce, but Mark found a solution to get his car back home. Driving down with a trailer, he was able to pick up his car and bring it back to Washington. Mark isn't made of money, so he had to sell his daily driver in order to raise funds for an engine rebuild. This is now Marks daily/drifter, and luckily for him, the cops in Washington state aren't as strict as California cops when it comes to modded street cars. Thank God.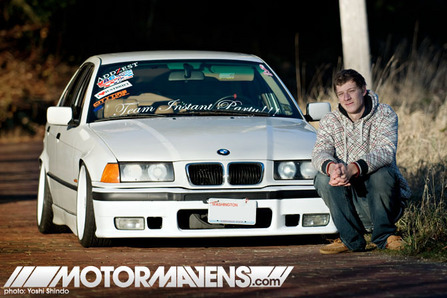 The future looks bright for Mark and his steed. During the winter, plans are in motion for a bonafide racing seat and a roll cage so he can tandem with his other TIP teammates. I'm sure he has a lot more in store as well, so we'll just have to wait and see what he has up his sleeve. Look for Mark tearing up the track at Evergreen Speedway competing in the Northwestern Formula Drift Pro Am Series that is starting in 2010. We can't wait.
:: Lucas Perez
---