My 2010 compilation DVD is finally available at Shreeve Films! I'm so excited! This DVD contains 22 videos, all digitally remastered and stuffed onto one disc for you to watch on your bigscreen television with a bucket of popcorn! (more…)
---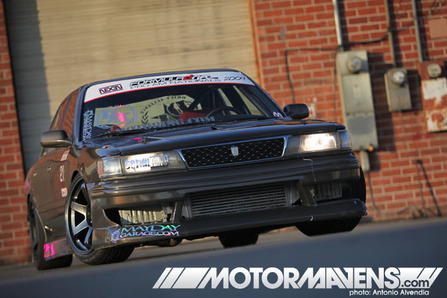 While many of the best grassroots drifters in the United States (oh, and don't forget Canada, eh!) were out in Southern Cali for the
Formula D Pro Am at Irwindale
, I had the chance to catch up with
Ameen Rizvi
from
786 Motoring
in Houston, Texas, the driver of everyone's favorite metallic brown
MX83 Toyota Cressida
.
Since Ameen and his Cressida were busy doing another shoot on the Irwindale banking on the actual day of the Pro Am, I asked Ameen if he'd be down to meet up with me and the other members of the Motor Mavens Crew the following day. Ameen and his brother Amir graciously obliged, and decided meet up with us for a late, late breakfast at
Flappy Jack's on Route 66
in Glendora CA, with a whole bunch of other
trucks from Texas with drift cars in tow
not too far behind.
Those of us who have been following the drifting scene pretty closely have known about Ameen and his Cressida for quite some time now. After all, it's not often you see a
four door,
non-240SX
rise up through the ranks of grassroots drifting competition in the USA. Wait a minute... but Ameen
did
drive a 240SX. To clarify things, Ameen
used to drive an S13
, but when he first began drifting in 2001, he was doing it in a
Mk3 Toyota Supra
(
MA70
). Since he started out in a Supra, it was only natural that he would become enamored of Toyota's mighty
1JZGTE
straight-six engine, which came as stock in the Japan-market
JZA70 Supra Turbo
. Well,
that
and
he blew up a ton of US-market 7MGE engines
when he was trying to use them for drifting. Bad idea. 7MGE engines are notorious like
BIG
for blowing head gaskets, overheating, and cracking the stupid OEM plastic intake piping. Just like Biggie, they're
ready to die
.
So if he started out with a Toyota
Supra
, why move to a
four door family car like a Cressida
one might ask..? Well, when Ameen was doing research on building his MA70 Supra, he discovered that the chassis of the MA70 Supra and MX83 Cressida were extremely similar, and many of the engine and suspension parts were the same as well. The tipping point was when Ameen saw an internet clip of D1 driver
Tsuyoshi Tezuka's JZX81 Chaser
. "When I saw Tezuka's 81 on the internet," Ameen explains, "that's when I knew I was gonna build up a Cressida for sure."
Read more...
---