My 2010 compilation DVD is finally available at Shreeve Films! I'm so excited! This DVD contains 22 videos, all digitally remastered and stuffed onto one disc for you to watch on your bigscreen television with a bucket of popcorn!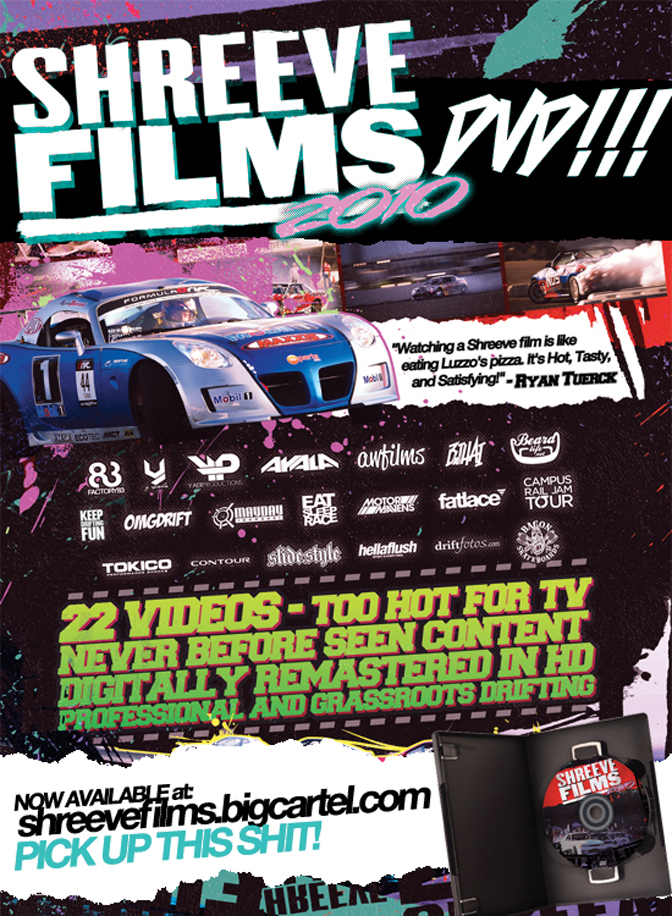 I would like to give a huge thanks to everyone who has supported me this last year! Thanks Ian Dillon of Factory83 for doing all the design work for the DVD! Thanks Yoshi Shindo, Brandon Thai, and Larry Chen for contributing photos! Thanks Ryan Tuerck for providing an awesome quote for the cover! Thanks Andy Sapp of SlideStyle for designing my logo and an awesome T-shirt design! Thanks Francis and Brian Mabutas of EAT SLEEP RACE for a trip out to the East Coast I'll never forget! Thanks to Colin Sharp of Bacon Skateboards for giving me a job when I first moved away from home! Thanks Jason Green of ContourHD for hooking me up with some incredible POV cameras! Also, thank you to Will Roegge and Joshua Herron of Keep Drifting Fun, BG of Beardlife, Drew Fishbein of OMGDRIFT, John Peterson of Mayday Garage, and Mark Arcenal of Fatlace for hyping my stuff online! These are all sites I visit frequently and now they're supporting me! A dream come true… Thanks a TON to Antonio Alvendia for believing in me back in 2008 and allowing me to share my work with the world through MotorMavens!
If it weren't for all of your help, this would not have been possible!
Last, but definitely not least, I would like to thank my good friends Joe Ayala, Jordan Conway, and Daniel Evans for allowing me to borrow their equipment last season. If it weren't for them, I would still be shooting in Standard Definition! Oh, the horror!
Thank you all so very much.
:: Justin Shreeve
2010
,
Andy Sapp
,
Antonio Alvendia
,
Bacon Skateboards
,
Beardlife
,
BG
,
Brandon Thai
,
Brian Mabutas
,
Colin Sharp
,
Contour
,
ContourHD
,
Drew Fishbein
,
drifting
,
DVD
,
Eat Sleep Race
,
Factory83
,
Fatlace
,
Formula Drift
,
Francis Mabutas
,
grassroots
,
Ian Dillon
,
Jason Green
,
John Peterson
,
Joshua Herron
,
Justin Shreeve
,
keep drifting fun
,
Larry Chen
,
Mark Arcenal
,
Mayday Garage
,
OMGDRIFT
,
professional
,
Ryan Tuerck
,
Shreeve Films
,
SlideStyle
,
Will Roegge
,
Yoshi Shindo
---