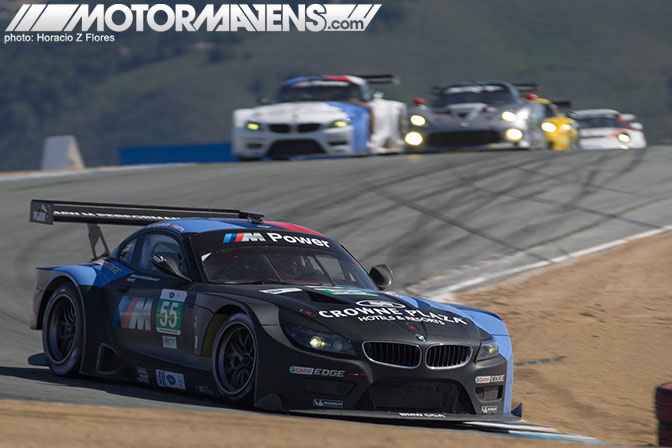 Racing today has become about
closeness
. Photo finishes, improved safety and lowered operating costs have made many sanctioning bodies look to
spec racing
, where all the cars are the same and the contest then becomes a
driver vs. driver
battle.
The major casualty in these forms of racing (ie: IndyCar, NASCAR, etc.) has been
truth in engineering
and innovation. There is not much you can do to innovate without breaking the rules - and being hung out to dry for it.
When the
American LeMans Series
(ALMS) came to the Monterey Coast at
Mazda Raceway Laguna Seca,
this theory was thrown to the dogs as multiple chassis, motor, and tire combinations had no hindrance on the level of competition. The four hour enduro proved to be an absolute slugfest. It looked far more like a
20 mile sprint
as it proved one of the most closely contested, nail biting, bump-and-rub fests of sports cars and prototypes lapping the twisty, hilly 2.238 mile circuit in 1:13.948 while making insane 10,000 rpm noises.
Read more...
---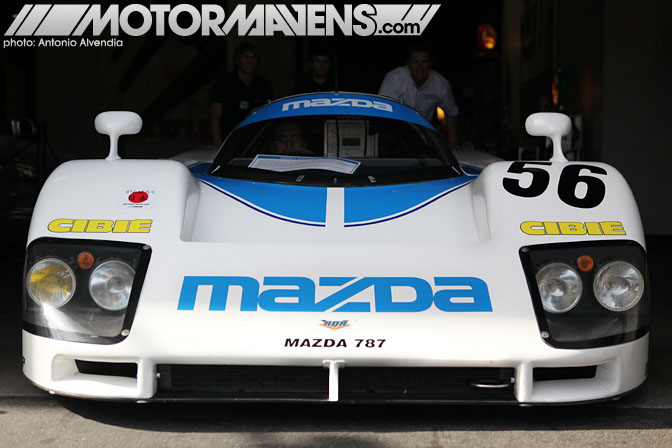 The past few days has been an incredibly hectic for the MotorMavens Crew! Those who have been following our adventures
live
via the
@MOTORMAVENS
Instagram
and
Twitter
will already know that we were in San Francisco for the past few days, but returned to sunny Southern California yesterday morning, just in time to meet a particular
Mazda 787
Le Mans car at the annual
Mazdaspeed Motorsports
luncheon.
This year's luncheon was held at a venue that we would be visiting for the very first time - the
Crevier Classic Cars Collection
in Orange County. While there were a ton of rare and expensive cars already on display at the Crevier Museum, Mazda brought some very interesting vehicles out from their own collection of historic cars... a vintage Mazda Cosmo, the Car&Driver Mazda RX2, and
the belle of the ball
- one of the three Mazda 787 race cars that competed in the
1991 Le Mans 24H
, where
Mazda became the first (and only) Japanese car company to win 1st Place
at the world's most famous endurance race.
Read more...
---