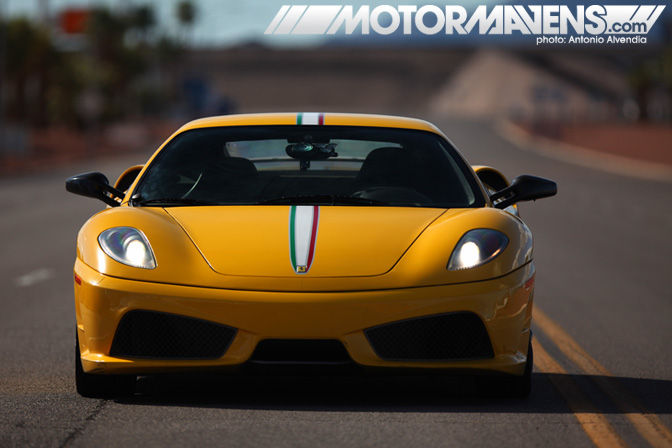 It doesn't matter if you're male or female; young or old. Everyone loves exotic cars - especially
Ferrari
and
Lamborghini
. They're beautiful; they're fast; they're exclusive. Unfortunately for most, this exclusivity stems from the fact that they're also very rare and expensive; some people never even get the chance to drive an exotic super car in their entire lifetime. The lust for exotic automobiles begins when you are a child - every car lover dreams of driving an exotic car, but usually they only get to play with smaller scale toy versions.
Luckily for us, MotorMavens sharpshooter
Mike Kim
and I were given the rare opportunity to test drive a pair of exotic supercars on a race track at
Exotics Racing
in Las Vegas! Located just a few freeway exits away from
The Las Vegas Strip
,
Exotics Racing
blends all the
luxury and service that one expects from a Las Vegas Resort
with an
amazing supercar driving experience
.
To be honest, Mike and I have always thought that test driving cars like the Ferrari 458 Italia, Lamborghini Aventador, Mercedes Benz SLS AMG, Audi R8 and Aston Martin V8 Vantage were out of our price range, so we never really bothered to look into it. Big mistake. As it turns out, our stupid assumptions were wrong. Completely wrong!
Read more...
---
VD CheckUp-Mike Bolanos from Robert Strohmeyer on Vimeo.
I just saw this "VD Checkup" video posted on the VegasDrift site. The VD Checkup is basically a "driver profile video" of sorts, which allows people to get to know the folks involved with VegasDrift. In this particular installment, AE86/S13 driver Mike Bolanos sits down for a quick one-on-one talk with AE86 bretheren (and MotorMavens chief editor) Antonio Alvendia, who just happened to be in Las Vegas for a bachelor party. This soft spoken individual (I'm obviously talking about Mike) briefly talks about his experience as a driver and a Vegas ProAm judge.
I always see Mike at drift events, and I think it's cool that he's so committed to fully living out his drift lifestyle. For those not in the know, Mike is also very much involved in Just Drift, thanks to JD event organizer Charlie Ongsingco. Want to learn more about Mike? Check out his website and add him on Facebook. While there, also be sure to add the new MotorMavens Blog Fan Page. Pleasure getting to know you Mike, you too are a true MotorMaven.
:: Edward Uche
---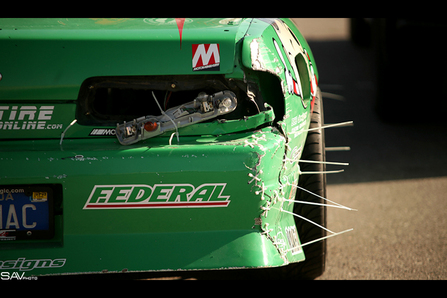 This past weekend was quite a busy one in the world of grassroots drifting. Up in the Pacific Northwest, our boys
Yoshi Shindo
and
Lucas Perez
were busy with the Evergreen Drift season opener, as seen in their previous post.
In the Pacific Southwest, many dedicated grassroots drifters made the trek to the very first installment of the
Vegas Pro Am Series
. I was sick this weekend, and couldn't make it out, but thankfully, I received a link to some event photos on
SAV Photo's Flickr page
from Sin City local
Nick Dizon.
Many people know Nick as one of the main movers and shakers of the
VegasDrift
community, but the Vegas Pro Am brought out drivers from all sorts of places - from Arizona to Pennsylvania, all the way to Canada!
Read more...
---