Trial By Fire – Phoenix International Raceway, Arizona from Dax Rodriguez on Vimeo.
This is a video about unknowns. It stars a race track that is nestled deep in the desert of Tolleson, Arizona; it also stars a collection of individuals who are infamous outside the state of Arizona. However, the track that we know as PIR (Phoenix International Raceway) is on par with most of the premier drifting tracks in the country. It features a high speed entry, technical transitions, and risky moves in every turn.
The group of people that meet at this track are passionate about drifting and the spirit of the sport. The carefree and reckless nature of drifting brings them together, and their track days here are about more than just cars. Days filled with drifting on this Arizona race track hold a special sentiment in the community's hearts. (more…)
---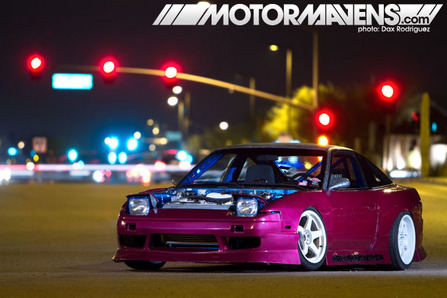 I can hear the theme song to
Welcome Back, Kotter
playing in the background as I type this. I'd like to apologize for my absence to all the people that actually like my work... Mom and Dad, I'm looking at you. To everyone that only comes to
Motor Mavens
for the photos,
this one is for you guys
from someone you don't know, never met and probably won't ever meet. Thank God it's Friday!
Don't be confused, this just isn't a "welcome back to the site" for me. Oh no, this is a huge welcome back to
fresh cars built by cool people on real world budgets
. Welcome back to grassroots drifting and sick street cars, which is what this site was built upon and the whole reason why we keep pushing forward. Like a skilled surgeon,
Mike Burns
and company have suited up in their drifting scrubs to save the all important life of grassroots drifting; but instead a sharpened scalpel, his finely tuned instrument is this super rad
RPS13 Nissan 240SX
.
Read more...
---