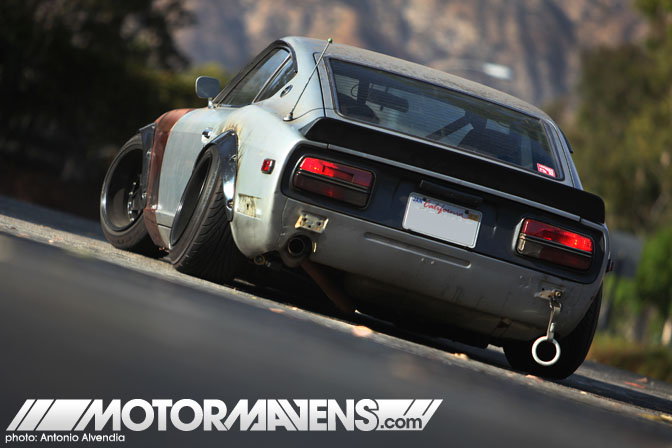 Last weekend at the
Japanese Classic Car Show
, the
Showa car
lovers that gathered in Irvine California for this year's event were treated to a sensory overload of Japanese nostalgic cars of all sorts - from Skylines to Corollas to rotaries to Hondas to Datsuns... Oh, the Datsuns!
There were so many cars from Datsun/Nissan lineage represented at this year's JCCS, it was hard to focus on them all. Everything from Japanese style G-nose S30s to US market 240Zs were in abundance at the event this year, but there was one Z in particular that had a certain combination of presence and shock value. I just knew I had to feature it on our site... but there was just one problem. The car (and its owner) live in San Jose, California. And they would both be returning to the Bay Area on the morning after the show.
I had to figure out how (and where) to somehow shoot the car before it went back to San Jose - and I knew I didn't want to do one of those "on the grass" photo shoots after the show, because I think photos of cars on the grass are cliche, unimaginative and overdone... especially since there were 236790 photographers from different magazines doing
the same photo shoot
on different spots on the grass after JCCS.
The owner of this shakotan
(super low down) boogiemonster
is
Yuta Akaishi
. Let's pronounce it together. His first name is Yuta, pronounced like "Utah" and his last name is pronounced "Aka-ishi." I was first drawn to this amazing 240Z because it is just so damn low... it's mind boggling, seriously! The car may be showing its age with the presence of surface rust and dents here and there, but hell... to me, it's just a sign that this car lived a full life. It's kind of like battlescars on a seasoned fighter - they actually ADD to the look.
Read more...
---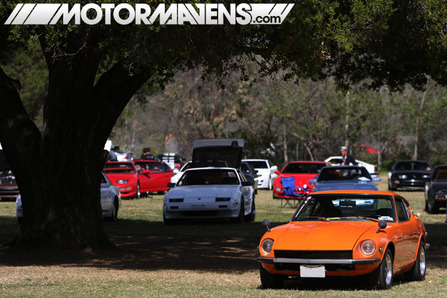 Yesterday, we attended the annual
Motorsport Auto Z-Car Nationals
in Orange County! Admittedly, we were out late with some out-of-town friends on Saturday night, so we got to the show a bit later than expected. On our drive to the show, we saw lots and lots of 240Zs, 280Zs, 300Zs, and a few 350Zs cruising all over Orange County, some heading towards the show, and some apparently heading in the opposite direction. (Maybe they were leaving already, because we were late? Oops!)
We took tons of photos at the event yesterday, so we'll have to spread out the Z photos into more than one posting. We admired
Japanese Classic Car Show
organizer
Koji Yamaguchi
's gorgeous orange 240Z as it basked in the sunlight, with it's straight up Japan-style look, fender mirrors and all.
Click here to check out more of our Z-Car Nationals photos after the jump!
Read more...
---