We've seen the new McLaren MP4-12C before here on MotorMavens with Antonio's coverage of the Beverly Hills McLaren Event and it was unveiled back in September of 2009 as the first production car to be completely designed and built by McLaren since the McLaren F1, but it's still rare (and beautiful) enough to cause minor disturbances as it weaves sleekly through more mundane traffic.
This video chronicles the MP4-12C's invasion of North America – with a cameo appearance by a certain McLaren Formula One racing phenom who was arrested in Australia in 2010 for "deliberately losing traction" whereupon he was dubbed a "Hoon" by the Australian Magistrate. We couldn't possibly make this stuff up! (more…)
---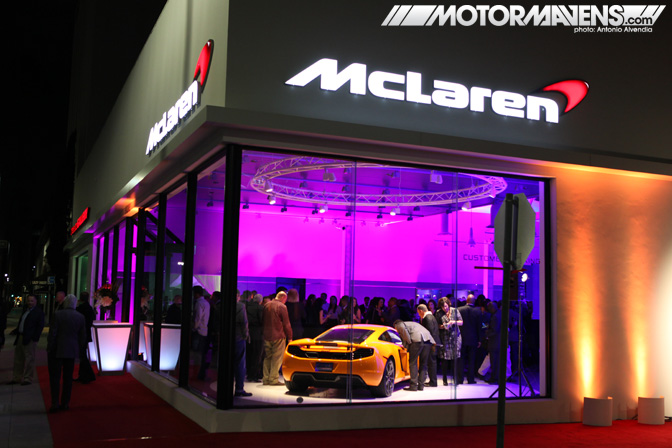 Just a typical weeknight in Los Angeles... I received an invite to a special party that
The McLaren Group
was throwing to celebrate the opening of their newest showroom.
McLaren Beverly Hills
is situated on some prime real estate; it's on Wilshire Blvd next to
The Auto Gallery
, only blocks away from the high end boutique shops on Rodeo Drive.
With red carpets and media walls lining the sidewalk leading up to the building, McLaren's newest supercar was undoubtedly the belle of the ball. Invited guests were given the chance to get up close and personal with the
592 brake horsepower
McLaren MP4-12C
; a car that
just about anyone
can drive home at the bargain price of $229,999.
Read more...
---