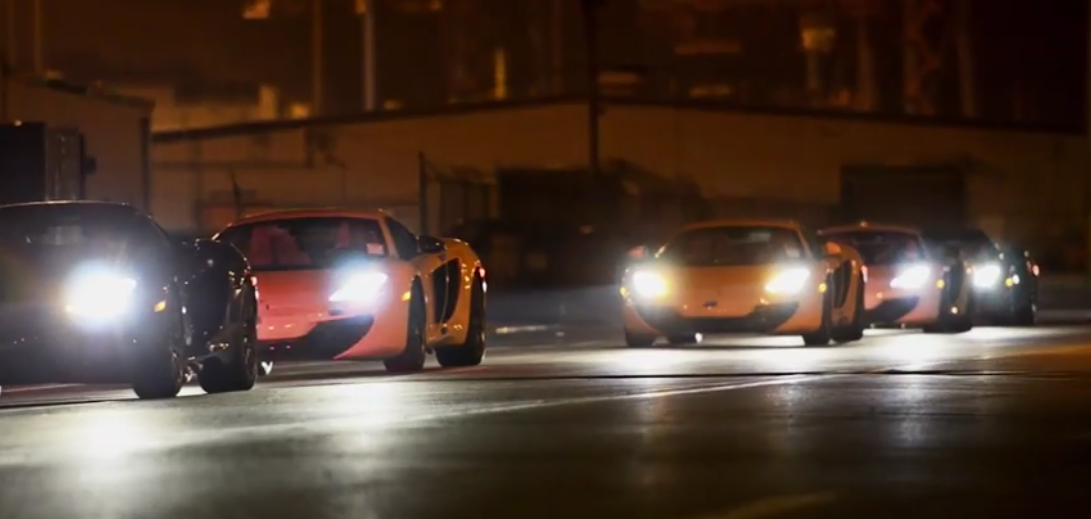 We've seen the new McLaren MP4-12C before here on MotorMavens with Antonio's coverage of the Beverly Hills McLaren Event and it was unveiled back in September of 2009 as the first production car to be completely designed and built by McLaren since the McLaren F1, but it's still rare (and beautiful) enough to cause minor disturbances as it weaves sleekly through more mundane traffic.
This video chronicles the MP4-12C's invasion of North America – with a cameo appearance by a certain McLaren Formula One racing phenom who was arrested in Australia in 2010 for "deliberately losing traction" whereupon he was dubbed a "Hoon" by the Australian Magistrate. We couldn't possibly make this stuff up!
Needless to say, Lewis Hamilton surely had to restrain himself from more "Hooniganism" while filming this video since the MP4-12C's 3.8 litre V8 (the M838T) unleashes 592 horses with 443lb-ft of torque – while weighing only 2,868 lbs due to the extensive use of carbon in its construction. By the way, that "C" in the designator stands for "carbon". All of which is enough to send it roaring to 124 mph in under 9 seconds. Interestingly, the engine design was based on the Nissan VRH35 racing engine used in Le Mans in '98.
I can imagine touring the continent in this excellent combination of form and function – maybe taking it around the Top Gear Test Track where it set the second fastest lap time. However, at a base price of just under $230,000, you might say I have a very vivid imagination. We can dream, can't we – and watch videos that make those dreams feel like reality? Enjoy!
::Avon Bellamy
---