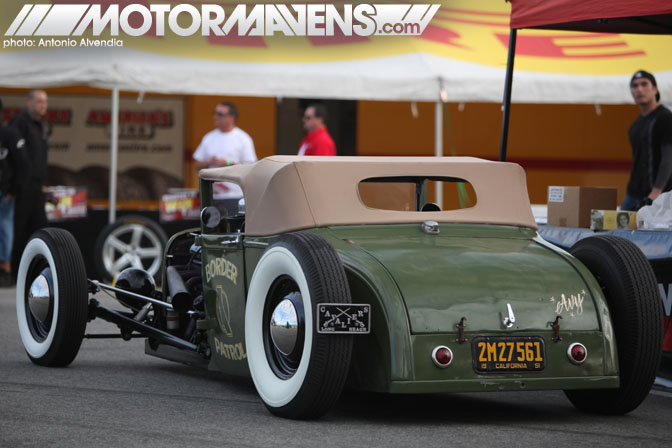 When most people think of the term
car culture
, they immediately (and possibly unconsciously) picture
particular types of cars
in their minds - cars that fit their own personal spectrum of interest. That is car culture's dirty little secret – it can be extremely
balkanized
, or broken up into little niches and peer groups.
If you're into muscle cars, then
screw those four bangers
. If you're into rotary powered vehicles, then
screw those pistons
! If you're into road racing and time attack, then
screw drifting
. If you're into Formula One, well, screw everybody. If you've been around car culture for any length of time, you know exactly what I'm talking about. You also probably know that
not everyone feels this way
. As we get a bit older and experience some of the great aspects of other car cultures, more and more of us are discovering that we're all the same under the hood – we're all just
car guys
.
In the middle of 2009 when we started MotorMavens, we established the site on a basic principle –
that everyone's voice is validated by their passion for the cars
and car culture because
the one thing that brings the entire spectrum of car culture together is passion
. We call it the "passion principle." Wherever you find some mind blowing interpretation of the automobile and the lifestyle that revolves around it, you also find some passionate person wrenching away – usually with a ton of pride and satisfaction in his/her accomplishments but very little money to show for it. That's exactly what the MotorMavens Crew searches for;
we look for that passion in every possible niche of car culture
so that we can broadcast it loud and clear to everyone when we find it.
So,
what does all of this have to do with the Mass Appeal Show?
It's simple. When
Ken Block
and the
Gymkhana Grid
team approached us to produce a car show at their Ken Block Invitational, we already knew that it would need to be different than what most people might expect. We knew our car show would need to represent the driving principles of MotorMavens... the car show would have to be
multi-car-cultural
; reflecting the wide spectrum of car culture that we love so much. It would have to have mass appeal - get it?
Read more...
---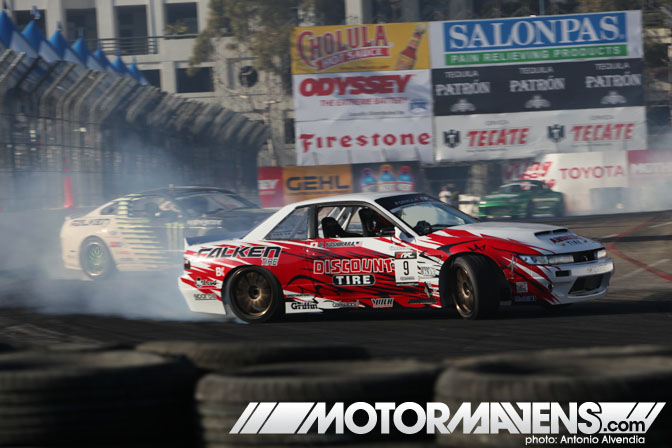 It's hard to believe that it has already been a week since Formula Drift took over the Streets of Long Beach. This weekend, the famous street course is still home to many a race fan. However this time, Long Beach has been taken over with open wheel racing fans that have been going to the Toyota Grand Prix of Long Beach for years and years. Since we don't really cover open wheel racing on Motor Mavens, I thought it would be good to post up some more photos from our experiences at Long Beach last weekend. (I know, some of you are thinking, it's about damn time!)
The first photo in our series is from one of the practice sessions. I think the practice sessions were actually a lot cooler and funner to watch at times than some of the tandem bouts, because it felt like freestyle drifting chaos within the confines of the white cement barriers and tire stacks that lined the streets of the LBC.
Read more...
---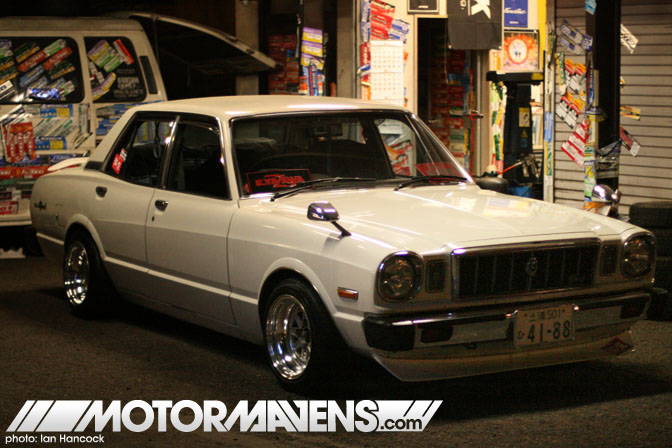 [I received an email yesterday from an Australian guy named Ian Hancock. Ian is crazy about Japanese nostalgic cars, and is currently on vacation in Japan (or as he says it, he's "on holiday") to check out a bunch of his favorite cars. He sent in a photo of this MX32 Toyota MarkII (Toyota Cressida) that he carspotted in Japan, because he knew it would be just the type of thing that Motor Mavens readers are into! Well, he was absolutely right. Here's what Ian had to say about the Mark II...]
The white Cressida belongs to Naoya Yamaguchi, who owns an old school Japanese wheel shop in Moiyra called Bellezza Auto Produce, about 15km from Tsukuba Circuit. I had been at Tsukuba for the day to watch drifting (and get taken for a ride!), and was going for a walk from my hotel to find some dinner when I came across the shop! I thought I was delirious – it was just too good to be true!
When I walked into his store, he was in the corner smoking, wheelchair bound because of a motorbike accident. Naoya "didn't want to know me" until I started saying the names of the wheels in his shop, and I showed him pictures of my KB110 Sunny from Sydney. He couldn't believe that an Aussie 20 year old would be interested in old J-tin. He couldn't speak any English, and I don't speak Japanese, so we talked for an hour and a half using a translator on the computer.
The Cressida wears huge SSR 15x9Js (-37 offset) on the back and 15x8J SSR Mark IIIs up front. From what I could gather, it is fairly stock mechanically aside from a healthy lowering, carbs and exhaust. A nice little front lip spoiler and rear spoiler finish it off, and although there are some fender gap issues, it has definately been built in the shakotan style! The body is straighter than straight, and some nice fender mirrors really set it off. I'm buying a set of 7.5J SSR Starsharks from him, and he has invited to take me out in his car next time I come over!
:: Ian Hancock
---