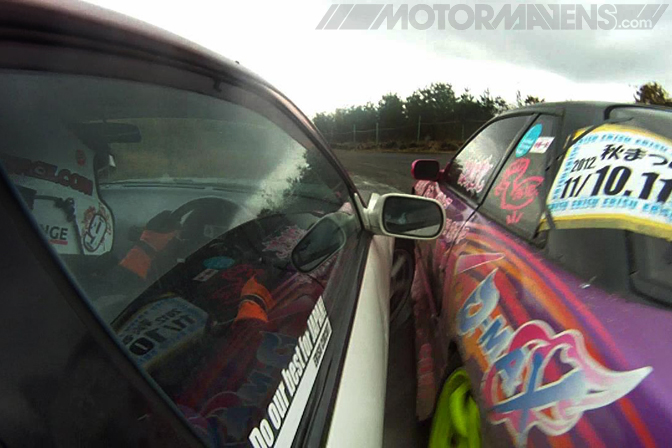 I love Ebisu Circuit!!! And I'm not the only one. This photo is one of the reasons why! Look at the white S13, being driven by Naoto Suenaga from the world famous Team Orange – his front wheel is right up against the sideskirt of the purple S13, being driven by street drifting hero Naoki Nakamura of Team Burst!
No wonder people from all over the world make the pilgrimage to Ebisu Circuit in Fukushima Japan several times a year! (more…)
---
I'll be the first to admit that I have a huge man-crush on Team Burst. Their insane driving inspires me to get crazier on the track and the skills these guys possess is outrageous. I've watched this video at least once a day since it's release last week and I'm just now realizing I should share it with those of you who may not have seen it yet. This video from Stewy Bryant of inertiaMS is similar to, but instantly much better than most Meihan videos, due to the inclusion of MULTIPLE CAMERA ANGLES. I love watching raw footage of Meihan, but it's great to see content from multiple perspectives.
:: Justin Shreeve
---