Browsing Facebook this morning, I saw a status update from our own Lieze Truter, saying that our good buddies, the mighty Drift Mechaniks from Atlanta have been featured on Top Gear! I clicked the link to see what she was talking about, and apparently Top Gear featured a video that was produced by the dynamic bearded video duo of Roegge and Herron! Congratulations, guys!
When I clicked through to watch the video, it looked like a great mash up of footage from both video shooters, featuring one of the secret Drift Mechaniks drifting practice days at Nashville Super Speedway! Very cool! It even features some footy of our own art director Andy Sapp, who looks like his face is being overrun by a forest of facial hair, haha! It was pretty cool to see MotorMavens stickers on the Drift Mechaniks cars in the video! So make sure to watch all the Drift Mechaniks in this video and see how Andy gets down when he's not designing stuff on his Mac! I just lovvvvve the way his E46 BMW looks with those ultra baller steez Racing Dynamics wheels!
Big ups to Drift Mechaniks, and big ups to Will and Josh! I'm sure you might already know this, but the dynamic bearded duo of Roegge and Herron are now traveling cross country in a van, filming videos (No, not THOSE types of videos. Although I'm sure our boy Josh is super down. He even has POV equipment.) for the newest video project they're working on!
So enjoy the re-run of this video on our site, and in the immortal words of Andy Sapp, "Keep Drifting Fun! …Or Else."
:: Antonio Alvendia
---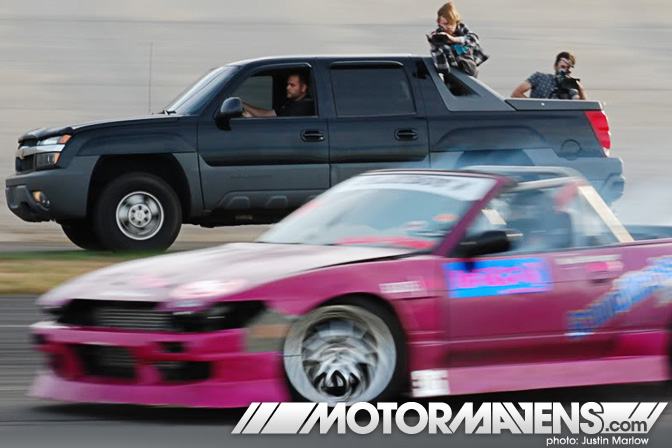 Will Roegge and Joshua Herron are combining their killer creative talents to produce a DVD about American grassroots drifting, called Keep Drifting Fun! These two filmmakers have upped the ante on automotive video content ever since their visually stunning, yet technically precise work hit the web. To hear that they are joining forces to tackle this project is definitely exciting.
This news is of particular interest to me, because the last time this sort of project was attempted was in late 2006, for a project near and dear to my heart, called Slide America. Needless to say, I am pretty pumped to see something like this come together again, and I could not think of a better duo to pull it off.
It is my pleasure to give you a sneak-peek.
Enjoy!
Drift Mechanik's Keep Drifting Fun from Joshua Herron on Vimeo.
---