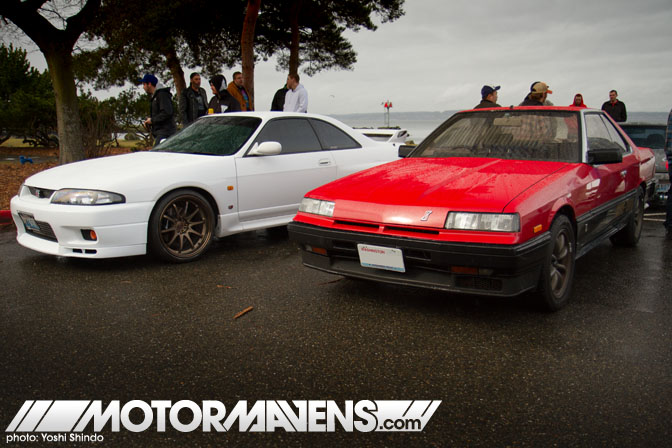 It's hit or miss, in
Seattle
, in the early Spring. Some days the sun is out and shining - some days, something resembling a monsoon could turn the parking lots into lakes. Even though it's only warmed up to nearly 55 degrees outside,
Seattle-ites
treat it like mid-Summer. That's what we are accustomed to here in the Northwest. Still, every year, toward the end of March, rain or shine, the
Northwest Nissans'
Golden Gardens Meet
is always a huge success.
This year, unfortunately, it was a bit wet with the sun only barely shining though the thin veil of overcast clouds later in the day. Weather aside, this year was just as packed as previous years with three main lots filling up. The parking overflowed along the street for at least a half mile. I could tell it was going to be a meet well worth checking out!
Read more...
---
We received this link from one of our loyal readers, Shakotan Oscar. Thank you Oscar! We just love the internet for reasons like this. We just posted up some photos that demo car builder David Huang found of Garage Miniz in Japan… and shortly after, we received a video link from Oscar that shows more detail in both trucks!
I especially like the awesome rear mounted radiator in the white RB26 powered one! Not to mention its stance and the incredibly detailed fuel setup in the bed of the truck. Well, both trucks are incredible, but damn… that white one! Aside from me, who else is now interested in building a truck?! Garage Miniz shows the possibilities…
:: Jose Gonzalez
---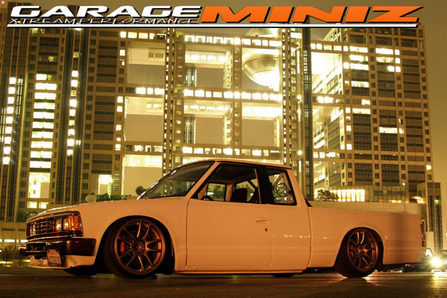 I received this link from a good friend of the MotorMavens, David Huang. Apparently, David was shopping for parts in Japan again, when he came across the
Garage Miniz
site and linked it to me. AWESOME!
Have you ever seen a Nissan hardbody pickup truck that looked this good?! To be very honest, I'm not normally a fan of using "car wheels" on lowered trucks... but damn, there's just something about this truck that makes my jaw drop! It might have something to do with the fact that it's slammed to the ground with big Work Emotion CR Kai wheels filling up the fenders. What a great location for a photo shoot, too. That's the Fuji TV building in Odaiba, right next to the Tokyo waterfront.
Read more...
---