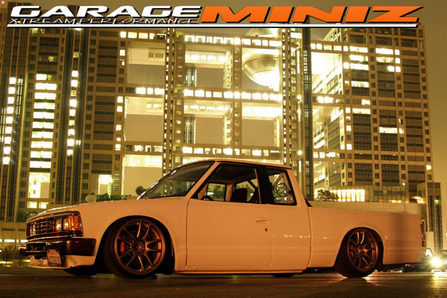 I received this link from a good friend of the MotorMavens, David Huang. Apparently, David was shopping for parts in Japan again, when he came across the Garage Miniz site and linked it to me. AWESOME!
Have you ever seen a Nissan hardbody pickup truck that looked this good?! To be very honest, I'm not normally a fan of using "car wheels" on lowered trucks… but damn, there's just something about this truck that makes my jaw drop! It might have something to do with the fact that it's slammed to the ground with big Work Emotion CR Kai wheels filling up the fenders. What a great location for a photo shoot, too. That's the Fuji TV building in Odaiba, right next to the Tokyo waterfront.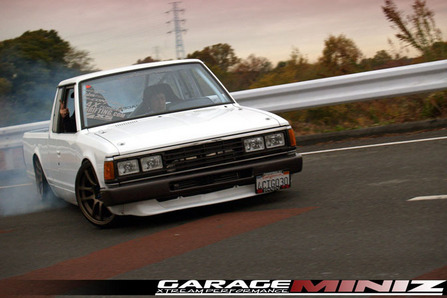 This Nissan hardbody doesn't only look cool sitting there, it's a driver! Even though I originally thought it was SR powered, some of our readers informed me that this white hardbody actually has an RB26 installed in it – AWESOME. Don't be fooled by the California license plate – this truck is in Japan! (Notice that's a rear Cali license plate on the front bumper? And the LHD? And the 2004 era USDM stickers on the window, which might make you think that this truck was from Southern Cali or something!)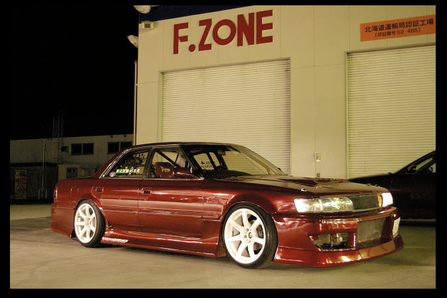 Ohhhhhhhhhhh nice! I certainly have a certain fondness for hachiichis with aero kits. For those unfamiliar with the term hachi-ichi, it is a slang term for JZX81, with "eight one" as the exact translation.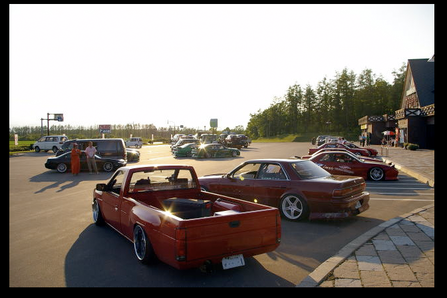 I love this. This looks to me like it's a typical scene at a highway rest area or parking lot in a rural area of Japan. I'm just guessing here, but it looks like the Garage Miniz crew just got back from a long day at the track, and they decided to stop somewhere to eat before continuing on their way home. Photos like this make me miss Japan. I can't wait to go back!
:: Antonio Alvendia
---