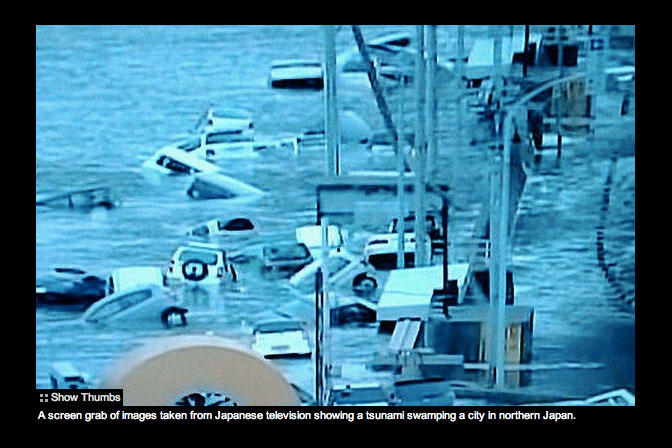 Oh no! I've been glued to my computer screen, unable to take my eyes off the Al Jazeera/YouTube live stream that has been playing nonstop coverage of the 8.8 magnitude earthquake that hit Northeast Japan yesterday (March 10) at 2:42pm, not to mention the resulting tsunami that has been flooding parts of the Fukushima prefecture and other parts of Northeast Japan.
MotorMavens is not CNN or NBC or ABC or NHK. Why post news coverage such as this, then? Simple, really. I have developed many strong friendships in Japan, and I'm praying for all the people in Japan that are enduring this insane natural disaster… especially my close friends and family!
In case you didn't read the story I posted on the site a couple days ago, featuring the Team Orange CT9A Mitsubishi Lancer Evolution 9, Fukushima Japan is the home of The Holy Land of Drifting, Ebisu Circuit. It's also the home of my very close friends from Team Orange. I've been trying to call their mobile phones for hours, but I can't reach any of them. I can only imagine that phone circuits must be jammed, busy, or non-functioning because of the tsunami… (more…)
---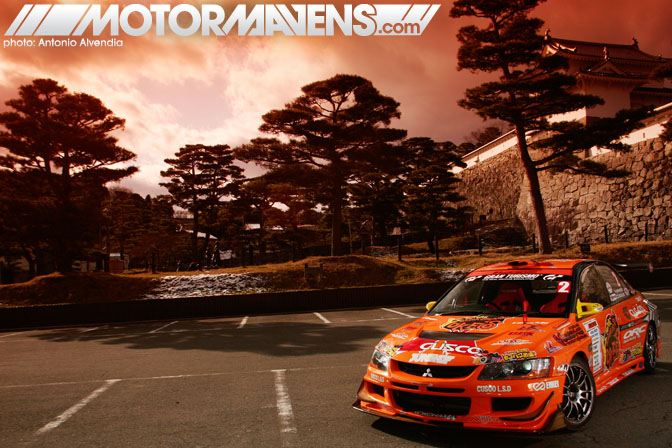 Last week, Mitsubishi decided to announce that they were discontinuing sales of their popular
Lancer Evolution
, as Evo fans across the world shook their heads in disappointment. Out of respect to Evo owners out there, I thought I'd dig into my archives and publish some photos of one of my favorite Mitsibushi Lancer Evos of all time - the
Team Orange
Mitsubishi Lancer Evolution 9
, owned by D1 Grand Prix champion driver
Nobushige Kumakubo
.
These photos really are old - I shot most of these photos back in 2007, when the car was first built. In fact, I shot these photos with a
Canon 40D
and my old school
20D
- that lets you know how old these pics are - those cameras are archaic now! That being said, I apologize for the crap photos. Old as they may be, these photos depict Kumakubo's
then-new
Lancer Evo 9 - the
world's very first Mitsubishi Lancer ever to be built for professional drifting
competition.
Read more...
---
DRIFT SILVERSTONE 2008 HD from Clashproduction on Vimeo.
If you've had a hectic, mind-numbing, soul-searching day, I think this video from Clash Production might just help you to forget all of the "craptasticness" (my own word) of life. Give yourself a timeout and enjoy a few moments of pleasure.
Granted, it is old, and it has two of my favorite people in it: Nobushige Kumakubo and Kazuhiro Tanaka from Team Orange. Some great camera work inside and outside of the car, with a mellow song to bring it all home. Speaking of home, Clash Production says Silverstone is the "home" track for a lot of the UK-based drifters. It's a pretty sweet track to call home – especially when considering the F1 history there. It also happens to be one of my personal favorites. So sit back and watch some sick drifting and let the BS of the day go away.
Enjoy!
:: Travis Hodges
---