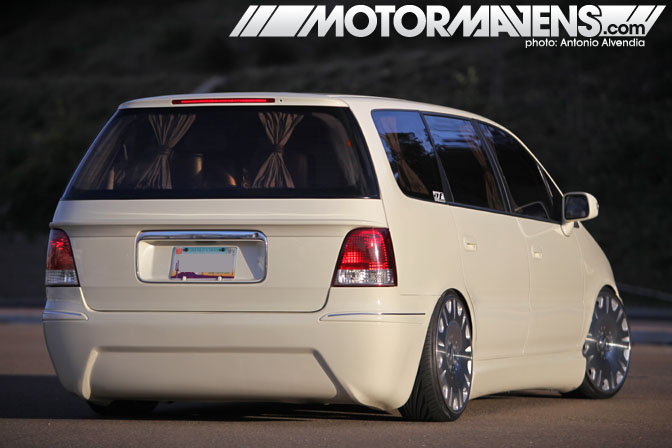 Before I get into the details of this incredible VIP style
Garson
and
Tra Kyoto
fitted
RA1 Honda Odyssey
, let me fill you in on some details. It was super late on Saturday night, and I had just finished a non-automotive editorial shoot for a Japanese magazine. I had a gorgeous model and the magazine's editorial staff sitting at my dining room table, talking to me about photo ideas while I was urgently texting members of the MotorMavens Crew to see who would be down to drive down to San Diego, CA with me for the
AutoFashion VIP Meet
.
I had just returned from Las Vegas, and was still reeling from a sleepless week of meetings, afterparties, and overall hustling at SEMA. However, I remembered that I made a promise to my friends at AutoFashion in San Diego - I told them that I definitely would be going to their VIP meet to show MotorMavens support, and to shoot photos of the event! I was still sleepy as hell, and I didn't feel like driving by myself, so luckily I was able to talk Tamer Omran, Lambert Paat (and his gf Daisy), and Driftwell founder Herbrock One into rolling to SD with me.
Right as we found parking at AutoFashion, this gorgeous cream-colored 1997 Honda Odyssey (RA1) immediately caught Tamer's eye. He immediately hunted down the owner, who drove it all the way from Tempe, Arizona to attend the show!
We found out that it took four years for the owner,
James Cherry
, to collect parts for his Odyssey and ship them over from Japan. Even though he was building on the car one by one, he decided that he would put it all together at once instead of bolting on parts one at a time - this way, the Odyssey would have more impact when it came out! Good move.
Read more...
---
---
---
---