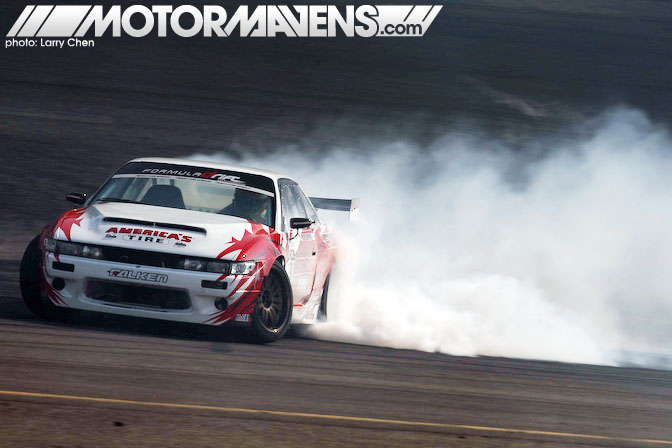 For those who were logged in to the
Formula D Driftstream
on Saturday, you mostly likely have already heard the news!
Daijiro Yoshihara
won 1st Place at Formula Drift again... taking home top honors TWICE IN A ROW
! Driving his
Discount Tire/America's Tire/Falken Tire S13 Silvia
, Dai was able to beat all his competitors, thanks to his crew -
Scott Dodgion
from
SPD Metalworks
,
Mike Kojima
from
MotoIQ
, and
Owen Orrego
from Falken.
If you were unable to watch the climactic final battle that pitted Dai against his Falken teammate,
Vaughn Gittin Jr
, then make sure you scroll to the bottom of the page and
watch the video of the tandem battle
!
Read more...
Posted by: Antonio Alvendia | Jun 07, 2010 | Categories: Newsworthy | Tags: America's Tire, Dai Yoshihara, Daijiro Yoshihara, Discount Tire, Falken, Formula D, Formula Drift, GM, JR, LS1, Mike Kojima, Moto IQ, Mustang, New Jersey, Owen Orrego, S13, Scott Dodgion, SPD Metalworks, V8, Vaughn Gittin Jr, Wall Speedway | 24 Comments »
---
Most of our readers who have been following us on Facebook or Twitter know that the members of the MotorMavens Crew just got back from an exciting Formula Drift weekend at Road Atlanta; we're happy to have been receiving tweets and Facebook messages from everyone all weekend! We're also happy to hear that many of our friends who were unable to make it have been watching the event through our website's live stream. Since most hardcore Formula Drift fans already knew the podium results on the night that it happened, I thought it would be pointless for us to do
the same type of play-by-play recap
that
most other websites
will be publishing.
MotorMavens was never intended to be an online newspaper. Instead of focusing on the results, with
Daijiro Yoshihara
and the
Discount Tire S13
taking the win;
Vaughn Gittin Jr
's
Mustang
coming in 2nd Place, and
Chris Forsberg
's
NOS Energy 350Z
finishing third; I thought I'd take a minute to focus on the importance of Daijiro Yoshihara's win.
Round Two of the Formula Drift Championship was important to Dai's sponsors, because
it marked the first-ever win for his title sponsor, Discount Tire
. Those who have been following Formula Drift since its beginning might also recall that it was Discount Tire's first podium since 2004, when
Calvin Wan took 3rd Place in Sonoma with his Discount Tire RPS13 240SX
. (There should be a party breaking out at Discount Tire's Phoenix, Arizona-based offices!)
Formula D Atlanta was also
the second FD event in a row that resulted in a 1st Place finish on Falken Tires
, which is huge for the massive teal and blue army! I know everyone involved in the Falken drift team is extremely proud of their drivers; winning both events back to back is no easy feat! On the corporate side, I'm sure these wins help justify the hundreds of thousands of dollars that Falken's been spending on drifting for the past few years!
While these milestones might be important to the corporate sponsorship side of Formula Drift, most fans don't care about that at all.
What made Daijiro Yoshihara's First Place win significant to the fans
is the fact that it proves that the popular, yet "old and outdated Nissan S13 240SX chassis" is able to remain competitive and WIN in professional level Formula D Competition!
Sponsorships aside, winning First Place at Road Atlanta was a huge win for Dai personally. According to Dai, winning in Atlanta "was huge for me. It was my fourth 1st Place win in Formula D, but actually... for me, [winning Formula D Atlanta] was even bigger than the very first time I got 1st place, at in Irwindale in 2006."
Read more...
Posted by: Antonio Alvendia | May 11, 2010 | Categories: Coverage | Tags: Antonio Alvendia, Brett May, Calvin Wan, Chris Forsberg, Daijiro Yoshihara, Discount Tire, drifting, Falken, Formula D Atlanta 2010, Formula Drift, Jonathan McWhorter, Larry Chen, Mike Kojima, Moto IQ, Nismo, OS Giken, Owen Orrego, Pacific Rim, Road Atlanta, S13, Scott Dodgion, SPD Metalworks, TRD, Vaughn Gittin Jr | 30 Comments »
---