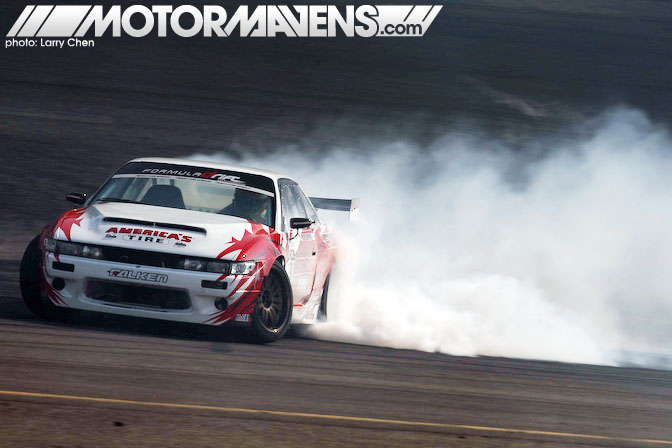 For those who were logged in to the Formula D Driftstream on Saturday, you mostly likely have already heard the news! Daijiro Yoshihara won 1st Place at Formula Drift again… taking home top honors TWICE IN A ROW! Driving his Discount Tire/America's Tire/Falken Tire  S13 Silvia, Dai was able to beat all his competitors, thanks to his crew – Scott Dodgion from SPD Metalworks, Mike Kojima from MotoIQ, and Owen Orrego from Falken.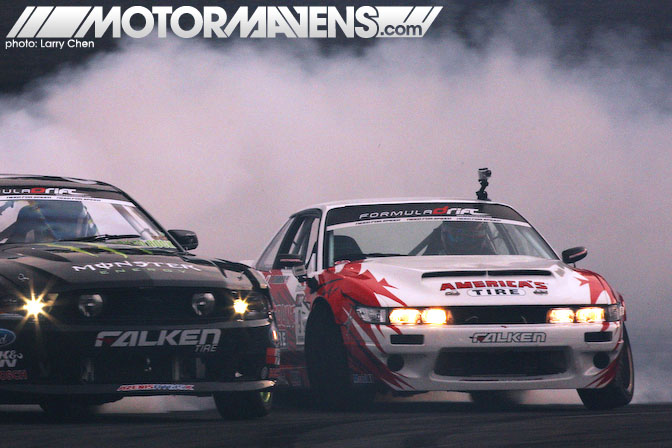 If you were unable to watch the climactic final battle that pitted Dai against his Falken teammate, Vaughn Gittin Jr, then make sure you scroll to the bottom of the page and watch the video of the tandem battle!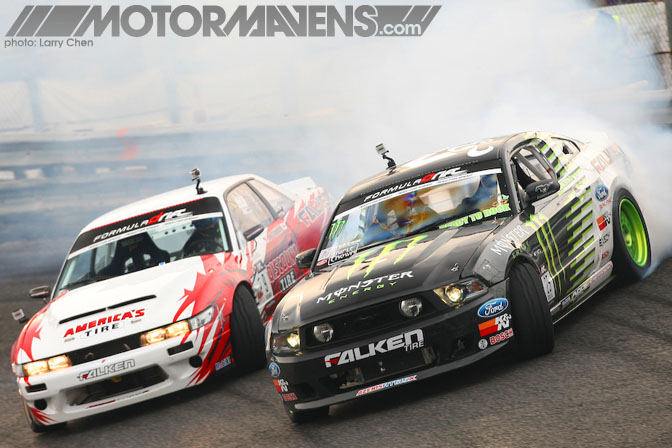 As you can see, the fight between Daijiro Yoshihara's GM LS V8-powered S13 and Vaughn Gittin Jr's Ford Mustang was a pretty close one. As always, JR had huge smoke and good speed, but Dai's S13 was just dialed in right for the fight… Dai was able to keep up with JR through pretty much the entire course, and closed in close on certain parts of the track.
After watching the runs, I honestly didn't know who the judges would award the win to, but at the end, Formula D announcer Jarod DeAnda called Daijiro Yoshihara's name! This was a pretty big deal! This would mark Formula D Round 3 as the second time that a Nissan S13 would make it to the top of the podium, beating out all the newer chassis drift cars! It would also mark the second time that Dai had been able to beat his Falken teammate Vaughn Gittin Jr in a tandem fight! Seeing these two drivers battle it out sure is exciting!
With two first place wins under his belt already, I wonder if Falken is considering moving Dai to a teal-and-blue liveried car for next year? After all, it seems like Falken tends to put its top ranked drivers in the teal and blue cars; I'm just guessing though.
Here's JR and Dai standing proudly above the podium once again, teaming up to shoot up the side of Tanner Foust's face! Congratulations to Dai, JR, and Tanner for reaching the top of the podium at New Jersey… getting a podium finish is no easy feat in Formula D these days!
Watch live video from driftstream on Justin.tv
Here you go, just in case you weren't able to watch it live on Saturday… here's the video of the final battle between JR and Dai! Big ups to the Belle 1 Communications crew and YoParts.com for putting on such a great Driftstream! This was my first time actually watching the Driftstream, and it worked very well (aside from a power outage in the Wall Speedway tower that knocked out transmission for a little while). If you can't make it to Formula D, you should definitely watch it live streaming on your computer. However, for me there's only once choice. I'm going to all the rest of the events in person this year! See you all at the next event!
:: Antonio Alvendia
Photos by Larry Chen (www.DriftFotos.com)
---