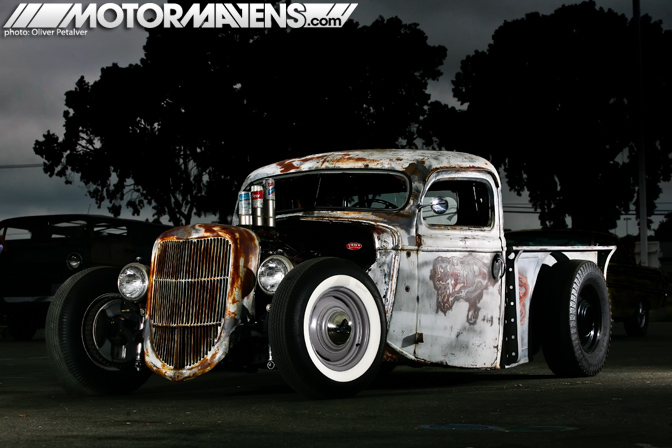 A while back, I attended the world's biggest one-day charity car show,
Cruisin' For A Cure
, in Costa Mesa, CA. It was a great way to get the word out on the prevention of Prostate Cancer. While mandatory digital rectal exams (
finger up-the-butt
in layman's terms for those who may have been thinking there was an app for that) were not part of the admission, the chance to view hundreds of classic, customized vehicles were. This was my first time attending this show and I've got to say, it was THE largest car show I've attended. Many cars caught my attention and, as I was leaving, I spotted this
1937 Ford Truck
owned by Tom and Linda Chorbagian. So I hurriedly grabbed my strobes in the trunk and took a few shots during the festivities.
Its rat-rod look reminded me of a Japanese aesthetic called
Wabi-Sabi
(no, not the green stuff complementing your sushi). Essentially, from an artistic point-of-view, wabi-sabi is defined as "flawed beauty." It refers to beauty as a result of age, wear and tear and any anomalies which add uniqueness. It's a growing trend in rat-rodding and it seeks beauty in the simple and imperfect. Tom's truck is a good example of the embodiment of this principle and has that perfect combination of burned paint, rust, and look acquired from age and weather--it's hardly an eyesore.
Read more...
---
Hot rods are slowly becoming a new obsession of mine. A crackling V8 through short exhaust coming out the side of a small roadster and wire wheels wrapped in skinny tires has got to be the coolest form of transportation on the road, hands down.  Ben Thomas builds hot rods full time at his shop, Rancho Deluxe, in Melbourne Australia. While the rest of the world progresses with new technologies and methods for making cars faster, safer, and the like; Ben has been working his way backwards. He apprenticed with Porsche for four years at age 18 and since then has stuck with the classics. By classics, I mean 30′s and 40′s era cars. I think that makes the jump from 'classic' to 'OG.'  His pristine 1932 Ford is the perfect example of what hot rods are all about – small car, big engine, and a driver's seat. (more…)
---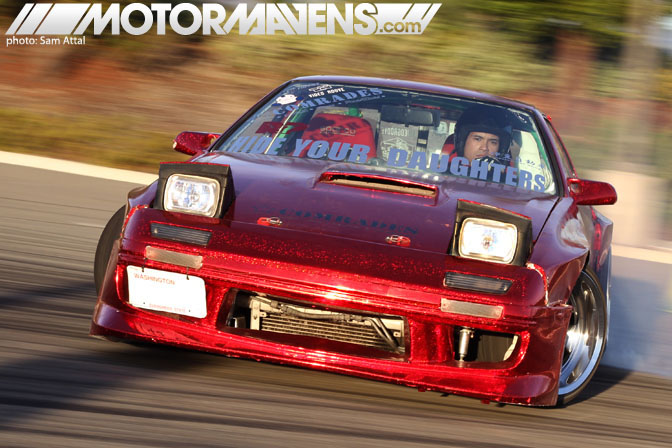 Not too long ago I attended
Fatlace WordUp
, a monthly drift practice session in Santa Clara, CA that is only open to drivers and media. While most of the cars in attendance consisted of your average beat-up S13s and AE86s, one machine in particular caught my eye. This loud, sparkly red, slammed 1987 RX7 pickup truck conversion was the center of attention as it attacked corners with massive angle. The car, or truck, belongs to
Earl Smith
of the
Comrades Crew
from Washington. He recently moved down to California and this was the first time I saw the project at an event so let's check it out...
Read more...
---