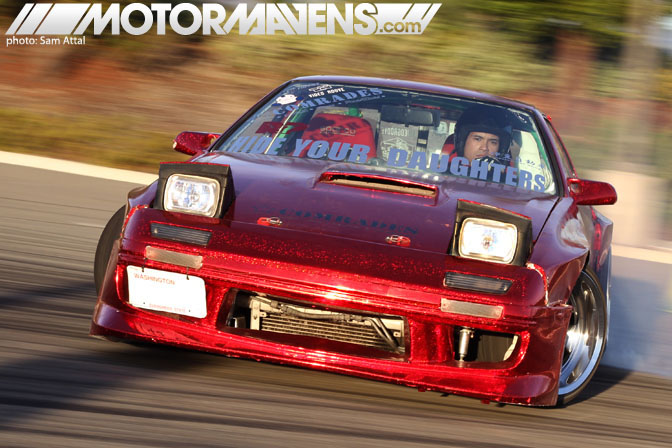 Not too long ago I attended Fatlace WordUp!, a monthly drift practice session in Santa Clara, CA that is only open to drivers and media. While most of the cars in attendance consisted of your average beat-up S13s and AE86s, one machine in particular caught my eye. This loud, sparkly red, slammed 1987 RX7 pickup truck conversion was the center of attention as it attacked corners with massive angle. The car, or truck, belongs to Earl Smith of the Comrades Crew from Washington. He recently moved down to California and this was the first time I saw the project at an event so let's check it out…

By the way, my name is Sam Attal and this is my first post as a member of the MotorMavens Crew. I am a 20-year-old college student from Northern California. I currently study journalism and serve as Editor-in-Chief of my school's weekly newspaper. I am excited to shed light on the Northern California automotive scene which has been deprived of coverage for a while now.
Anyway, onto what matters!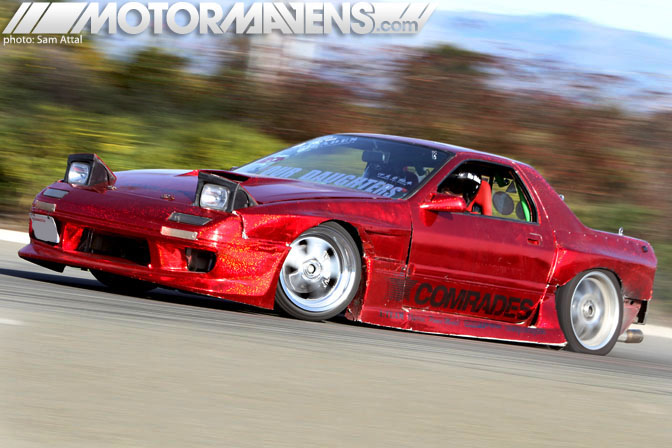 Earl Smith's truck features a mix of GP Sports and URAS aero parts – half of which managed to break off during the day from hard cornering. Although most people will laugh at the project at first, the car does have a serious side to it once you hear its full 3-inch custom exhaust, sans mufflers and catalytic converters roaring.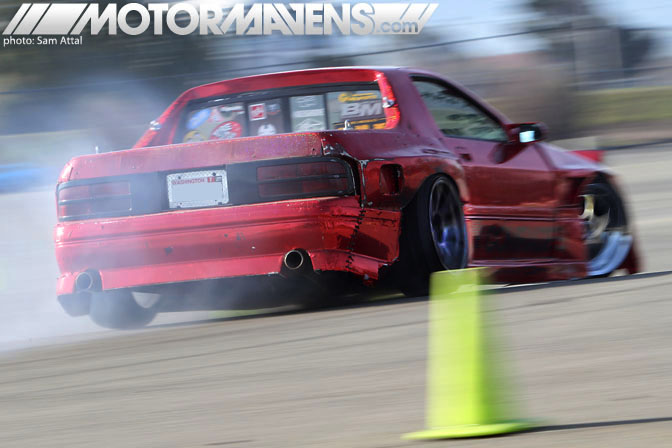 The truck gets great angle and manages to corner graciously with a little bit of throttle control. It's also really cool seeing a glittery pickup get so sideways!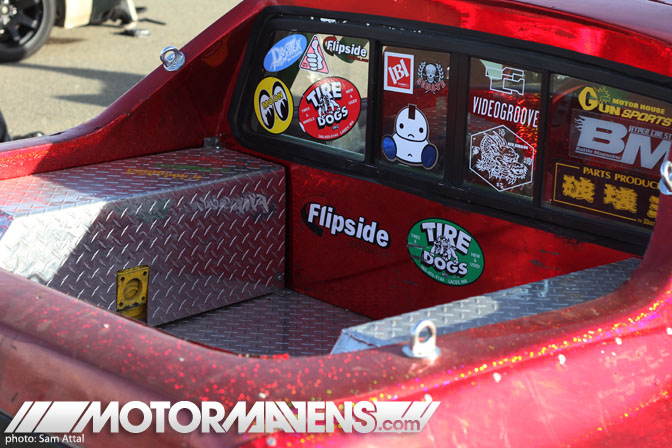 The pickup truck conversion offers an easy way to transfer extra wheels and tires to events, rather than having to cram them in a small hatch or trunk. It's awesome seeing such a conversion done in the states. Earl's rare sticker collection only adds to the outlandish package.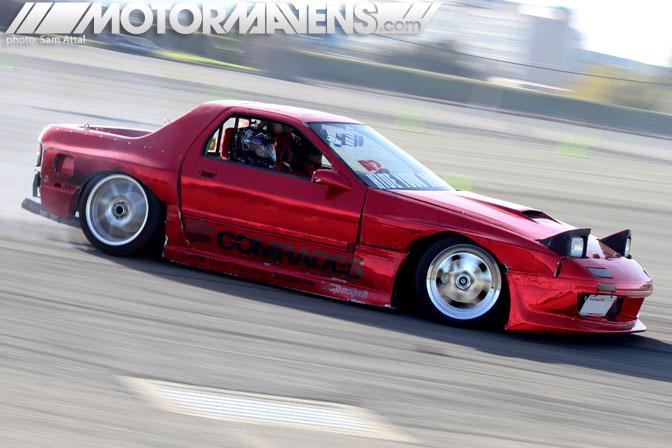 The Truckasaurus RX7 is no trailer queen either. Earl drove the car to the event, and took to the streets with broken aero when he left. I'm not exactly sure how he's evaded local police or the California Highway Patrol so far, with something so shiny, low and loud, but let's hope he doesn't get sent to the state referee anytime soon.
This being said, let's hope the cops don't read any of these specs:
– JDM S5 TII longblock, turbo and transmission.
– S4 wiring harness, AFM, electrical components, UIM, and LIM
– ARC top-mount intercooler
– Modded Throttle Body.
– Greddy 720cc secondaries and 550cc primaries.
– R.Tek1.7 ECU.
– Installed block-off plates.
– HKS SSQV blow-off valve
– Dual-sheathed alternator pulley
– CSR 3-inch triple-pass radiator.
– Ford 3600cfm electric fan.
– XTD Stage 3-clutch (six puck, spring loaded
– Solid aluminum motor and transmission mounts.
– TII driveshaft
– Full 3-inch custom exhaust (1-piece, no catalytic converters or mufflers)
– Random intake filter
– Custom rear end truck conversion with diamond plated bed, enclosed cab and rear window
– Full URAS/GP Sports body kit, with 30mm front fenders and 50mm rear
– Full Sparkly Red Vinyl Wrap
– TII hood
– Copious amount of rare stickers
– Full Interior
– 4-point roll bar with harness bar and door bars
– 2x red Sparco Sprint seats with 4-point harnesses
– 350mm Momo Mod 78 Red Suede Steering Wheel with Momo hub adapter
– Mooneyes Red Devil shift knob
– Black leather S5 dash and door panels
– Lambo doors
– HKS Water Temp (52mm) and Turbo Boost (60mm) Gauges
– Relocated battery
– Random CD player
– Crystal blue headlights with red halos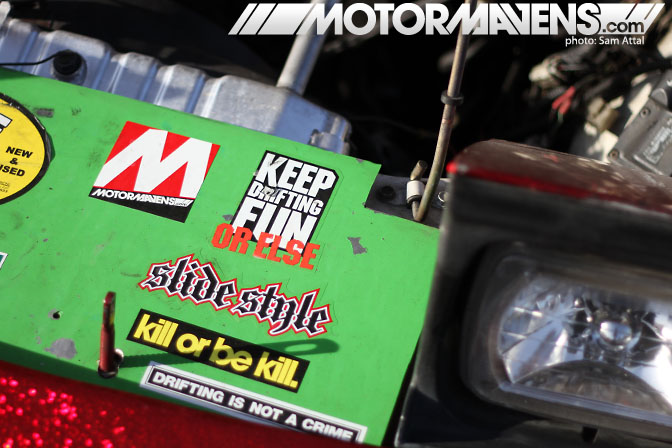 Earl's Truckasaurus RX-7 is a true example of an authentic build made to keep drifting fun, yet competitive. Although the idea of the drift truck definitely came out of Japan, Earl has taken the concept and created his own glittery monster. He has respect for MotorMavens and we have mad support for him.
:: Sam Attal
This service (EssayLab.org) is conducted by our clients' contacting our writers directly. They will provide you with all the necessary guidance you need in order to write a great essay in under 20 minutes.
---