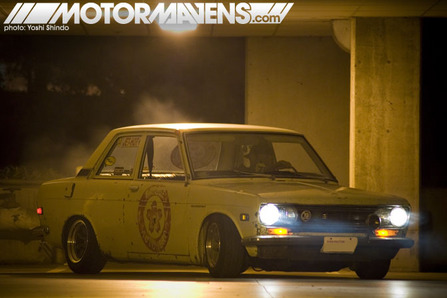 Whenever I hear the words
Datsun 510
, I picture either a fully restored and super clean car or a moss-covered, stock car that has been hiding under bushes for the past 10 or more years. Either way, in my opinion, this is one of the most amazing cars built to date. These days, everything possible has been done to modify them including SR20DET, KA24DE, and VG30 swaps. But, no matter what kind of fancy wheels or paint jobs they may have, they are always a dime in my eyes. Apparently the guys at
Garage Autohero
feel the same way.
The story begins with
Ray Stonehocker
and his desire to build a daily driven showcase car for his shop -
Garage Autohero
. He wanted something completely different from everyone else so he stayed away from the obvious Nissan Skylines or Toyota Supras that are crazy fast with the very expensive paint jobs. Ray wanted to take a step in the opposite direction. He chose to go with the Datsun 510. He had a chance to buy an old 510 from a friend not too long ago - but not in pristine condition. The 510 had some rust issues, fading paint, and the years had just taken a major toll on the poor car. That didn't stop Ray though. In fact, it was exactly what he wanted.
Read more...
---