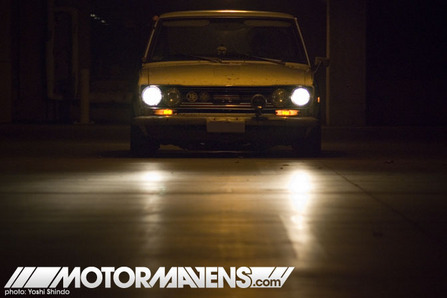 Whenever I hear the words Datsun 510, I picture either a fully restored and super clean car or a moss-covered, stock car that has been hiding under bushes for the past 10 or more years. Either way, in my opinion, this is one of the most amazing cars built to date. These days, everything possible has been done to modify them including SR20DET, KA24DE, and VG30 swaps. But, no matter what kind of fancy wheels or paint jobs they may have, they are always a dime in my eyes. Apparently the guys at Garage Autohero feel the same way.
The story begins with Ray Stonehocker and his desire to build a daily driven showcase car for his shop – Garage Autohero. He wanted something completely different from everyone else so he stayed away from the obvious Nissan Skylines or Toyota Supras that are crazy fast with the very expensive paint jobs. Ray wanted to take a step in the opposite direction. He chose to go with the Datsun 510. He had a chance to buy an old 510 from a friend not too long ago – but not in pristine condition. The 510 had some rust issues, fading paint, and the years had just taken a major toll on the poor car. That didn't stop Ray though. In fact, it was exactly what he wanted.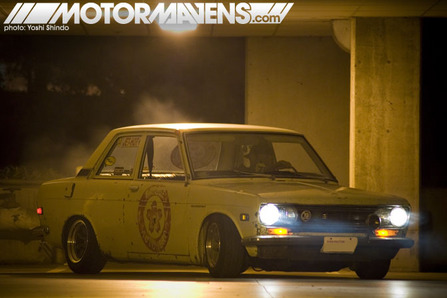 For those that are curious why there's smoke around the 510, the reason is because Ray's 510 wasn't tuned yet since he just got the motor running just few hours prior! Thanks to Ray for going out of his way so I could snap some photos!
Now, for those of you who are unfamiliar with the term "rat rod," let me take a moment to explain. Rat rods are an attempt to re-capture the style of the "street" hot rods of the 40's, 50's, and 60's when hot rods were raw and unfinished – not like the pristine, "period correct" hot rods you see at shows now. Back then all sorts of modifications and parts swaps were done to improve functionality or to add a certain flair. Most or all of the work was done by the owner and they emphasized function over form. They were meant to be driven – not shown.
Ray had been contemplating building a rat rod for a while, so he decided to try using a 510 as his starting point. His plan was to make his 510 super low; he also insisted on not restoring anything and keeping everything either correct for the era or older. Most guys would go out and buy all of the "cool JDM" Bluebird parts they could find but Ray was more interested in keeping the functional, vintage look intact.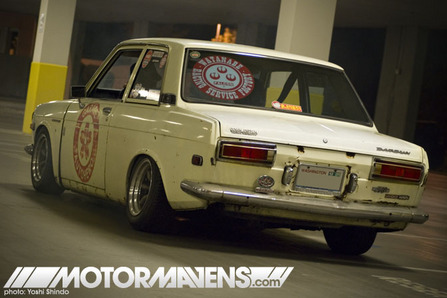 The Garage Autohero Datsun 510 looks like no other 510 I've seen out there right now. The whole "rat rod concept" in this 510 just worked out just great. Who knew rust and faded paint was going to look this good? I sure didn't think it was going to. The low ride height is great; it has a slight rake to it, which makes it look more aggressive in my opinion.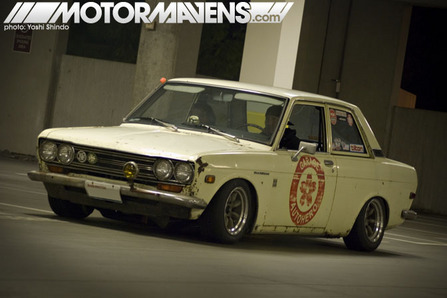 While walking around the car taking photos, I noticed some of the minute details that Ray likes about his car. I think what makes this car stand out, is the huge and obvious stenciled Garage Autohero logos on the doors, which have a Sakura flower in the middle. He also made a custom bracket to hold a yellow auxiliary light on the front bumper that he picked up from a antique shop here in Seattle. Ray also added headlight grilles to make his front end stand out more. I can not forget the non painted 13×7 (+0 and -5 offset) RS Watanabe wheels. I absolutely love this Datsun 510!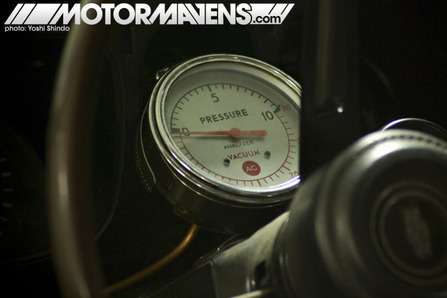 I remember when we all went down to Billetproof (old rat rod/hot rod car show) here in the Northwest. A lot of the guys were selling parts and old vintage car stuff. At Billetproof, Ray found this old pressure gauge… and at the time I didn't think of anything of it until I noticed it in his car. He simply is using it for a boost gauge (yes, I said boost). Notice the copper hard line feeding the gauge!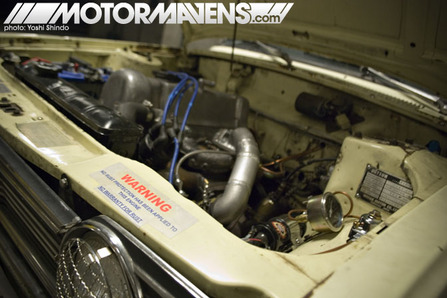 This 510 went though two motors and a lot of man hours to end up with this rare engine setup. The current motor setup is a Z18ET block that has been O-ringed and an L20 U67 head that's breathing though a 1966 Jaguar SU carburetor that is also being drawn though a 280zx T3 turbo. Ray decided not to run an intercooler and fabricated the elbow straight from the turbo to intake manifold. He's also using a 280ZX transmission.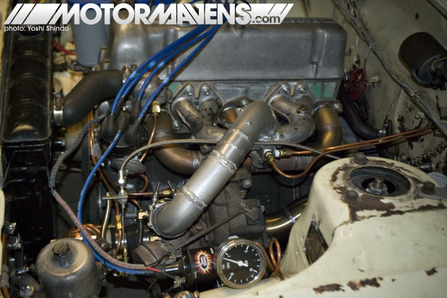 Here is a closer look at the engine setup. By deciding to keep everything vintage looking, he ended up making a lot of the lines with copper with brass fittings. Ray also fabricated the exhaust log manifold and down pipe. Another thing that was pretty interesting (and amusing) with this whole setup was his cold start system – a copper hard line going directly to the dash so he can spray starter fluid in!
After Ray dialed the car in at Garage Autohero, he offered me a ride so of course I didn't refuse. Riding in the official Garage Autohero 510, I was simply amazed how quick this car was. I quickly asked him how much boost he was running, his answer was "5 pounds". I seriously thought it was more then that and caught myself with a open mouth whenever he gassed it.
As I write this, Ray is driving from Seattle down to LA for the Japanese Classic Carshow in Irvine, California to show off his car… so if you are headed to JCCS and see this 510, take a second look, and notice all the great things he's done to this car! ANDDDDDDDD remember to tell him you saw it on Motor Mavens FIRST!
:: Yoshi Shindo
---