I'm mad, seriously. Christmas weekend it is, but man….I can't hold back this level of hurt. Friends of mine can vouch for the level of anger I experience when seeing a Mazda RX3. When I let mine go up for sale, I thought it might feel good to let something move on… WRONG. I now fully regret the transaction and wish life had a rewind button like that of a DVD player – call it seller's remorse.
While I'm watching this video, gritting my teeth and wiping tears from my eyes, you can enjoy viewing this beautiful Mazda Savanna GT as it graces the country side roads of Japan. Take a closer look at the interior shots, and wish upon many stars that I may one day accomplish supreme levels of cool when building my next old school Mazda. Recaro front seats and Burberry-esque cloth covered rear seats. Observe the fresh RS Watanabe wheels which appear to be somewhere in the realm of 14 inches with a healthy tire side wall. Awesome fender mirrors? Check. Front lip with aero? Absolutely. If you own an RX3, please use this footage as a template and do not… I repeat, DO NOT sell your RX3. Unless of course I come knocking at your door inquiring about it. Then and ONLY then is it permissible. **sniff sniff**
: : Edward Uche
---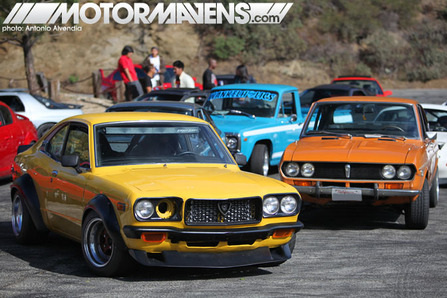 What's going on! My name is
Edward Uche
. I live in Los Angeles, and I am the newest addition to the Motor Mavens Crew. I've followed this automotive blog since it began back in April and words cannot describe how excited I am to join as a contributor. As the owner of a turbocharged FC3s RX7, I'd love to meet other readers of this site at a track day or event in the near future. However, right now it's my honor to present you my first contribution, which deals with a subject I'm extremely passionate about - seeking knowledge involving all things
Rotary
. I'm happy to connect with all you fellow car enthusiasts and mavens out there; now lets begin...
What happens when you combine a national holiday and time off work with family and friends? ...a well devised plan for a cruise, that's what. During my Thanksgiving festivities this past week, I couldn't help but squirm with anticipation for this weekend's big rotary event,
RX7Club.com
's annual "Turkey Run." The meeting location launching the rotary/old skool massive would be RX3 owner and MMA trainer
Savant Young
's
Fight Academy
in Pasadena CA. There were so many varieties of cars to be seen; RX2s, RX3s, FCs, FDs, Miatas, and even Toyota TE21s and S13s.
Keeping up with the latest in grassroots events, the members of the Southern Cali
Motor Mavens Crew
were on a mission to bring our viewers a look into the organic Los Angeles car culture. Witness.
Read more...
---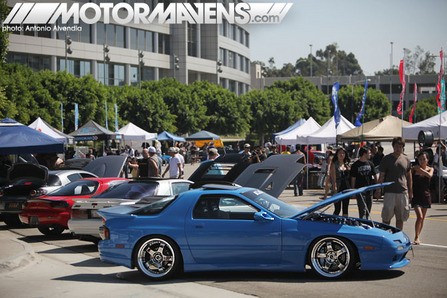 This past Saturday at Mazda Headquarters in Irvine CA, rotary engined fans from all over the nation gathered at the annual Sevenstock Rotary Festival. I saw cars with license plates from a variety of different states there; it was cool to see how hardcore and dedicated many of these rotary owners were! I used to own a white FC3S RX7 (NA) for a little while before I bought my first AE86, and I loved it. I can definitely see where these rotary guys get their enthusiasm from.
In fact, one of the dedicated RX7 owners in attendance was our own
Calvin Wan
, who flew down to LA with his wife just for one day because they scored some super cheap plane tickets to Orange County for only $29 on Southwest! After picking them up at the airport, we went to eat dim sum at Capital Seafood in Irvine before heading to the show. I suppose the entire day had a "rotary theme" because Calvin noticed that even the plates that our dim sum was served in were round and triangular in shape, just like the rotor inside a 13B. Crazy.
Read more...
---