---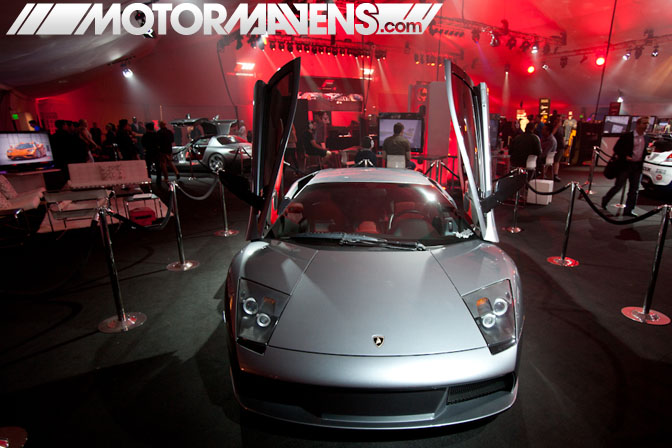 As some of the readers of this blog may (or may not) already know, I've been away from my Southern California hometown for the past few weeks. In fact, I'm still out of state, dealing with an illness in the family. Last week however, I was able to come back to LA for just a few days to pick up mail, pay bills, and pack some additional clothes for my extended stay with the family.
On one of the nights I was back in LA, I was lucky enough to attend the exclusive
Forza Motorsport 4
launch event/
E3 Expo afterparty
at the
LA Live Event Deck
in Downtown Los Angeles. Since my time in LA was so brief and packed with errands, I unfortunately didn't even have time to go to the E3 show itself, even though I had passes at the ready.
Even though I didn't make it to E3, I didn't feel too bad, because the Forza Motorsport 4 event had it all - hot cars, hot girls, catered Korean BBQ tacos and sliders from the Kogi BBQ truck,
an open bar
, an appearance from
The Stig
from the world renown BBC show
Top Gear
(or at least, a person dressed in the Stig's racing suit), special exclusive performances by legendary drummer
Travis Barker
from
Blink 182
and
Mixmaster Mike
from the
Beastie Boys
, and did I mention... an open bar?
Read more...
---
As the reach of our automotive website continues to expand, the MotorMavens Crew and I have been fortunate enough to attract tons of new and exciting opportunities – they seem to just fall into our laps! You can only imagine how shocked I was when I received an email from the good people at SPEED Channel, saying "we'd love to chat with you."
As the biggest cable network with automotive programming, SPEED is obviously huge – I've been watching various forms of racing on SPEED Channel for years. I had no idea that they were even aware of MotorMavens! I was definitely excited to speak to them on the phone.
Although SPEED Channel is headquartered in Charlotte NC, they are constantly filming shows in Southern California. During our phone call, I discovered that they were actually filming their newest TV program, Car Warriors, only 10 minutes away from where I live! They suggested that we come out and visit, so I invited our lovely Motormavenette Samantha Totem to come out and spend the day hanging out on set with me while they were filming – cool! When the cameras stopped rolling, the very first person we were introduced to was none other than George Barris.
Even if you're too young to recognize the name 'George Barris,' you've undoubtedly seen the cars he has created. As the automotive legend behind Barris Kustom Industries in North Hollywood, George Barris has created some of the most iconic cars in movie and television history – the original Batmobile from the Batman TV show with Adam West and Burt Ward; the General Lee from Dukes of Hazzard; KITT from Knight Rider; the original A-Team van; the DeLorean time machine from Back To The Future; the Munsters hot rod; and many many more.
As we got ourselves acquainted in between filming, Mr Barris invited us to visit him at his shop, which is like a museum of famous movie cars, toys, and Hollywood memorabilia. How could we pass that up?! (more…)
---